'DWTS' recap: Amber Rose embraces her curves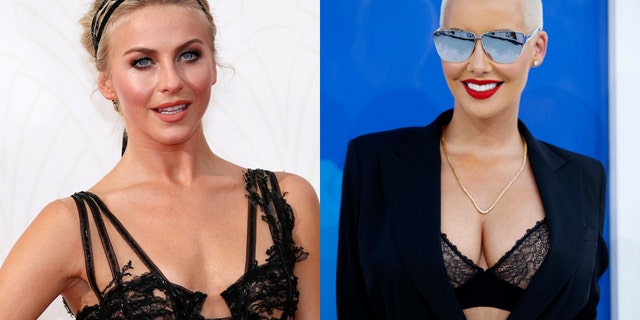 Gymnast Laurie Hernandez got the season's first perfect 30 score on Monday night's Cirque du Soleil themed "Dancing with the Stars."
But it was talk show hostess and former exotic dancer Amber Rose who was the star of the circus as she ended her feud with Judge Julianne Hough over alleged body shaming—and then revealed to reporters just how big her breasts really are!
When asked by FOX411 to describe her curves after the show, Rose said, "It's very important to embrace your curves. I literally go out and tell people, I have natural boobs and they're like a f*cking 36 E so they don't stick up like that," she said, motioning to indicate how plastic surgery breasts differ from hers, sitting up higher on the chest.
"I got a lot going on. I got cellulite. I got frigging stretch marks and all that and people [are like] how do you get your body so perfect? They don't see my imperfections 'cause I cover them up with makeup and clothes sometimes but I'm very open about those things so women don't look to me and be like, oh, my God, she's perfect. I'm not perfect. Nobody's perfect. We all have our sh*t."
Rose said while doing "DWTS," "I've definitely lost weight…I don't know how much."
Rose was devastated after she saw behind the scenes "DWTS" footage which aired Tuesday, showing Judge Hough implying Rose's booty shaking salsa with partner Maks Chmerkovskiy was practically indecent.
Hough said on camera she "actually felt a little uncomfortable" watching Rose's dance.
On her Podcast "Loveline with Amber Rose" last Wednesday, the talk show hostess said she felt body shamed by Hough, commenting, "Me, and my body, my hips, my a**, my breasts made her uncomfortable."
For Monday's "DWTS," Rose and Maks vowed to double down on her sexiness and delivered an Argentine tango that showed off her hourglass shape in a black lace onesie with garters. The steamy routine ended with Maks getting on top of her on a table.
Afterwards, Rose and Judge Hough ended the feud on camera, as Julianne explained she was in no way dissing Rose's body, saying, "I'm here to solely judge you for the dancing. Let's move on."
Rose received a solid score of 24 for the dance and afterwards, she told reporters, "Last week was really hard for me when she said that…how did my salsa make you that uncomfortable?...But she said it wasn't like that and it was just pertaining to my dance and I believe her….it's all positivity now."
Meanwhile, the stars thoroughly enjoyed working with the Cirque performers and --with hostess Erin Andrews back and Judge Len Goodman on a break to do England's "Strictly Come Dancing"-- Hernandez again rose to the top.
The Olympian rocked the Michael Jackson Cirque show called "One" and got the perfect 30 with Val Chmerkovskiy. After the show, she said, of her jazz routine, "This was the most nervous I felt for a dance."
She told reporters the Olympic gymnasts' recent visit to the White House was a blast: "We were star struck" by President Barack Obama and FLOTUS Michelle. "They're really tall!"
Finishing second with a score of 28 were race car driver James Hinchcliffe and his partner Sharna Burgess for their quickstep based on the Soleil show "Paramour."
Little person Terra Jole and pro Sasha Farber nabbed third place with a samba that earned 25 points, good for third place.
Although Maureen McCormick was seen melting down in rehearsal, crying to frustrated partner Artem Chigvintsev, she did well with Argentine tango, receiving a 24.
Three stars got 23 points: Jana Kramer, for her foxtrot paying tribute to The Beatles' "Love" Cirque show; Vanilla Ice, who turned in a credible Viennese waltz, and Calvin Johnson Jr., who did a lively Charleston.
Ladies in the audience yelled at Ryan Lochte, causing Judge Bruno Tonioli to worry there was another protester in the house. But no—they had shouted, "Go Gators!" to pay tribute to Lochte's alma mater. Judges awarded him 22 points.
Marilu Henner wound up with a score of 21, while Kenny "Babyface" Edmonds got the lowest score, a dismal 18 for his tango with Allison Holker.
It left the music producer asking himself, "What is going on with you?"
Henner told FOX411 after the show as Derek Hough looked on, "I was disappointed in the scores that we got…I guess the judges didn't see something they really wanted. It kind of makes me sad. I have no answers right now."
Lower scoring stars should be scared -- as Tuesday night's show will be a double elimination.