'Dumb and Dumber To' tops the box office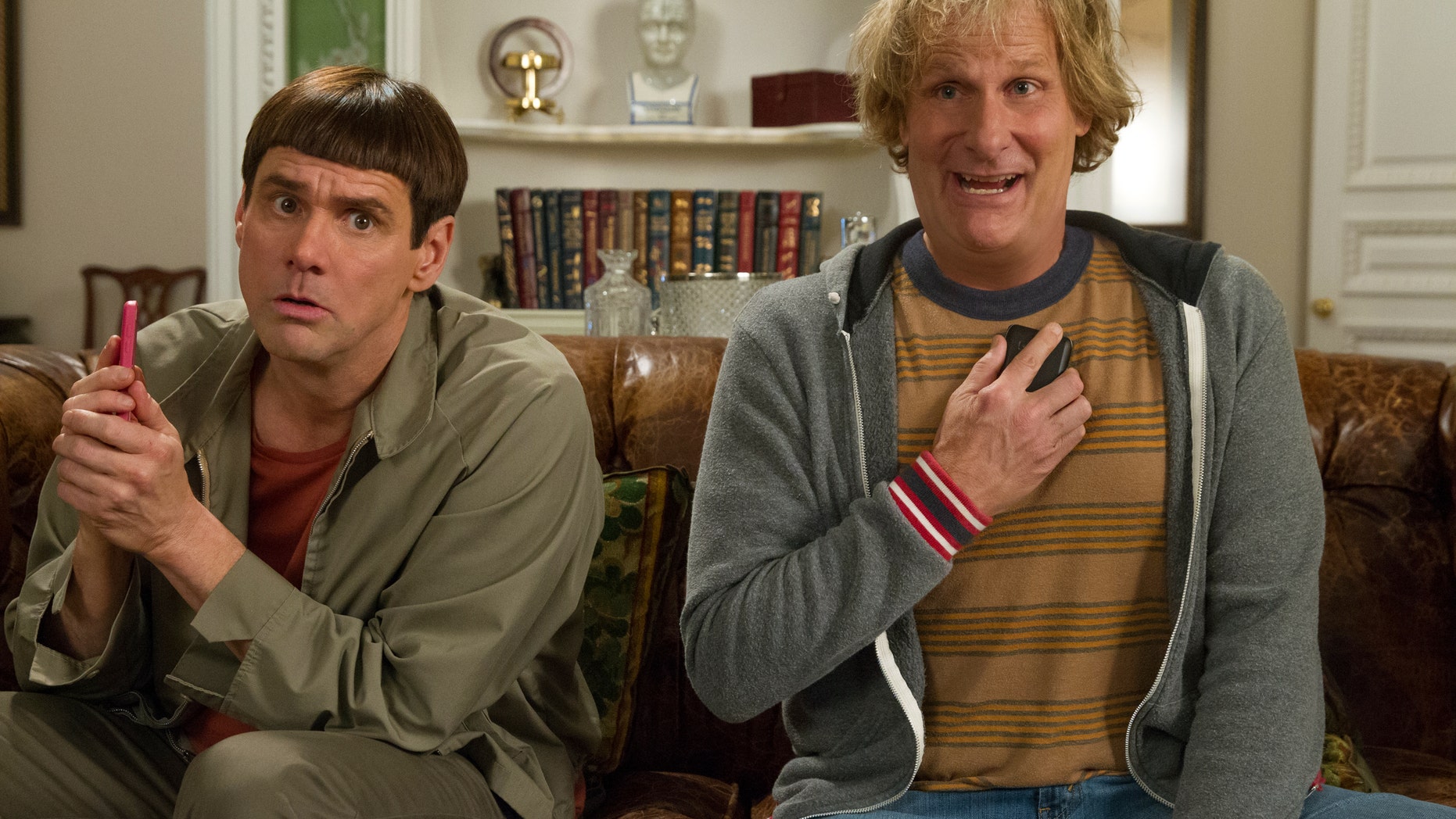 Jim Carrey is back on top, reports Variety.
The comedian has struggled at the box office in recent years, but by revisiting one of his most beloved comedies two decades after it hit screens, Carrey has scored his biggest hits in years with "Dumb and Dumber To." The cinematic adventures of a pair of dim bulbs shone brightly at the box office this weekend, picking up an estimated $38 million across 3,154 locations.
Despite the strong showing, "Dumb and Dumber To" had to fight for first place with last weekend's champ, "Big Hero 6." The Disney animated film crossed the $100 million mark. It fell 36% from its opening, picking up $36 million across 3,773 screens. Its total stands at $111.6 million after two weeks.
"Interstellar" also showed impressive staying power. Christopher Nolan's space adventure fell less than 40% in its second weekend, adding $29.2 million to its pot and driving its domestic total to $97.8 million. The strong holds bode well for "Interstellar" and "Big Hero 6," signaling they could continue to generate robust ticket sales throughout the Thanksgiving holiday.
The weekend's other fresh wide release, "Beyond the Lights" earned $6.5 million from 1,789 theaters. The story of a suicidal pop star who falls in love with a member of her security detail fell short of tracking which had pegged an opening between $8 million to $10 million. It's the latest in a string of box office disappointment for Relativity Media, which has fielded whiffs such as "The Best of Me," "Earth to Echo" and "3 Days to Kill" in recent months.
One thing that should cushion the blow is that "Beyond the Lights" is inexpensive, carrying a mere $7 million production budget. It marks the kick off of Relativity's new multicultural division, which is being run by "Barbershop" producer Matt Alvarez. To that end, the opening weekend crowd was 61% female and 49% African American.
In the case of "Dumb and Dumber To," absence bred fondness. In addition to Carrey, original star Jeff Daniels returned along with directors Peter Farrelly and Bobby Farrelly. Their reunion is well positioned to be a profitable hit for its backers. Red Granite Pictures put up the $40 million production budget and Universal Pictures is distributing the film.
Box office veterans "Gone Girl" and "St. Vincent" nabbed fifth and sixth place on the box office chart, picking up $4.6 million and $4 million, respectively. "Gone Girl" has made $152.7 million since opening last month, while "St. Vincent" has earned more than $30 million. Also still kicking around, "Fury" nabbed another $3.8 million, bringing its domestic take to $75.9 million.
In limited release, Sony Pictures Classics debuted true-life murder tale "Foxcatcher" to $288,113 on 6 screens. That's a sterling $48,019 per-screen average and bodes well for the indie label's rollout plans for the Academy Awards contender. The company also expanded another Oscar hopeful, "Whiplash," from 88 screens to 419, picking up $800,509. That brings its total to $2.5 million.
"The Daily Show" host Jon Stewart tried his hand at directing with the "Rosewater," the true story of journalist Maziar Bahari and his imprisonment and torture in Iran. Released by Open Road, the film did $1.2 million of business from 371 locations.
Taking advantage of the holiday spirit, Samuel Goldwyn Films released "Kirk Cameron's Saving Christmas" across 410 screens, where it earned north of $1 million. The studio will continue expanding the film throughout December.