'Double Down': How Clint Eastwood's RNC speech happened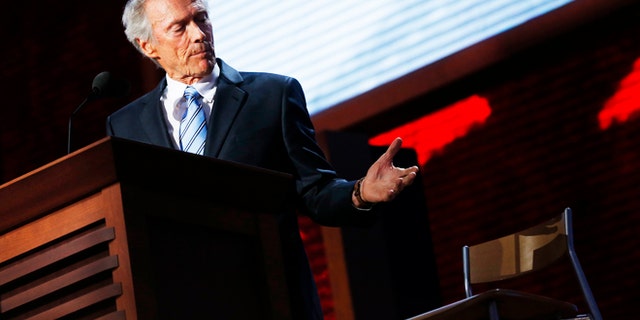 How did Clint Eastwood come to speak—to an empty chair—during the final night of the Republican National Convention during the 2012 presidential campaign? That's the question the new book "Double Down" aims to answer.
Written by Mark Halperin and John Heilemann, "Double Down" is the follow up to the book "Game Change," which was turned into a 2012 HBO flick starring Julianne Moore as Sarah Palin.
During the 2012 RNC, Eastwood memorably went over his scheduled speaking time and voiced his thoughts to President Obama by speaking to an empty chair.
But how did Eastwood get the prominent platform in the first place? According to "Double Down," the plans for the famed director to speak were made after Romney and his wife had dinner with Eastwood and his wife.
Eastwood then spoke, well enough, at a fundraiser in August, and Romney supposedly asked his staff to secure the director for the RNC.
The book alleges that some members of Romney's staff were hesitant to let Eastwood speak without vetting his remarks ahead of time, but he went on stage regardless.
According to the book, Republican nominee Mitt Romney's senior strategist, Stuart Stevens, was backstage with Romney watching Eastwood during the debacle. Romney "seemed to think it was funny — at least at first," according to the book. Stevens was alarmed by the "disaster occurring on stage" and he "excused himself, went into another room and vomited."
Variety reports that Eastwood later stated, "If somebody's dumb enough to ask me to say something, they're gonna have to take what they can get."
The book states that the director got the idea to talk to the chair after listening to Neil Diamond's "I Am… I Said," which includes a line about speaking to chair.
"Double Down," hit bookshelves on Tuesday and Variety reports that HBO has already purchased the exclusive rights to turn it into a film.