Discovery's 'Game of Stones' highlights dangers of extreme gem hunting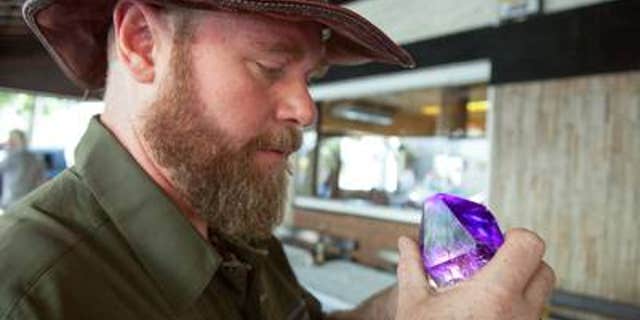 No, it's not "Game of Thrones." It's the new discovery series "Game of Stones," which debuts Friday night, and focuses on the adventures of America's most extreme gem hunter Don Kogen – the CEO of Gem Guys, Inc.
Kogen routinely risks his life in his travels to all corners of the earth to locate rare and valuable gems.
The Texas-native first got into gem hunting when he left America at 14 years old to travel to Thailand with his father. After the two had a falling out, he soon found himself left to his own survival devices and started selling stones on the streets of a Thai gem trading town.
The rest is history.
"I am lucky I found my passion so early. My ignorance at that time was bliss. I didn't have a father figure and one of the top gem heaters in Thailand didn't have any children and wanted someone to teach so he took me under his wing," Kogen told FOX411. "I just wanted to know more and more about gems… The story behind them, how you can turn something not that beautiful in its natural form to this spectacular, shining thing."
Each episode of "Game of Stones" features Kogen and his team in a variety of countries – from Thailand and Turkey to India, Tanzania and Brazil – knuckle-deep and fighting fierce competition to be the first to collect the rare stones. But it's not just a competition to get to the goods. Sometimes, it's also a fight to stay alive and safe. Over the past 25 years in the industry, Kogen has had his share of near-death experiences.
"I go with the intent to get that stone, and I go deep. So I do come across not the friendliest of people. You have to have a feel for it, to know the gem you want is there," he said. "I carry a lot of cash with me. There is no ATM in these places. You trade right then and there and I've been in the wrong places at the wrong time."
Take Nigeria in 2004 when their vehicle came to a road block. With AK-47s pointed at them from all directions, they were asked who they supported in the government. But it seems the hairy adventures are worth the reward.
"I wasn't made [for] the office. For me, gems were about survival and I have had a lot of down moments. But I stuck to it. I'm a driven individual," Kogen added. "Sometimes the journey is complicated, but when you get those stones, everything changes. All the pain and suffering goes away. And when they are cut, that is the moment."
"Game of Stones" premieres on Discovery February 28 at 10PM
Follow @holliesmckay on Twitter.