Did celebs stay involved after Superstorm Sandy's floodwaters receded?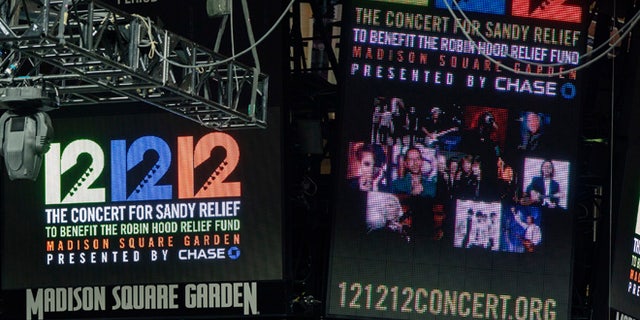 When Superstorm Sandy ravaged the coastline from the Jersey Shore through New York and Connecticut, causing more than $68 billion in damages and killing more than 280 people, scores of celebs mobilized to help the storm's victims.
Bruce Springsteen, Jon Bon Jovi, Paul McCartney, and even the Rolling Stones performed for "12-12-12: The Concert for Sandy Relief," a benefit for the Robin Hood Relief Fund broadcast worldwide from Madison Square Garden that raised more than $50 million dollars.
Jimmy Fallon, Kevin Bacon, Christina Aguilera and friends showed up for the "Hurricane Sandy: Coming Together" benefit telethon, a celeb-packed, commercial-free hour that reeled in around $23 million in donations for the Red Cross.
"Jersey Shore" star Snooki was even in on the action, helping raise over$16 million for victims on ABC's "Day of Giving" Red Cross telethon.
But once the flood waters receded and the television cameras retreated, how many kept at it?
FOX411 attempted to reach out to multiple stars involved in immediate relief efforts to find out if they were still actively involved, but most reps did not respond for comment. A rep for Christina Aguilera said that while she hasn't done anything recently, she is always going to help out in times of need. Others got defensive and insisted that their clients not be involved in this story at all.
"Just as with any volunteer, there is absolutely no obligation for celebrities to get or remain involved with a charity or disaster relief effort any longer than they choose. Unfortunately, a number of celebrities do jump on a cause for quick headlines and then jump off when the news cycle turns," entertainment attorney and CEO of Astonish Media Group, John Conway, told FOX411. "I advise clients that if they do get involved with a charity or disaster relief, they should be committed to seeing the job through, because people are counting on them, and this is one area of their lives where they can have a very significant impact."
And such stars do exist. In March, CharityBuzz had an auction in which people could bid on meeting stars such as Sting, Charlie Sheen, and Carrie Underwood, with the money going to Sandy relief, and different reps assured us that talent is always on standby to help should the occasion strike.
"Celebrity involvement has a great impact on disaster relief. They can play a very significant role as cultural leaders of our community," added Conway. "They help raise awareness of issues, motivate people and help raise money for relief projects."
Several organizations that recruited stars a year ago also didn't respond to specific comment requests with regards to the continued involvement of named high-profile celebs, and most of the associated websites did not make any mention of current star associations. AmeriCares was an exception, actively promoting a swim initiative involving Diana Nyad, which took place earlier this month.
Danielle Jones-Wesley contributed to this report.