Demi Lovato exhibited warning signs in days leading up to apparent overdose
A day before Demi Lovato's apparent drug overdose, the star and her "new" group of friends were reportedly on a "binger" and were prepared for extreme measures by having Narcan, an emergency medication that is used to revive people in instances of narcotic overdoses, on hand.
TMZ reported that Lovato, 25, refused to tell paramedics what drugs may have caused the overdose and was not cooperative with EMTs when they arrived at her home on Tuesday. A source told Fox News that "it's not heroin." According to the outlet, no drugs were found at the scene and no charges pressed.
People magazine reported that Lovato and her group of friends were prepared for their night of partying.
"She and her 'friends' were on a binger the entire night," an insider told the outlet. "They keep Narcan on hand for such situations – they were prepared for this. The people she has been hanging around lately aren't her real friends – they don't have her best interests at heart. She's pushed her true friends away."
The source added, "She had to find creative and sneaky ways to get drugs because her team and those that really care about her really try to keep a close watch on her."
Lovato's long-time band guitarist, Mike Manning, spoke out about the singer's new group of friends saying that he planned to expose all of those who were involved in Monday night's "binger" and added, "I almost lost my sister today."
"Anybody who was with Demi last night and actually calls themselves a friend should actually be disgusted with themselves. SICK," Manning said according to the Daily Mail.
He added, "You can never trust anyone. Never can know if your "friends" are truly on your side or not."
According to TMZ, Lovato's longtime team attempted to stage an intervention to get help for the troubled singer but she "blew them off." The news follows the departure of Lovato's long-serving manager, Phil McIntyre, who was reportedly a part of the intervention.
Lovato had been preparing for a months-long string of performances set to start Thursday night in Atlantic City, N.J., and take her to venues as far as Mexico, Chile, Argentina and Brazil. The singer's Atlantic City concert has since been canceled.
Signs of trouble began in the days leading up to the overdose when a video of the singer forgetting the lyrics to her song "Sober," surfaced online. Lovato wrote the single, released in late June, about relapsing after celebrating six years of sobriety.
Lovato's profound "Sober" lyrics read, "Mama, I'm so sorry I'm not sober anymore/And Daddy, please forgive me for the drinks spilled on the floor. To the ones who never left me/We've been down this road before/I'm so sorry, I'm not sober anymore."
Though Lovato has been vocal about her struggles throughout the years, another insider revealed to People that Lovato's period of sobriety was full of ups and downs.
"Demi was never really clean and sober from all of her demons. She has been fighting depression and anxiety for quite some time — and is still in such a dark place. She was sober for a while, but not completely sober for six years."
The star, who is "in stable condition" and with her family at the hospital according to a statement from her rep, has also found support from her ex-boyfriend, former "That 70's Show" star Wilmer Valderrama.
Valderrama, who dated Lovato for six years before their break up in June 2016, was reportedly "shocked" after hearing the news that Lovato was hospitalized on Tuesday.
"He knew she was going through a tough time but he wasn't prepared for this," a source told People. "He saw her through so many ups and downs and was her rock through some of her darkest moments. To see her back in such a sad and vulnerable place is heartbreaking for him."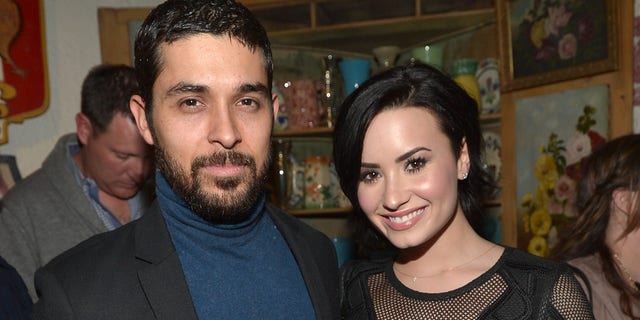 The source added that Valderrama, "always cared deeply" for Lovato and even after they split the two have remained friends.
So much so that Valderrama paid his ex a visit on Wednesday, according to People. The 38-year-old star visited Lovato in the hospital following her apparent overdose yesterday afternoon.
"Demi always hoped they would end up back together in the future," a source revealed to the magazine. "He's the love of her life and vice versa."
Lovato remains in the hospital.