'Dancing With the Stars': Dorothy Hamill quits, other celebs are safe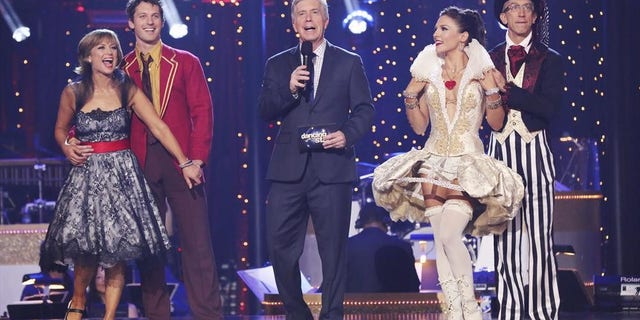 Tuesday's installment of "Dancing With The Stars" is full of shocking surprises from beginning to end. The ABC show debuted its first live results show of the season in the hour-long episode and the outcome isn't what anyone could have predicted.
The show also featured two guest performances that were really cool to watch. The first was from international pop sensation, Icona Pop, who sang their hit, "I Love It." Josh Groban also hit the stage to perform his single, "Brave," while the pros put the celebs to shame with a beautiful dance.
VIDEO: Click here to watch a clip of the dances
Hosts Brooke Burke-Charvet and Tom Bergeron don't waste any time getting down to business. There's a Ferris Bueller moment when the first safe couple, Kym Johnson and soap star Ingo Rademacherdon't hear their names called. "Ingo and Kym! Ingo and Kym… Ingo and Kym?" Funny.
Wynona Judd and Tony Dovolani are also safe, as are Peta Murgatroyd and Sean Lowe. The Bachelor star looks so relieved, like he was expecting to be in trouble.
Fighter Victor Ortiz is the first celebrity to land in hot water and his partner, Lindsay Arnold, looks a bit surprised. She should be, they were good!
Next is an encore performance from Zendaya and Val Chmerkovskiy, because they earned the most Twitter comments on Monday night. It's another twist from tradition, as this spot is usually selected by judges, Len Goodman, Bruno Tonioli and Carrie-Anne Inaba.
I'm glad I get to see them dance again. They make it look so easy that I'm tempted to take a few spins around the living room during the next commercial break.
Aly Raisman and Mark Ballasare in the clear. No surprise there. The good-natured gymnast gives her partner a victory squeeze before it's time to move on to the next couple.
D.L. Hughely and Cheryl Burke have a lot more to worry about. Both of their performances were pretty bad, earning the lowest scores of both the nights. Still, the comedian looks nervous and for good reason, they're in! He faux falls down to the floor, flabbergasted he's not in the bottom.
Lisa Vanderpump isn't so lucky. She and her partner, Gleb Savchenko, are on the chopping block. It's a bummer, but not a shocker. Ms. Lisa is no dancing queen. I hope she stays around long enough to improve. Her partner jokes she may have to shag Len to stay in the game. Ha!
Zendaya and Val, Kellie Pickler and Derek Hough, and Jacoby Jones and Karina Smirnoff are safe, as well. Again… duh.
Also breathing a sigh of relief is Dorothy Hamill, who is suffering from a spinal cyst that seems all kinds of painful. The Olympic figure skater must be used to working through injuries and her partner, Tristan MacManus, is one of my favorite pros.
One of my unexpected favorites, Andy Dick, says he's so sore, he could stand to go home and "sleep for a few months." I'm rooting for this guy and something tells me the rest of the country might be too. He and his partner will dance another day.
Wait… what? Isn't that everyone?
Turns out, Hamill's injury is more serious that we thought. She's quitting the competition. "I've taken the advice from my spine surgeon and I need to withdraw from the competition. It could be irreparable nerve damage and it would be completely unfair for me to stay in this and have any of these people go home," she reluctantly admits. "It's not that I don't want to be here. I wish I could give it my all, but I can't!"
Sad, but true. She certainly shouldn't dance if it puts her at risk. Guess we'll see Lisa again next week for the Prom Night theme.
Click here for more "DWTS" scoop from Celebuzz