'Dallas' star Sheree J. Wilson recalls working with 'prankster' Larry Hagman, shares her big regret
Executive producer Leonard Katzman has said over the years that his only regret was killing off April Stevens Ewing in the CBS drama "Dallas," but he wasn't the only one who felt that way.
"The problem was I requested it," Sheree J. Wilson told Fox News. She starred as the manipulative blonde from 1986 until 1991.
"I was seven months pregnant with my first child when I married Bobby (played by Patrick Duffy)," said the 58-year-old actress. "Nobody knew it because I had the biggest bouquet of flowers covering my belly. I had a miniskirt and a low-cut top, so they were focusing on legs and other parts. Not my big bouquet of flowers!"
Wilson, who believed the series was coming to an end, felt it was the right time to make a dramatic exit so she could focus on motherhood. And while Wilson felt at ease leaving the successful role to raise a family, things didn't exactly go according to plan.
"I said, 'This is the last year of the show. Kill me off in grand fashion!'" she explained. "I didn't want to just disappear. And they machine gun me down on my honeymoon... But then they brought the show back for a reunion and then they brought the entire show back! And I couldn't go back. It was terrible. I thought, 'Why did I kill myself off?!'"
One beloved co-star was determined to somehow get Wilson back on set.
"Larry [Hagman] was trying to mastermind a way where April Stevens had an evil twin sister that she never talked about and then I show up with a brunette wig on," she said. "We had some good laughs talking about how we could mastermind that into the storyline. But then Larry got ill and unfortunately, it never happened. But we had a lot of fun plotting how I could come back."
The prime time soap opera aired on CBS from 1978 until 1991. A revived version of "Dallas" was brought to life in 2012. Hagman, who starred as evil oil baron J.R. Ewing, died at age 81 that same year from complications of cancer. He was in Dallas filming an episode of TNT's reboot. The show was cancelled in 2014 after three seasons.
While Wilson's ideas of bringing back April didn't happen, she still has fond memories of her time on "Dallas." Unlike her other cast mates, Wilson didn't join the show until 1986, which she described as "a total surprise and a gift" from Katzman.
"After six years, he decided to leave the show to pursue other projects," Wilson recalled. "He cast me on his new show, 'Our Family Honor.' I got to work with him on that series, but it only lasted one season. And 'Dallas,' the ratings just [plummeted] after he left."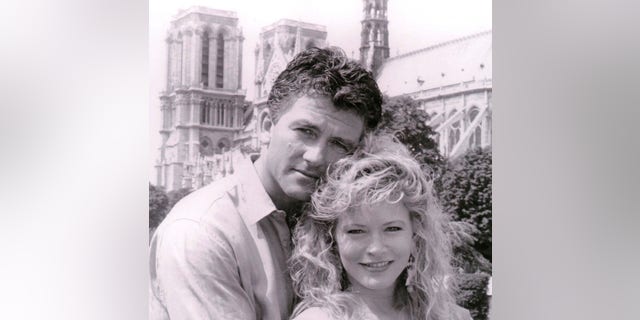 Hagman, the star of "Dallas," reportedly told CBS' artistic director he would put up a million dollars of his own money if they could bring back Katzman. He returned in 1986, and that's when Wilson received an unexpected phone call from her agent, who stated he wanted to meet with her again.
"When I met with Leonard, he just started pitching me," she said. Katzmann described how everyone was familiar with the highly publicized "Who shot J.R.?" mystery, which was viewed by an estimated 350 million people all over the world.
"[He said] 'I have to get back in the core of the story and you were so good at 'Our Family Honor.' I want you to be J.R.'s nemesis," she said. "I'm going to write you as a really bad girl. You're going to go toe to toe with J.R. I'm not sure how many episodes, but at least 13."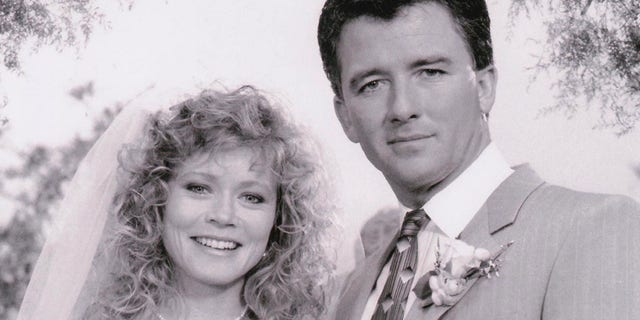 The decision was a no-brainer for the then-27-year-old.
"I called my agent and said, 'Unless I'm crazy, I just got offered the job of the century," she said. "I was J.R.'s nemesis and I loved playing a bad girl. It was so much fun. And they wanted to keep me! So they had to figure out a character arc for me. And over the years, I morphed into a really good girl so I could marry Bobby Ewing. It was quite a ride."
Despite the non-stop cliff hangers and nail-biting tales that unraveled in the show, Wilson insisted the cast became fast friends and incredibly close over the years. And off-camera, "Dallas" resembled more of a screwball comedy than a titillating soap opera.
"They were such pranksters!" said Wilson. "J.R. is supposed to be such an evil guy. But the minute he was off-camera… he would talk with peas and mashed potatoes falling out of his mouth. He and Patrick would have food fighting wars where they would be flicking their spoons full of peas and whipping each other in the face. Oh, terrible things would happen! Like, if I went to the [dressing room] closet, Patrick would strip down to his underwear and be hiding in the closet. So when I opened the closet, he would jump out and scream like a bear. My goal every day was to know my lines so well because they derailed me all the time. All we did was laugh."
But not everyone was amused by the comedy occurring on-set.
"I would laugh so hard I would cry my makeup off," said Wilson. "And the makeup artist would scream at us…They were complete comedians from the minute we walked on set to the end. But somehow we got our dialogue done and our screens shot every day."
Wilson revealed their friendship endured over the years and they still stay in touch. She considered Hagman to be "a second father" and often spent weekends in his Malibu home until she started filming "Walker, Texas Ranger" opposite Chuck Norris in 1993.
"We're very, very close," she said of the cast. "We try to see each other when we can. When it's someone's birthday, we try to get together for lunch. We're definitely due for a new pow wow. But yes, we stay in touch, despite our work, children, and other roles in life. We have a great love and like for one another."
Wilson is still keeping busy with a new chapter in her life. In addition to leading a production company, she's currently traveling the country to perform a theatrical production of "Driving Miss Daisy."
"It's the greatest joy ever to get the audience laughing with you," she said. "You can't mess with this material…It's just been the most rewarding and enriching experience I've ever really had in my career."