Critics slam NBC's 'Stars Earn Stripes' for 'trivializing' war and U.S. troops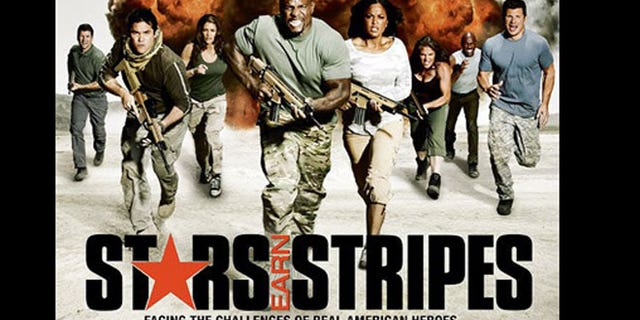 Reality television is rarely a reflection of real life but that's not stopping a slew of veteran groups from slamming NBC's "Stars Earn Stripes" for pushing too many moral and ethical boundaries.
The series stars the likes of Todd Palin, Dean Cain, Nick Lachey and Laila Ali, who get down and dangerous with an array of combat-derived tasks they must complete while partnered with a military special operative. Contests range from helicopter drops to long-range target shooting, with the star and veteran competing as a team. Each week, one team is given their marching orders. Ultimately, the cash prize scooped by the winners will go to a veteran or military charity.
But Amy Fairweather, director of policy for Swords to Plowshares, a community-based non-profit that helps veterans deal with the traumas associated with returning to civilian life, slammed the show, which premiered Monday, telling RadarOnline.com that "people have to realize that war is not a game," and that "the real warriors who go out there and come home from war don't win a reality prize."
"I think its trivializing war, where the consequences are not that you are knocked out of the competition next week, the consequences are you don't get to go on with your life," she continued. "They show explosions on the show, how cool! But then most soldiers' experience with an explosion is debilitating injury or severe burns, plus the psychological side effects of being wounded such as post traumatic stress disorder."
Fairweather also expressed shock that the highly-regarded General Wesley Clark, who served in the Army and Department of Defense for over three decades and collected a slew of honors, knighthoods and a Presidential Medal of Freedom along the way, signed on the host the Mark Burnett-produced epic series.
Clark did not respond to a request for comment.
But Clare MacNaughton, founder of the blog A Modern Military Mother, told FOX411's Pop Tarts column that her concern is not that "Stars Earn Stripes" will trivialize the military, but rather glamorize it unrealistically.
"Inevitably it will create an appetite for military life that perhaps is not akin to reality," she said.
Yet the concern over the potential trivialization of war isn't the only controversy which has plagued the military-centric show, even in the days before its premiere. Last week Sharon Osbourne revealed that she was stepping down from her long-standing post on "America's Got Talent" after NBC executives allegedly dropped her son Jack from the lineup of contestants following his MS diagnosis.
A group of Nobel Peace Prize winners also attacked the big-budget competition series, claiming that it sought to glorify violence as entertainment.
The criticism has drawn some ire from Andrew McLaren, a highly-acclaimed Iraq war veteran who stars as one of the professionals in the highly-anticipated series, and vows that if anything, the show helps veterans out by giving some the opportunity to discuss military-related issues and "bridge the gap and disconnect between civilians and the military."
"We are not claiming that this is the same thing as war at all, we are trying to make it as realistic as possible. Obviously no one is really shooting us, there aren't any bombs going off but what we're doing is great," he said. "Our hearts are in the right place and we say it is a game, but we're also highlighting the service of veterans and putting Afghanistan back on the map."
And according to McClaren, the teams have already raised hundreds of thousands of dollars to assists former servicemen and women.
NBC was also quick to deflect the mounting criticism ahead of the show premiere on Monday night.
"'Stars Earn Stripes' is about thanking the young Americans who are in harm's way every day. This show is not a glorification of war, but a glorification of service," said a network spokesperson.
And even though it is evident some veterans groups or military-related folks are offended by the Mark Burnett-produced series, there are plenty of others who are giving it the thumbs up.
"People aren't stupid, they realize this isn't war. It is television with its bells and whistles. It is no more trivializing real combat than paintball does and that is broadcast all around the world," quipped NAVY veteran and author of "No Time For Fear," Paul De Gelder. "At least it is guided and influenced by real soldiers. It's good that the public see some of the challenges that the military go up against without the horror of combat. It might inspire greater respect from the people that work so hard to defend us."
Andy Petranek, a former U.S. Marine and owner of the military-derived fitness phenomenon CrossFit LA, noted that "people need to lighten up" and that "no one said that this was war."
"It is actually good that the show sheds light on the sort of missions that Special Forces do, minus the consequences of course. While the consequences in real life are serious, much of what I have done was super fun. I volunteered for a lot of the things that I did in the military because while difficult and demanding, they looked fun," he said. "My five-year-old son and I were watching the Olympics and he asked if that was the sort of stuff I did as a Marine. I responded yes, and it felt like an awesome moment. For a moment, he got to see what his daddy used to do in a way that wouldn't have ever been possible another way."
And according to Dan Gainor, VP of Business and Culture at the Media Research Center, the concept should educate Americans about the challenges and hardships our heroes in uniform face every day, so long as NBC celebrates military personnel for their efforts, and does not exploit.
"Get the veterans groups involved from beginning to end. Make sure to include a segment in each show celebrating one of our recent heroes," he advised. "If NBC is honorable and wants to really show how hard military life is, then they have to deliver better than 'Jersey Shore Goes Camping.'"
"Stars Earn Stripes" airs Mondays at 8 p.m. ET on NBC.
Danielle Jones-Wesley contributed to this report