Critics Choice winner George Clooney says 'not even actors' have politicians' ego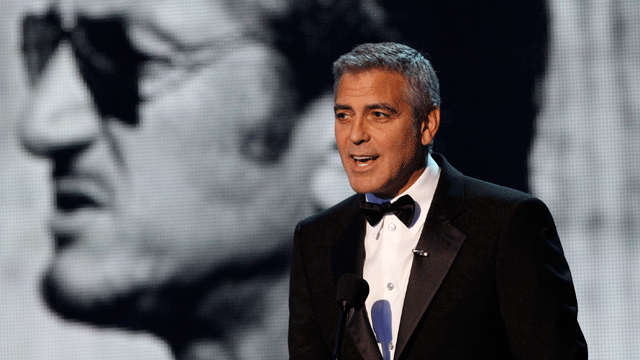 George Clooney took home the Critics Choice Best Actor Award for his portrayal of father Matt King in Fox Searchlight's comedy-drama "The Descendants" on Thursday night. But it turns out he found playing the role of an American President in "Ides of March" much more challenging than playing a distraught family man.
"It is a tough call, but being a politician (was harder)," he told FOX411's Pop Tarts column prior to the show. "The amount of bravado it takes to take a shot of yourself for those (promotional) posters, even actors don't have that kind of ego. It was rough."
But that "rough" life leads to plenty of pats on the back, and this Sunday Clooney will be doubly exposed having been nominated for a Golden Globe for best actor for "The Descendants" and best director for "Ides." And while the Awards Season hoopla is nothing new for the A-list star, he wants you to know he appreciates the acknowledgment - yet realizes that there are more important things worth discussing in life.
"Being nominated doesn't get old. It's nice when people are nice to you. That never gets old because there's a lot of times when they're not, so it is really fun to be here and I think we're going to have a good time," he continued. "It's also nice because I get to talk about Sean Penn and all the things he's been doing in Haiti and hand him an award. I think that'll be fun because we can talk about things that actually matter even more in the world."
On that note, Penn accepted the fifth annual Joel Siegel Award via satellite from Haiti, after being lauded for his humanitarian efforts in the earthquake-ravaged nation.
"I'm not as well as informed as Sean, but I'm sure he'll tell us what other things we can all do to help the cause," Clooney said. "He has been on the ground there for the better part of two years, he has really put his money where his mouth is."
And unlike most of the Hollywood elite, Clooney almost always shows up to his film premieres and these star-studded ceremonies well ahead of time, something greatly appreciated by the working press. But alas, there is a motivation in such madness.
"We try to get here early so we can get to the alcohol quicker," he explained, hand firmly on girlfriend Stacy Keibler's back.