Cowgirl Jeneve Rose Mitchell, who lives without electricity, chases 'American Idol' fame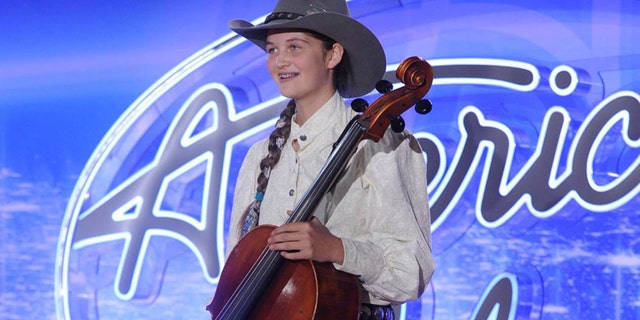 LOS ANGELES – "American Idol" is going off the grid in its final search for a music superstar.
Jeneve Rose Mitchell, 15, has lived for the past eight years on a remote mountain in Crawford, Colorado with no running water or electricity.
"We can't get power lines up there," she tells Fox411, "so we use kerosine lanterns. And twice a week, during 'American Idol' season, we turn on a generator to get the TV going."
Jeneve's quiet corner of elk wilderness will be thrust into the national spotlight tonight when the aspiring country singer auditions for judges Keith Urban, Jennifer Lopez and Harry Connick Jr. during "Idol's" 15th season premiere on Wednesday.
The homeschooled cowgirl dons full rodeo regalia — and a cello strapped across her chest — as she delivers an unplugged cover of The Band Perry hit "Chainsaw."
"I was born singing," says Jeneve, who began performing at birthday parties and local poetry gatherings as a young girl.
"I really feel like I connect with people when I am on stage. That makes up for all the time that I am alone."
With her nearest neighbors six miles away, the teen spends much of her free time training horses and playing music. She's taught herself to play string bass, violin, cello, banjo, guitar and harp.
"It's definitely lonely on the mountain sometimes," Jeneve admits.
"Me and my mom and my dad pretty much fend for ourselves on our ranch. Sometimes we go (back)packing. We are big campers."
Her mother, Jenny, is a heath care provider and operates a local family clinic.
Jeneve's father — who also serves as her vocal coach — is a carpenter. He built the family's home by hand using straw bales and mud from the mountainside.
"I am learning how to do all that from him," she says. "I want to be able to build my own house someday."
For now, Jeneve's priority is pursuing a career in music. But the singer insists she will still maintain her simpler way of life — with or without "Idol" fame.
"I am not a stereotypical teen," she says. "I don't use my phone that much or play video games."
"I don't need a boyfriend. I got my horses and my music. That's all I need."
The 15th and final season of "American Idol" premieres Wednesday on FOX.