'Counting On' stars John-David Duggar and Abbie Barnett get engaged after quick courtship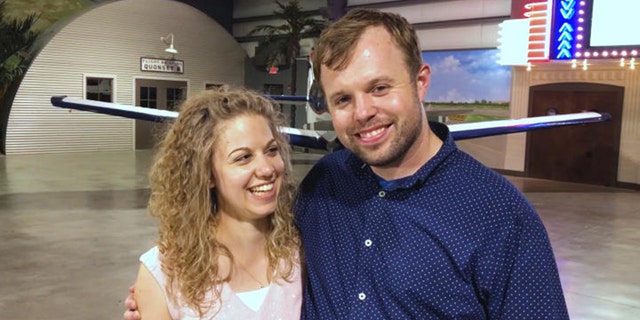 With 28-year-old John-David Duggar now engaged to 26-year-old Abbie Burnett, the Duggar family of "Counting On" is still counting on.
"It's official. We're engaged," Duggar said as he presented Burnett's bejeweled ring finger in the announcement video for TLC posted Wednesday.
Duggar said the couple had been ready to make the step for a while, but he waited to make sure the engagement would be special.
They didn't have to wait very long.
The announcement comes less than a month after the couple undertook a "courtship," the official stage at which a couple knows they're in love with the acknowledged "possibility of marriage," as Duggar described it.
By the looks of it, it was indeed worth the wait.
"ABBIE WILL YOU MARRY ME" read the neon-lit marquee in a scene that looks half aviation museum and half movie set.
"They are a wonderful match and make a beautiful couple! Abbie is a lovely young woman, full of tenderness and compassion," the Duggar Family announcement reads on their website.
The couple knew each other for several years but hadn't met until a few months ago. They fell in love "very quickly," Duggar said in their courtship announcement video.
It's been a prolific month for the continuously expanding Duggar family as 21-year-old Josiah Duggar wed Lauren Swanson and 24-year-old Jinger Duggar and husband Jeremy Vuolo welcomed their first child.