Cosby claimed he didn't have sex with Andrea Constand: 'Never asleep or awake'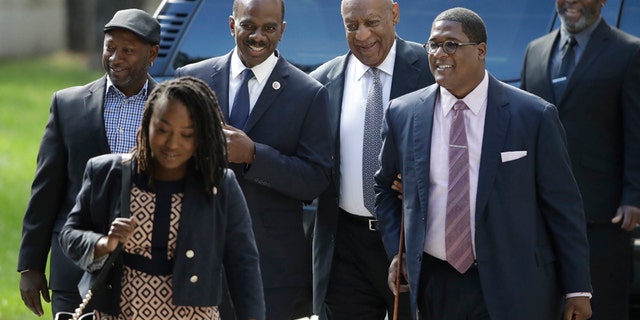 NEWYou can now listen to Fox News articles!
Bill Cosby told police in 2005 he didn't have sex with accuser Andrea Constand, "Never asleep or awake."
The statement was introduced in court on Thursday and came from a January 2005 interview with police that was conducted at Cosby's lawyer's offices in New York about a year after the alleged assault.
The comedian arrived for the fourth day of his sexual assault trial with the support of his fellow actors and comedians Joe Torry and Lewis Dix. On Wednesday, actress Sheila Frazier and her hairstylist husband, John Atchison, arrived with Cosby. Earlier in the week, Cosby was supported by Keshia Knight-Pulliam, who played the youngest daughter, Rudy, on "The Cosby Show." Cosby's wife Camille has not appeared in court alongside her husband.
Court began on Thursday with two witnesses — Constand's former neighbor Perna Rodman-Conare and Sgt. Richard Schaffer of the Cheltenham Township Police Department.
Rodman-Conare, who resided in Philadelphia next to Constand at the time, said they became good friends. He added on occasion he was present when Cosby would call Constand. While he described Constand as an open, natural, and easygoing person, he said she eventually became distant.
Meanwhile, Schaffer was assigned the case January 18, 2005. He had a phone conversation with Constand on January 19 to get a "bare bones set of facts about the incident."
He said Constand seemed anxious and appeared determined to get her whole story out during the call.
Schaffer recalled he had told Constand to gather and retain her phone records.
Then on January 26, Schaffer traveled to New York City and interviewed Cosby as part of the investigation. Quotes from that interview were revealed in court.
"I never intended to have sexual intercourse, like naked bodies, with Andrea. We are fully clothed. We are petting. I enjoyed it. And then I stopped, and I went up to bed," he said, according to the statement read to the jury.

After the interview was over, Schaffer testified Cosby summoned his driver who brought up a bag of pills – Cosby gave police 1 ½ pink oblong, a round green pill. and a smaller white pill, which were tested in 2015. The test results were not revealed.
Schaffer testified that during the time in question, Benadryl did manufacture a blue tablet. However they stopped production in 2010-2011

The bulk of Wednesday's session was taken up by the defense's cross-examination of primary accuser Andrea Constand. She says Cosby fondled her breasts and genitals after drugging her at his suburban Philadelphia home in January 2004.
Cosby's lawyers scoured Constand's police statements for inconsistencies and her phone records for evidence she'd continued to interact with him.
Constand's mother, Gianna, also testified.
The Associated Press contributed to this report.