Conan O'Brien Says He Will Not Host "Tonight Show" in Later Time Slot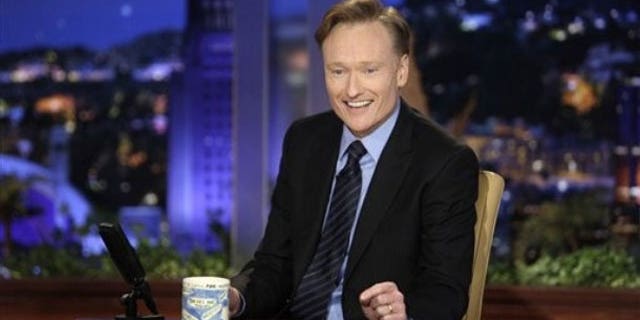 Conan O'Brien said he will not host the "Tonight Show" if it airs at 12:05 a.m.
The comedian, who has hosted the show for seven months, released a statement Tuesday saying he would not accept the time-slot move proposed by NBC.
"Last Thursday, NBC executives told me they intended to move the 'Tonight Show' to 12:05 to accommodate the 'Jay Leno Show' at 11:35. For 60 years the 'Tonight Show' has aired immediately following the late local news. I sincerely believe that delaying the 'Tonight Show' into the next day to accommodate another comedy program will seriously damage what I consider to be the greatest franchise in the history of broadcasting," the statement said. "'The Tonight Show' at 12:05 simply isn't the 'Tonight Show.'"
SLIDESHOW: "Late Night" Bits We'd Like to See Return.
However, O'Brien left some wiggle room for staying with the network.
"There has been speculation about my going to another network but, to set the record straight, I currently have no other offer and honestly have no idea what happens next," he said. "My hope is that NBC and I can resolve this quickly so that my staff, crew, and I can do a show we can be proud of, for a company that values our work."
Some TV insiders have said a move to FOX could make sense as the network does not have a late night variety show, despite repeated attempts. But Broadcast & Cable reports that several Fox affiliate executives have expressed reservations with such a move.
These executives told the trade magazine their stations already have syndication contracts or 11 p.m. newscasts in place that would make introducing a new late night show tricky.
FOX411 Survey: Conan Should Dump NBC for FOX.
NBC decided to end the experiment moving Jay Leno to prime time when some of its affiliates started talking about dropping the show.
NBC Universal Television Entertainment Chairman Jeff Gaspin said Leno's nightly prime-time show will end with the beginning of the Winter Olympics on Feb. 12.
NBC wants Leno to do an 11:35 p.m. show each night, a return to his old time slot, necessitating O'Brien's proposed move to 12:05, and Jimmy Fallon's move with "Late Night" to 1:05.
FOX411: Conan O'Brien's Full Statement Rejecting the Timeslot Move.
O'Brien addressed this in his statement as well.
"If I accept this move I will be knocking the 'Late Night' show, which I inherited from David Letterman and passed on to Jimmy Fallon, out of its long-held time slot," he said. That would hurt the other NBC franchise that I love, and it would be unfair to Jimmy."
O'Brien ended his statement, which he started with the salutation, "People of Earth," with his trademark, ridiculous flair.
"Have a great day and, for the record, I am truly sorry about my hair; it's always been that way."