Colin Farrell talks about his 'romantic relationship' with Elizabeth Taylor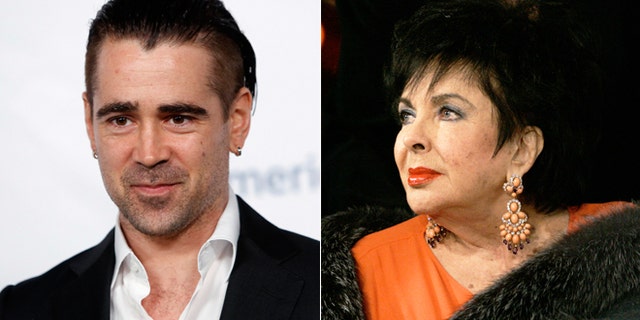 If you thought Colin Farrell and Britney Spears made a strange couple, wait until you hear this.
The actor opened up to Ellen DeGeneres on her show Monday about his "romantic relationship" with none other than Elizabeth Taylor.
Farrell met the legendary actress at Cedars Sinai Hospital in 2009, when he was there for the birth of his son Henry and she for getting a stent put in her heart.
"I said, 'Will you tell her I said hello? She probably won't know who I am,'" he said of running into her manager Tim Mendelsohn. "And they go, 'No, she knows who you are.' And I went, 'Wow, cool. Well, tell her I said hello and I wish her the best,' and they said, 'Will do.'"
Unable to shake Taylor from his mind, Farrell had his publicist send her flowers only to find out that Taylor shared a similar idea and sent him an orchid with a handwritten note.
A week letter, Farrell, 37, arranged to visit Taylor. "And that was the beginning of a year and a half or two years of what was a really cool [relationship]. It was kind of like the last — it feels like in my head, not hers, I'm projecting — but the last kind of romantic relationship I had.
But before you go dipping your brain in bleach to wipe the mental image of Farrell and Taylor in bed wearing nothing but diamonds, Farrell said the relationship "was never consummated."
Instead, the pair enjoyed late-night phone calls. "It was really cool, and she wasn't much of a sleeper at night, like I'm not, so at two o'clock in the morning, I'd call her," he said. "I'd call her at two in the morning, and the nurse would answer the phone, and I'd say, 'Is she awake?'... And then I'd be on the phone and I'd hear, 'Hello?' And I'd go, 'How's it going?' And we'd talk for a half an hour, an hour, into the wee hours.
"I just adored her," the Irish actor gushed of Taylor, who died in 2011 at 79. "She was a spectacular, spectacular woman. I wanted to be [husband] number eight, but we ran out of road."
View original Colin Farrell Opens Up About "Romantic Relationship" with Elizabeth Taylor at TVGuide.com