CMA Awards kick off with star-packed all-female performance, Garth Brooks wins top award
Garth Brooks took home top honors at Wednesday's CMAs in Nashville in a star-studded award ceremony that included country music's most famous acts and a stirring tribute to women artists performed by Dolly Parton, Carrie Underwood and Reba McEntire.
With a history-making opening that paid tribute to women in country music, the ladies started the CMAs by singing to Parton's "Those Memories of You," before Little Big Town joined Parton on-stage to pay tribute to country music icon Loretta Lynn -- who was also in attendance. In 1972, Lynn became the first female to win the Entertainer of the Year award.
The dose of girl-power continued with Tanya Tucker also taking the stage to perform "Delta Dawn." Gretchen Wilson was also on-hand to perform her rowdy "Redneck Woman." Crystal Gayle, the Highwomen, Sara Evans and more later joined before the group concluded with Martina McBride's "Independence Day."
MIRANDA LAMBERT SPARKLES ON THE CMAS RED CARPET WITH HUSBAND BRENDAN MCLOUGHLIN
"What a way to kick off country music's biggest night," Underwood -- who changed into a yellow fringed mini -- said after the performances finished.
Underwood, 36, also couldn't help but talk about her co-host, Parton with a joke about the hosts' dressing room. "For some reason, Dolly's rack is so much bigger," the "Cry Pretty" songstress said. "Well Dolly's rack is so much bigger," joked Parton.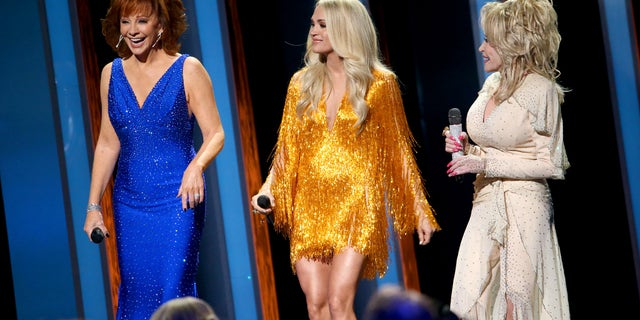 "You're ageless and timeless and parts of you are barely legal," McEntire jokingly added of Parton before noting that tonight the artists are "doing it all for the little girls who are dreaming of ruling the world of country music."
"Or just ruling the world," said McEntire, 64, who opted for a blue sequined low-cut gown.
JENNIFER NETTLES CALLS FOR EQUAL PLAY WITH CMAS RED CARPET LOOK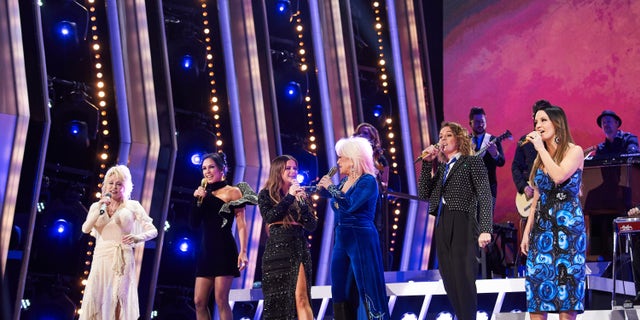 Gushed Parton, 73, of her co-hosts: "I think we make a pretty good team!"
The "9 to 5" songstress also gave a shout-out to Brad Paisley, who previously co-hosted the show over the years.
REBA MCENTIRE WALKS CMAS RED CARPET AFTER CONFIRMING BREAK UP
"I love a good man... thanks to Brad Paisley for letting us gals doing our thing tonight... we miss you!" said Parton.
Blake Shelton, who was accompanied by girlfriend Gwen Stefani, took home the evening's first award for Single of the Year for his tune "God's Country." Meanwhile, Ashley McBride took home the nod for New Artist of the Year.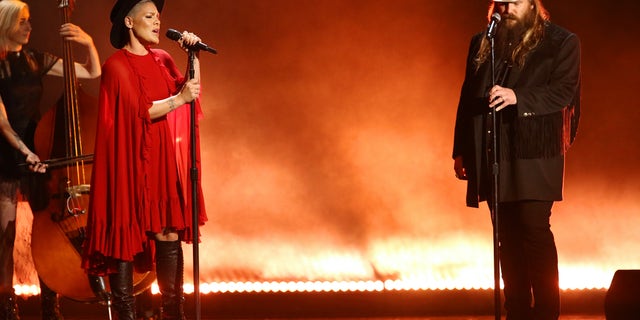 CMA AWARDS 2019 COMPLETE WINNERS LIST
Other performances included: Miranda Lambert singing her hit "It All Comes Out in the Wash," Pink teaming up with Chris Stapleton for their duet "Love Me Anyway," Old Dominion crooning to "One Man Band" and Underwood jamming out to her newest single, "Drinking Alone."
Meanwhile, Shelton performed his winning song "God's Country."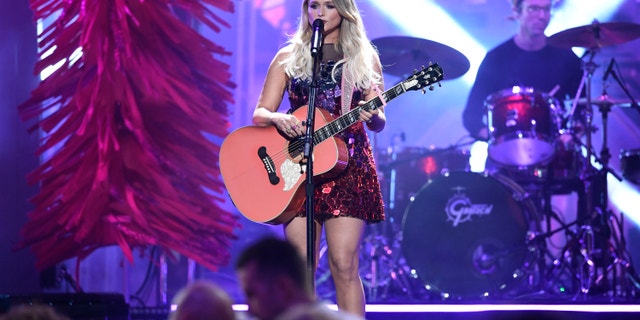 Later in the show, Parton introduced Halsey and Lady Antebellum's performance of "What If I Never Get Over You," but not before the country legend noted that her husband of 53 years, Carl, thinks "she's a hot chick" and adding that she feels like she's a mother hen to all of the aspiring country stars.
REESE WITHERSPOON, NICOLE KIDMAN REUNITE FOR CMAS
Parton took the stage later in the evening to perform an outstanding medley of her hits including her newest song, "Faith," and Keith Urban sang his tune "We Were."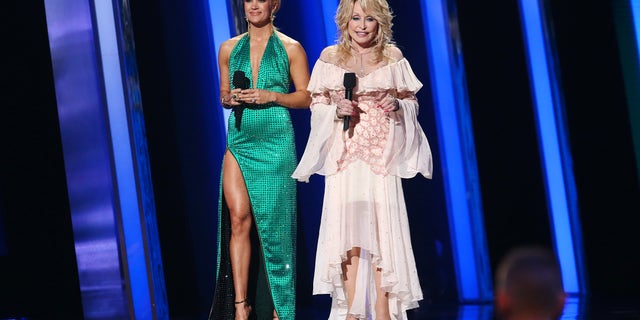 Kacey Musgraves took home the award for Female Vocalist of the Year and Music Video of the Year for "Rainbow," while Luke Combs won Male Vocalist of the Year.
"I remember sitting on my parents' porch as a little kid and watching Vince Gill win this same award," Combs, 29, said. "Country music means everything to me."
Maren Morris took home Album of the Year for "GIRL." The 29-year-old's win marked a big night for female country acts. The award also went to her producer busbee, who died in September at age 43.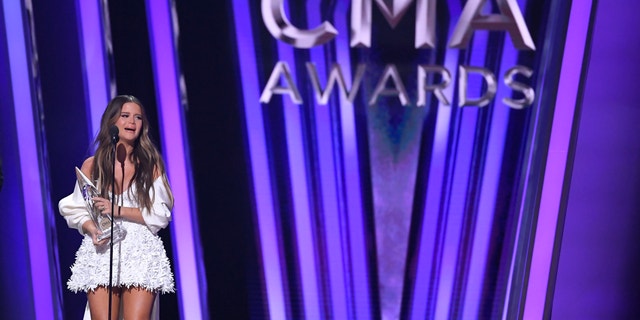 Others who competed for album of the year included Eric Church's "Desperate Man," Thomas Rhett's "Center Point Road" and Dan + Shay's self-titled third album, which featured the hits "Speechless," "All to Myself" and "Tequila," which won the duo its first Grammy earlier this year.
KACEY MUSGRAVES, GIGI HADID STUN ON THE CMAS RED CARPET
Kris Kristofferson was honored with a performance featuring Sheryl Crow, Dierks Bentley, John Osborne and Chris Janson.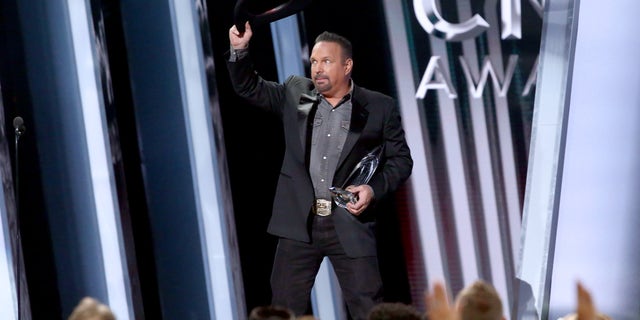 Actress Reese Witherspoon presented the final award of the evening: Entertainer of the Year. The top honor went to Garth Brooks. Brooks won the top prize over Underwood, who many had hoped would be the first female to win the accolade since 2011.
The country icon gave his wife, Trisha Yearwood, a big kiss before walking on-stage to accept his award. During his acceptance speech, he highlighted female acts.
CLICK HERE TO GET THE FOX NEWS APP
"If they gave this award for this show tonight, I'd have to give it to Reba McEntire's performance," Brooks said, also praising Kelsea Ballerini and Combs.
Brooks, 57, concluded by dedicating the award to his crew and fans: "God love you. I love you, Trisha Yearwood!"
The Associated Press contributed to this report