Clint Eastwood stumping for Mitt Romney suggests shift in Hollywood's political paradigm, experts say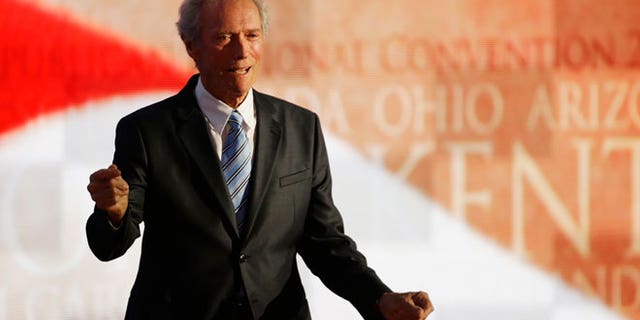 Hollywood has long been considered an overwhelmingly liberal community, but given Clint Eastwood's "surprise" blockbuster appearance in support of GOP Presidential nominee Mitt Romney this week – are the tables starting to turn?
"God bless Clint Eastwood for coming and supporting Romney. It shows that he is interested in the outcome of America," Oscar-winning producer Gerald Molen, who's latest project is the controversial documentary "2016: Obama's America," told FOX411's Pop Tarts column. "There are those of us who are trying to educate our Democratic friends in Hollywood as fast as we can."
Eastwood, arguably one of the biggest actor/directors of our time, addressed the Republican National Convention (RNC) on Thursday evening to great anticipation, applause and laughter given the surprisingly bizarre nature of his speech - talking to an empty chair. Other big names that performed and/or attended the RNC this week included Journey, Lynyrd Skynyrd, Taylor Hicks, Kid Rock, Dave Navarro, 3 Doors Down, Zac Brown, and Sara Evans.
And while social networks were ablaze with reactions to Eastwood's unusual speech, the Oscar-winner undoubtedly brought an A-list name to Romney's lineup.
In contrast, the upcoming Democratic National Convention is looking notably scarce in terms of confirmed celebrity guests compared to the star-studded turnout of 2008, which further begs the question: are the days of a Democratic entertainment industry diminishing?
"It's no wonder Obama has a fewer celebrities this time around, he treats the rich like one big punching bag. And after a while even the rich in Hollywood are going to take a pause, being beat up because of their wealth on a daily basis they might say: Enough is Enough," quipped New York-based political and entertainment publicist, Adam Weiss,
Jeff Roe, political consultant and founder of Axiom Strategies, added that "this shows is that even Hollywood is tired of President Obama's failed leadership and understand how badly his policies are damaging the united states economy."
But don't count Hollywood out of Obama's corner just yet. VP of Business and Culture at the Media Research Center, Dan Gainor, argues that Tinseltown is still very much an Obama-chanting crowd.
"It's great that Eastwood is bringing some magnum force to the GOP campaign. But he remains the exception who proves the rule. As 'Full Metal Jacket' star R. Lee Ermey pointed out recently about Hollywood, 'if you're a conservative in this town, you better watch out,'" he said. "Hollywood is still largely behind Obama.
"Actor George Clooney helped Obama raise $15 million at just one May event. And Clooney just helped with an event in Switzerland that might mean another $500,000. Hollywood, like the news media, is upset with Obama because he's not even more radically left."
And while social networks were ablaze with reactions to Eastwood's unusual speech, which included a long-winded conversation with an imaginary Obama, publicist and political expert Angie Meyer, says the GOP's newfound Tinseltown touch may help the party's push for Presidency come November, so long as star power doesn't overwhelm the important issues at hand.
"A celebrity with the magnitude and star-power of Clint Eastwood opens the door wide for closeted Republican celebrities to feel more comfortable expressing their shared conservative beliefs. For years, Hollywood has bullied conservative actors and actresses into a corner. This is the year, we'll finally see them speak up," she added.
"The fundamental differences between the two candidates (Romney and Obama) are so vast, it's more important than ever for big Hollywood names to step up and get involved in the cause. But leave the award shows for the celebrities, political conventions should be about the people," she added.