Christina Aguilera Hints at Justin Bieber Collaboration at American Music Awards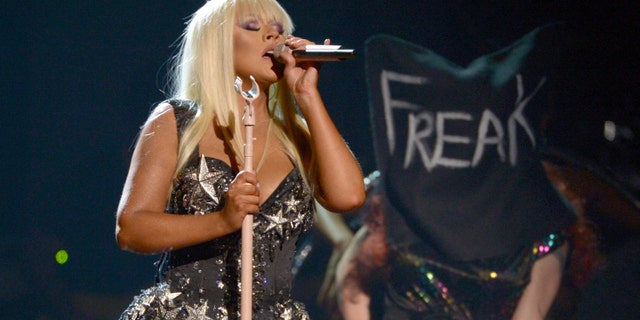 Christina Aguilera is hoping to hit a new high note with the help of Justin Bieber.
The voluptuous singer walked the red carpet before her American Music Awards performance on Sunday and talked to reporters about her upcoming projects.
Fresh off the release of her latest album "Lotus," X-Tina is already looking ahead into her musical future.
When asked about what performance she was most excited about at the 40th Anniversary AMA's, Aguilera proudly admitted to being one of Justin Bieber's many "belibers."
"I'm really into this song right now called, 'As Long as You Love Me,'"' Aguilera said of the pop star's smash hit single.
When asked by Extra if a possible Bieber, Aguilera collaboration was in the works, the "Voice" judge said, "Who knows, the possibilities are endless, so we'll see."
Later on in the night Aguilera took the stage herself for a steamy performance of a medley of songs off her latest album.
Joined by a team of backup dancers with bags over their heads with terms like "Freak" and "Loser" written on them, Aguilera rocked a revealing black bodysuit embellished with sequins.
Fighting recent criticism of her ample curves, Aguilera silenced many of her critics when she let her pipes take center stage.
Just last month Aguilera told Billboard magazine that she simply "got tired of being a skinny, white girl" and told higher ups in the industry to stop pressuring her about it.
After reflecting in the studio as she put together her new album, the singer says she worked up the courage to tell her management to back off.
"I told them...'You are working with a fat girl," said Aguilera. "Know it now and get over it."
"My body can't put anyone in jeopardy of not making money anymore—my body is just not on the table that way anymore," she added. "They need a reminder sometimes that I don't belong to them. It's my body."
Follow us on twitter.com/foxnewslatino
Like us at facebook.com/foxnewslatino