Chris Pratt and Melissa McCarthy embarrassed by past headshots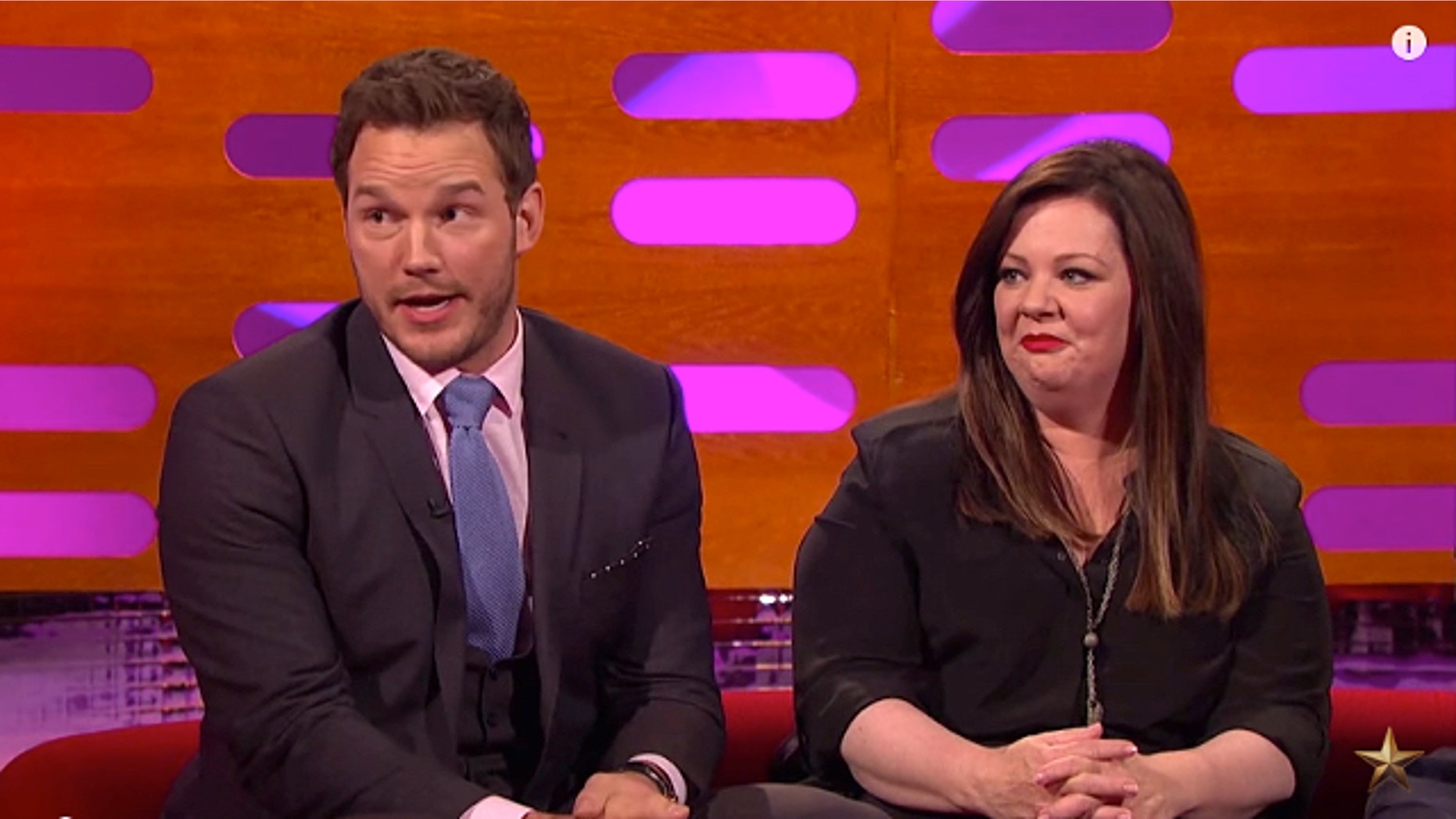 Chris Pratt was on "The Graham Norton Show" recently to promote "Jurassic World," and Melissa McCarthy was there for "Spy" (along with costar Jude Law). During one segment, host Graham Norton revealed their first headshots.
Pratt's was not bad, but how Pratt got that shot is a different story. "This guy [at the post office in Hollywood] had this look like he recognized me," Pratt tells. "He was like, 'You look familiar. Have I shot you?' I was like, 'I've never been shot. I don't believe you've shot me.'
"He was like, 'No, I'm a photographer, do you model?' And I was like, 'No! But have you ever heard of headshots? I need something called headshots,'" Pratt continued of his 20-year-old self. "The guy was like, 'I do headshots. I live like two blocks from here.'"
Listen to the whole story, that starts with a shower in a stranger's apartment and ends with free headshots.
NEWS: Chris Pratt pre-apologizes for behavior on 'Jurassic World' press tour
That's nothing compared to McCarthy's first headshots. She was immediately mortified when Norton asked her about the shots.
"I got my first commercial agent, which was like above a sandwich shop," she recalls. "He told me that I had to get character shots...I'd been working at the Groundling Theater and I was doing this weird character of a woman who gave out cheese samples in a grocery store and I was like, 'I'll do Carol!'"
The only thing better than those headshots is McCarthy's reaction to them:
Watch to hear Melissa explain where that itty, bitty cowgirl hat came from:
WATCH: Melissa McCarthy confronts a critic who trashed her looks
And then, on top of all that -- we told you this was the best talk show -- Pratt also revealed that when he was shooting "Guardians of the Galaxy" in London, his wife, Anna Faris, got addicted to a trashy reality show called "TOWIE."
"It's this show that's basically like their 'Jersey Shore,'" Pratt explains. "These folks are just the worst. I'm a parrot a little bit, so when I hear it all the time, I just started picking it up." He's being modest, but his accent is everything:
Obviously, you have to hear it to truly appreciate how perfect it is: