Celebrity blames tight pants For 'DWTS' elimination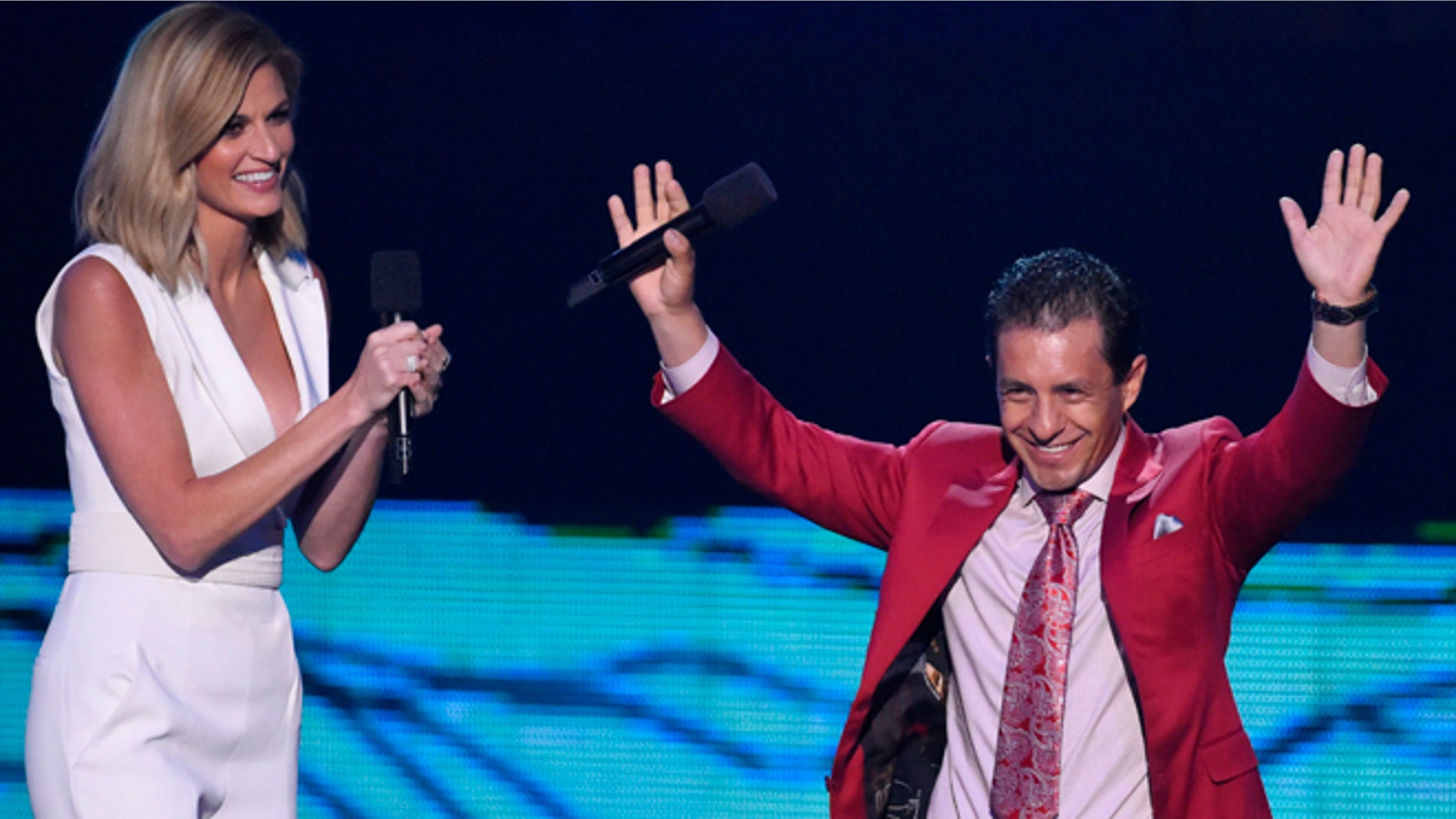 Victor Espinoza rides tall in the saddle but he couldn't make it to the winners' circle on "Dancing with the Stars."
On Tuesday night, the diminutive Triple Crown winning jockey became the second star eliminated on season 21--and he blamed his tight pants for the ouster!
Espinoza received scores of 17 and 20 (out of 30) for this week's dances, and while he cracked everyone up with his Monday night Mexican-themed "La Bamba" routine with partner Karina Smirnoff, he claimed the white mariachi costume was too restricting.
After the show, Espinoza told reporters about his exit, "Yesterday was just one of those days. It's always finding excuses a little bit for not performing the way I wanted.
"But let me tell you, those pants, they were so stiff, like a stick, so I couldn't really move much!" he laughed. "A big difference today, but too late."
The jockey said, "I need a break. For two years I've been working nonstop," but still, he plans to ride soon at Santa Anita Racetrack in Los Angeles.
Meanwhile, the rest of the cast moves on to next week, and Tamar Braxton left a great impression by receiving the Tuesday top score of 25 for her Charleston with partner Val Chmerkovskiy.
Gary Busey got the lowest score of 15 and said about the judges on camera, "If that's as high as they can count, God bless them!"
Busey predicted to host Erin Andrews during the show that he would NOT get the boot, and she agreed with the determined actor, 71, saying, "You know how this show goes. You're not going home!"
But just like Monday (when Chaka Khan was eliminated), Busey landed in the bottom two.
He survived and the cast said goodbye to Espinoza instead.
Later, Busey, who performed a Russian-themed dance with partner Anna Trebunskaya, told FOX411 about his low scores, "I don't think negative. I don't feel bad at all. It's just life. Take it or leave it."
Also during Tuesday's episode, in part two of this week's "Hometown Glory" theme, viewers learned more about where their favorite pro dancers came from and their life struggles.
"DWTS" golden boy Derek Hough, whose celebrity partner is Bindi Irwin, revealed on camera that he was bullied as a kid.
Hough later elaborated to FOX411 backstage, "There's some pretty crazy stuff…that happened…I went to six different schools within like a month. I would get into fights, I would get beat up. I would also have to fight back. There was trees involved, and rope, and all sorts of things.  It was pretty intense."
Longtime pro Mark Ballas' routine with actress Alexa PenaVega revolved around them performing to the last song his ballroom dancer parents Corky and Shirley Ballas danced to before they split up.
Ballas revealed to FOX411 after their rumba to "Somewhere in Time," for which they received a score of 22, "It was difficult growing up because I didn't see my parents as often as I would have liked…they had to sacrifice a lot and travel. When they finally retired we got to be like a full family and when they got divorced a couple years later I was like, WHY?  [But] they're friends now."
And Sharna Burgess, who dances with Backstreet Boy Nick Carter, told viewers her dad and grandma have both gone on kidney dialysis in her native Australia.
She said backstage about her dad Raymond Burgess, 66, "He won't let me offer him a kidney; he won't even let me see if I'm a match. He wants me to be healthy and strong for the rest of my life. He's waiting; he's on the list [for a kidney]. I understand but it hurts me not to be able to help."