Cardi B returns to Instagram after Grammys win drama, announces new song
Cardi B is back on Instagram after a two-day hiatus and is releasing new music.
The 26-year-old rapper made her big return on the social media platform Wednesday by announcing a new song with Bruno Mars coming out Friday. Cardi B deactivated her account after going on an expletive rant about receiving a slew a criticism for winning the Grammy award for Best Rap Album.
"Ok so I'm back from retirement to announce I have a brand new song coming out Friday at midnight with @brunomars . # twogrammywinningartist," Cardi B wrote.
Cardi B quit Instagram after she posted, and subsequently deleted, a video in which she fired back at her haters and passionately explained how much work went into her Grammy-winning album "Invasion of Privacy."
LADY GAGA DEFENDS CARDI B AFTER GRAMMYS BACKLASH: 'LET'S CELEBRATE HER FIGHT'
"I've been taking a lot of s--- today. I'm seeing a lot of bulls--- today and I saw a lot of s--- last night, and I'm sick of this s---. I work hard for my motherf---ing album," she shouts into the camera.
"I remember last year when I didn't win for 'Bodak Yellow' and everybody was like, 'Cardi got snubbed,'" she added. "Now this year's a f— problem?! My album went two-time platinum, my n—, and every chart that there was, my album was always Top 10. Number one album, as well."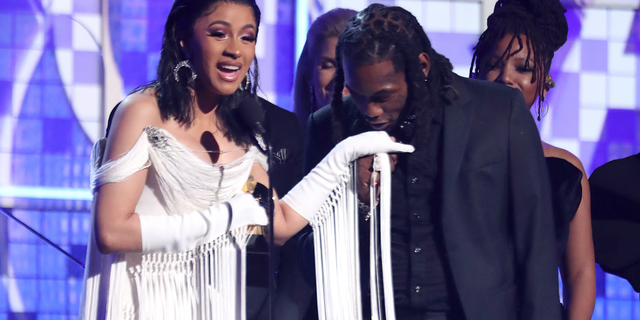 Cardi B said she "worked her ass off" for the album and spent sleepless nights in the studio despite being pregnant with daughter Kulture Kiari at the time.
CLICK HERE TO GET THE FOX NEWS APP
Following the rant, Lady Gaga defended Cardi B and called for people to "celebrate her fight."
"It is so hard to be a woman in this industry. What it takes, how hard we work through the disrespectful challenges, just to make art. I love you Cardi. You deserve your awards. Let's celebrate her fight. Lift her up & honor her. She is brave," Lady Gaga tweeted Tuesday.
Fox News' Tyler McCarthy contributed to this report.