Can group founded to help very young models survive dangers of fashion industry really help?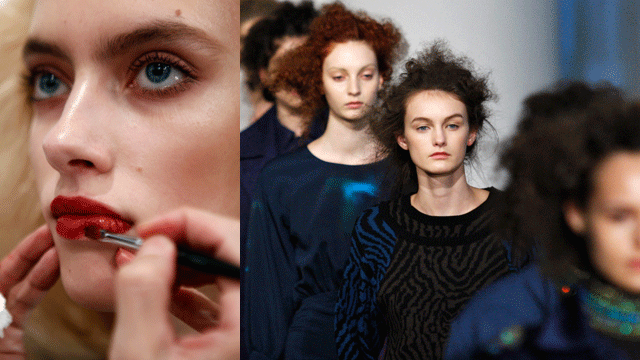 Fashion Week opened in New York City on Thursday, so for the next week, there will be an endless supply of free-flowing champagne, designer dresses, star-studded soirees, and a bevy of young beauties, all hoping to become the next fashion "it girl."
But the road to stardom in the modeling world can be a very dangerous one.
Argentine beauty Jennifer Gimenez was discovered by famed photographer Bruce Weber at the tender age of 14, and transformed into a supermodel virtually overnight, traveling the world with fashion superstars like Naomi Campbell and Tyra Banks. But Gimenez soon developed a severe eating disorder before becoming a full-blown drug addict and alcoholic at the age of 16.
"I look back at covers and there I was a kid selling sex, but at 14 I didn't even know what sex was… And then the drinking and drugs helped me escape the pressure," she said. "At 16 so many girls were dating 40 or 50-year-old men. We didn't know any better. I was measured all the time, photographers telling me to take my clothes off, I always felt violated. There was long shoots when they wouldn't feed you, I was just a little girl without a voice."
Gimenez said agents would promise protection and guidance, but would rarely provide it.
"Agents would tell my mom that I was going to live with a supervisor who would take care of me, a car service was promised and what not. But it never happened. Of course I was too scared to tell my mom that it was all lies. I was the provider for my family, working 20 hours a day. You are just a hanger and your voice didn't matter," Gimenez said. "Up until 18 they are also supposed to give you teachers on set, but that rarely ever happened. I studied and learned everything on my own. Kids need to be kids, we had no protection."
This week, a a group of models launched a nonprofit rights group entitled Model Alliance to address these problems. With support from The Council of Fashion Designers of America (CFDA), led by designer Diane von Furstenberg, the Alliance is looking to make the modeling life less dangerous for young girls.
"The modeling industry is essentially unregulated, and it relies on a labor force of children who model as adults. The industry's glamorous facade misrepresents the reality for most working models, who are sometimes pressured to drop out of high school to work long hours without financial compensation. Some models are working in debt to their agencies, and sexual abuse is also a problem," said Alliance founder Sara Ziff, 29, who has been a working model since the age of 14. "The biggest hurdle for models is that they are generally considered independent contractors, not employees, which basically means they don't get any benefits and the rule of law in terms of workplace standards does not apply."
The Model Alliance is on a mission to protect all working models in the U.S., with particular focus on girls just starting out in the cutthroat business.
"Child models should be treated as children – not adults. They should never be put on the spot to take age-inappropriate photos at castings or shoots," Ziff said. "Unfortunately, most models start their careers in their early teens, and that sets the 'ideal' of the adolescent physique on the runway, which is unhealthy and unnatural to try to maintain. Some people say that models' parents should be looking out for them, but often models are from far-flung places like Eastern Europe and Brazil. They are working for a better life for their families, and their parents cannot always afford to travel with them."
Indeed the life of a young model is fraught with dangers, several former models told Fox411.com. "I've met plenty of very considerate, kind people while working in the modeling industry. But they just can't stand up against the business on their own. I think most people would be shocked to learn what goes on behind the designer duds," said former top model Nicole Clark, who made the documentary Cover Girl Culture to shed light on the sexualization of young girls in the media. "Eating disorders, drugs, underage everything…"
Sonia Evers, editor of the popular model-centric website Modelina.com, hopes the new Model Alliance will help.
"Both the Council for Fashion Designers of America and its designer members have made progress in the last few seasons to hire healthier, more mature models for New York Fashion Week," she told us. "Casting director are much stricter about enforcing these guidelines and media outlets, like Modelina, have applauded these efforts by promoting these women."
But some doubt whether such efforts mean much.
"I have been backstage and literally stood next to 12-year-old, six-foot tall glamazons from Russia and there were no handlers around," commented one New York-based fashion and lifestyle publicist. "Everyone was staring at them, watching to see if they ate anything from the catering table and if they went to the bathroom straight after."
Clark said models are getting younger and younger as designers' sizing requirements shrink.
"As for policing the age range, I can't imagine it would ever be enforced from within, not even if 'guidelines' were given by the CDFA," Clark said. "Designers see the runway as their art platform and so the girls become dehumanized and simple objets d'art."
Emmy Award winning celebrity stylist and author of "The Color of Style," David Zyla, warns young models to run far from the runways until they are fully ready.
"When a teen wants to pursue a professional modeling career, it needs to be rallied around by the family, if the family cannot provide supervision and guidance, the teen should stay put in their current life filled with choir practice and proms," Zyla said. "I fear for anyone, especially children, who receives accolades only for the way they look and suspect there is great potential for long-term harmful effects on self-esteem as well as emotional and intellectual growth."
The CDFA did not respond to a request for comment, and IMG, top agency and official organizer of Fashion Week, declined comment.
Danielle Jones-Wesley contributed to this report.