Busy Philipps says she was raped at 14: 'It's taken me 25 years to say those words'
Busy Philipps got personal with her fans Thursday, revealing she was raped when she was just 14 years old.
The 39-year-old actress detailed the horrifying ordeal in an Instagram post, which featured a school yearbook photo.
"This is me at 14. The age I was raped. It's taken me 25 years to say those words. I wrote about it in my book. I finally told my parents and sister about it 4 months ago. Today is the day we are silent no more. All of us. I'm scared to post this," the actress wrote, referencing her upcoming memoir titled "This Will Only Hurt a Little."
Philipps made the post in support of Dr. Christine Blasey Ford, a California professor who has accused Supreme Court nominee Brett Kavanaugh of sexual assault when they were both teenagers. Ford and Kavanaugh are testifying before the Senate Judiciary Committee Thursday to discuss the allegations.
"I can't imagine what Dr. Ford is feeling right now," Philipps said.
ALYSSA MILANO ATTENDS KAVANAUGH, FORD HEARING
Philipps is one of several celebrities who have publicly spoken out in support of Ford by revealing their past sexual assault incidents. Padma Lakshmi, Lili Reinhart and Alyssa Milano are among the stars who have shared their sexual assault stories.
Milano also attended Thursday's hearing as a guest of Sen. Dianne Feinstein, D-Calif. Milano told reporters she was there to support Ford and believes the hearing could be different than the 1991 hearings, when now-Supreme Court Justice Clarence Thomas was accused of sexual harassment by professor Anita Hill.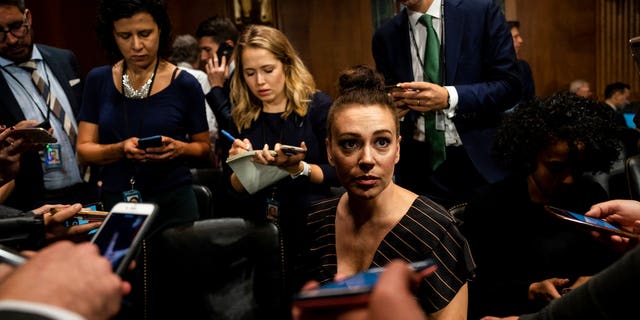 "I remember that was a horrible situation…it was so much a part of our daily discussion," Milano said. "I think we're in a different time. I think women are standing together in solidarity, more so than we were in '91 and I think women throughout the country are not going to let it be what it was."