Burst pipe dumps 5,000 gallons of water on Golden Globes red carpet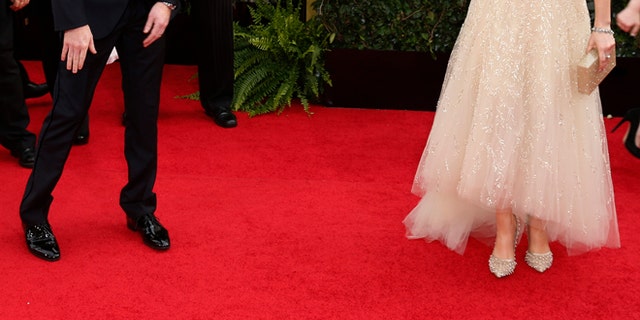 BEVERLY HILLS, Calif. – It was sunny and warm in Los Angeles for Sunday's 71st annual Golden Globes, but perfect weather couldn't keep the red carpet dry.
"We can confirm that there was a malfunction with a sprinkler near the red carpet," a media representative for the Beverly Hilton said in a statement issued to FOX411 ahead of the telecast. "The situation was quickly resolved. As some of the biggest names in entertainment are scheduled to attend Golden Globe Awards tonight, we wanted to give the carpet one last wash before it opened."
Less than two hours before the celebrities arrived, a pipe burst, pouring 5,000 gallons of water into the area where several video journalists and cameras were stationed.
According to sources on the ground, the water continued to soak the red carpet for around 45 minutes even as hotel maintenance staff and members of the Los Angeles Fire Department worked to remove it.
Much of the water poured over lights and power outlets, leading many to worry about more serious complications.
The incident was reportedly triggered when a large light used for video production was placed too close to a heat sensor, which then tripped the sprinkler system.
This wasn't the first time such a spewing has taken place.
Just before the Academy Awards last year, a pipe burst in the Dolby Theater as the mother of one of the Oscar nominees flushed a toilet. Water flooded the lobby just as all the nominees and industry elite were entering, and the unlucky woman emerged from the ladies' room drenched.
Follow columnist @holliesmckay on Twitter