Bruce Dern: 'Nebraska' for flyover states, about the American Dream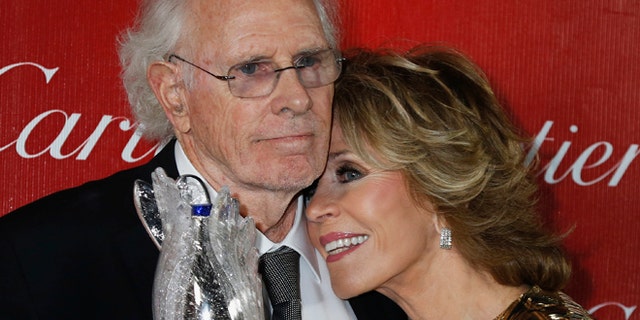 PALM SPRINGS, Calif. – Looks like Hollywood got the memo: There is an audience in the "flyover" states, and that's why the Oscar-buzzing independent drama film "Nebraska" has resonated so well, says its star Bruce Dern.
"It's about folks that don't live on the corners, the corners being the East Coast and the West Coast. It's for folks that are in the heartland and it's called the heartland for a reason," Dern told FOX411 before he received the Career Achievement Award at the 25th annual Palm Springs International Film Festival over the weekend.
"It's honest.... I hear on the radio when someone says you've won a million dollars or you can do this and that I believe it. Ed McMahon used to say it all the time when he gave things away," Dern said.
"Nebraska" deals with an aging, alcoholic father who will stop at nothing to travel from Montana to Nebraska with his estranged son in order to claim a million-dollar sweepstakes prize. But above all that, Dern also said "Nebraska" sheds light on the importance of the American Dream and never losing hope.
"It's about dreaming. For the older folks in America, and I'm 77, the one thing you don't ever want to take away from them is their chance to still dream, and that's very important," Dern said. "When you have got a family who isn't cool with them dreaming, then get another family."
Sandra Bullock also offered some smile-worthy words of wisdom as she took the stage to accept the Desert Palm Achievement Award Actress for her role in "Gravity." After admitting she still suffers from insecurities and that "maybe it's time to go back to therapy," Bullock confessed that she did a Google search of herself in an attempt to determine what audiences really thought of her – and then warned one should never do that, nor read the comment sections of articles.
"'Sandra Bullock is over 40' came up a lot, and [so did] 'Sandra Bullock is way past 40,'" she said before turning her attention to Julia Roberts. "Julia, apparently you and I are in a dispute over George Clooney. We talked about this. It's shared custody and we both are fine with it... And then there were lots of people writing that they couldn't understand why I was in this business – she's not particularly attractive, she's mediocre, she's over 40."
But in a touching conclusion, Bullock teared up as she spoke of the historical films that came out last year that exemplify how far America has come as a nation.
"I was watching beautiful stories about people struggling in everyday life in a world they don't think they belong in," she said. "I was watching old friends create characters that blow my mind and made me absolutely speechless.
And I was also watching heartbreaking stories about our past in this country that make me so proud to be in this business, because one day, they will show my son how far we've come."

Follow the author of this article @holliesmckay on Twitter.