Brazilian filmmakers hold red carpet protest at Cannes, say country 'not a democracy'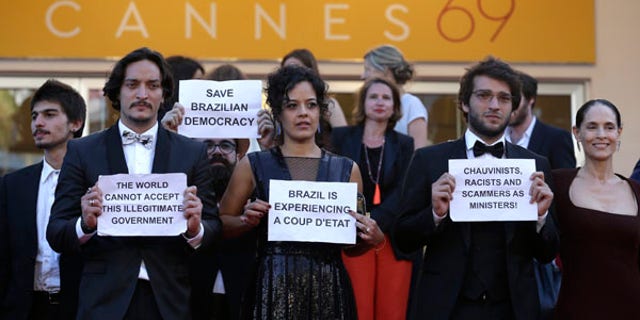 NEWYou can now listen to Fox News articles!
CANNES, France – The cast of the Brazilian film "Aquarius" had only one message at their Cannes Film Festival red carpet premiere: Their country is no longer a democracy.
Members of the cast held up signs reading that the South American country has been a victim of a coup as reporters and photographers looked on.
Their silent but powerful protest came just days after Brazil's Senate voted to impeach President Dilma Rouseff – the country's first female leader – for allegedly using illegal accounting tricks to hide deficits in federal budgets.
Rousseff has insisted she has done nothing wrong and has called the impeachment a coup. The Senate elected an acting president, 75-year-old Michel Temer, who's married to a 32-year-old former beauty pageant contestant.
"Aquarius," directed by Kleber Mendonca Filhois, is about an aging music critic trying to keep her apartment against developers. It's competing for the Palme d'Or.
The highly renowned French film festival has long been a place where celebrities voice their support or disdain for worldwide politics.
Just two years ago, Mexican actress Salma Hayek and Spanish actor Antonio Banderas used their celebrity platform to bring attention to the kidnapping of more than 250 Nigerian girls by the extremist Islamic group Boko Haram.
The Oscar-nominated actress held a sign with the hashtag "Bring Back Our Girls" while walking the red carpet, while Banderas, holding up the same message, was joined by his "Expendables" co-stars Sylvester tallone, Arnold Schwarzenegger, Mel Gibson, Harrison Ford, Jason Statham and Wesley Snipes.
Based on reporting by the Associated Press.
Like us on Facebook
Follow us on Twitter & Instagram