Beauty Queens Vie for Miss America Crown in Las Vegas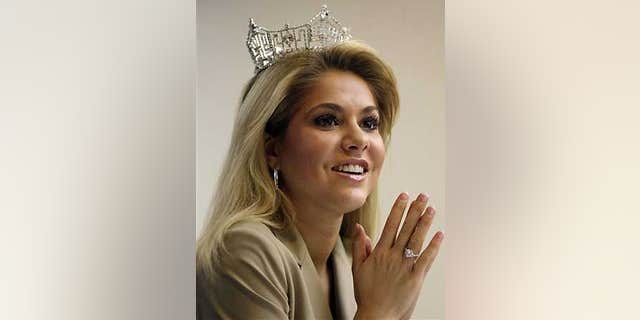 LAS VEGAS – In ball gowns, blue jeans and bikinis, 52 young women were set to compete for the Miss America 2009 title, capping a mini-reality series on pageant prep work and a week of preliminary competition.
The winner will be crowned by reigning Miss America Kirsten Haglund of Michigan and take home a $50,000 scholarship before embarking on a year of travel and public appearances. The pageant airs live on TLC at 8 p.m. EST Saturday from the Planet Hollywood Resort & Casino on the Las Vegas Strip.
In a new twist to the 88-year-old pageant, four of the top 15 finalists are being chosen by viewers of the lead-in reality show, "Miss America: Countdown to the Crown."
Contestants who won challenges on the TV show earned golden sashes and a chance to be one of the four named "America's choice."
The viewer interaction was Discovery-owned TLC's attempt to stoke interest in this year's crop of well-groomed young women. Once an American icon, the shine on Miss America's crown has been dimmed in recent years by slipping ratings and the popularity of more salacious reality shows.
The pageant was dropped from network television after the 2004 pageant drew a record low viewership. It found a home in Las Vegas after moving from its longtime location in Atlantic City, N.J., but it has struggled to get its footing on cable.
In its second year on TLC, Mario Lopez, of "Extra," will host with an assist from Clinton Kelly of TLC's "What Not to Wear." Judges include actress Laura Bell Bundy, Miss America 1999 Nicole Johnson, hairstylist Ken Paves and Olympic swimmer Cullen Jones.
The pageant is bringing back an opening dance number ahead of the traditional introductory parade of states.
As always, the women compete in swimsuit, evening gown and talent competitions, as well as a short "interview," in which they are asked their thoughts on a current event or hot topic. TLC has tried to dash the days of answers that declared that "children are the future." Questions will come from average people and are intended to put the contestants on the spot.
TLC also is having some fun with the clichDes of pageants past. For example, in its scorecard for home viewers posted online, it asks viewers to count the number of mentions of world peace and to name the contestant with best spray tan.
The gold sash winners voted on by viewers are: Miss Alabama Amanda Tapley, Miss California Jackie Geist, Miss Delaware Galen Giaccone, Miss Florida Sierra Minott, Miss Georgia Chasity Hardman, Miss Hawaii Nicole Fox, Miss Idaho Elise Davis, Miss Indiana Katie Stam, Miss Iowa Olivia Myers, Miss Kansas Emily Deaver, Miss Ohio Karissa Renee Martin, Miss South Dakota Alexandra Hoffman, Miss Texas Rebecca Robinson, Miss Virgin Islands Shamika Thomas and Miss Wisconsin Briana Lipor.