At LAMC, ChocQuibTown Brings Colombia's Pacific Coast Rhythm & Flow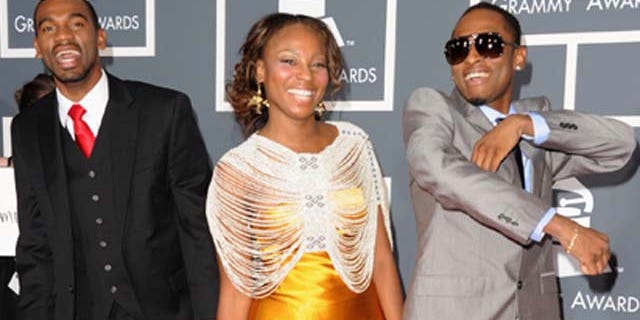 Rapping to Afro-Caribbean beats and hip hop swag, Latin Grammy Award winning group ChocQuibTown is bringing the Latin Alternative Music Conference (LAMC) a taste of Colombia's Pacific coast region -- sure to have crowds entertained and enlightened.
The trio, made up lead singer Gloria Martínez, a.k.a. "Goyo," her brother Miguel "Slow" Martínez and Carlos "Tostao" Valencia fuse traditional Colombian music with funk, dancehall and rhythms reminiscent of conscious hip hop such as The Fugees and Lauryn Hill.
The three are excited to get crowds moving to their drums and band at Central Park Summerstage, Saturday July 9.
"We are very excited to be teaching the world about our music and culture," Goyo told Fox News Latino. "It's a very special place, a congregation of Latinos."
Goyo and her band members come from a region in Colombia known as Chocó, where their African culture is strong. Chocó's capital is called Quibdó. Thus, the group named themselves ChocQuibTown.
"A country speaks through its music," Goyo said. "We want to show our country to those people listening to our music for the first time. Colombia is more than cocaine, marijuana, coffee, and Cumbia."
"We want for people to feel our music, to enjoy it," she added. "For those who understand the lyrics we want you to think about them and for those who don't experience and love the rhythm, the dance, that we are bringing to you."
ChocQuibTown certainly got the industry buzzing when they won the 2010 Latin Grammy for Best Alternative Song of the Year "De Donde Vengo Yo" (Where I Come From) a song that salutes Chocó and Quibdó, a town that few outside Colombia know of. The trio is the first musical group from Colombia's Pacific region to win a Latin Grammy.
"Latin music is so boxed in on a commercial level," Goyo said. "For us to be able to go with a different more alternative vibe, like the Marimba de Chonta which is an instrument of African heritage and traditionally part of the Colombian Pacific region, being able to perform just how we are already meant winning for us."
As for the future of alternative music, Goyo thinks it is bright.
"We believe that nothing is impossible," Goyo says. "The world is very open these days to new experiences."
Other artists joining ChocQuibTown at Central Park Summerstage on Saturday July 9, include Merengue pop star Rita Indiana, Ursula 1000, and Tropical Bass Party Creators DJ's Geko Jones and Andy Gills.
You can reach Alexandra Gratereaux at: Alexandra.Gratereaux@foxnewslatino.com or via Twitter: @GalexLatino
Follow us on twitter.com/foxnewslatino
Like us at facebook.com/foxnewslatino