Are Lingerie Ads Featuring Mother and Daughter Disturbing, or Just Darling?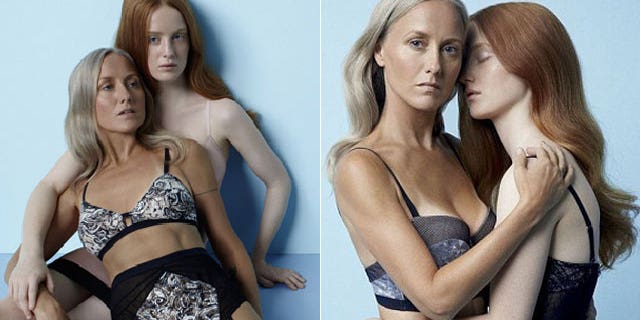 Is it darling? Or extremely disturbing?
New York-based lingerie and swimwear company The Lake and Stars has stirred controversy since unveiling its new ad campaign featuring a mom and her 19-year-old daughter posing provocatively while pressed against one another, all while donning only lacy lingerie.
"These ads are highly suggestive. They are clearly designed to titillate consumers; mostly men. The incestuous and lesbian suggestions, with the phallic images of cactus and logs, are juvenile at best," psychologist Dr. Nancy Irwin told FOX411's Pop Tarts column. "I'm disgusted, yet hardly surprised by this. Advertisers (particularly of undergarments) continuously push the envelope on good taste to simply get attention and drive sales."
However, the company's owner said they were shocked that the campaign had garnered such a negative reaction.
"We're surprised that people are reacting with such violently negative connotations such as incest, given that we were only making light of a healthy and beautiful relationship between two women... something we think people in our culture are often uncomfortable with, especially when there is so much focus on competition and gossip," said Lake and Stars' owner Maayan Zilberman. "We've always embraced women of all ages and sizes in our shoots, and having admired the loving relationship between our friends Johanna and India (the mom and daughter,) it seemed a natural thing to feature them in a campaign representing our brand."
"We are always inspired by the women we feature in our ads for their beauty, intelligence, and confidence, and this season there was no exception," she continued. "We like to embrace our community of women and to appreciate friendship and acceptance, something we don't find often in the world of fashion. Everyone involved in the shoot -- the designers, models, and photographer -- agree that these photos are beautiful and tasteful."
One ad expert agrees.
"If you can see past the fact they are wearing lingerie together and see it simply as a representation of healthy affection then there's nothing detrimental or disturbing about this ad at all," said Steve Hall, editor of the advertising blog Ad Rants. "I honestly think the brand feels this is simply an innocent representation of a mother and daughter's love for one another. It's a metaphor, of course. It's unlikely a mother and daughter would be caught dead in the same room with one another clad only in lingerie. But that's the literal visual people are reacting to, not the idea of a close, nurturing, loving relationship between a mother and a daughter. However, any smart marketer will leverage envelope pushing whenever they can, and there is certainly a hint of that here."
But the author of "Love Your Body, Love Your Life," Sarah Maria, thinks the ads provide more than just a hint.
"There are many things a mother-daughter relationship is, but sexual hopefully it is not. It would nice to see a company sell through uplifting messages, instead of yet once again selling sex in order to sell clothing. There is much beauty in a mother-daughter relationship, none of which appears to be depicted from this photo shoot," she said. "And like most advertising these days, it leads women to focus on themselves as sex objects instead of human beings. To take this sexualization to a mother-daughter relationship seems extreme to say the least."