Angie Harmon's dream role? Playing a sexed up She-Hulk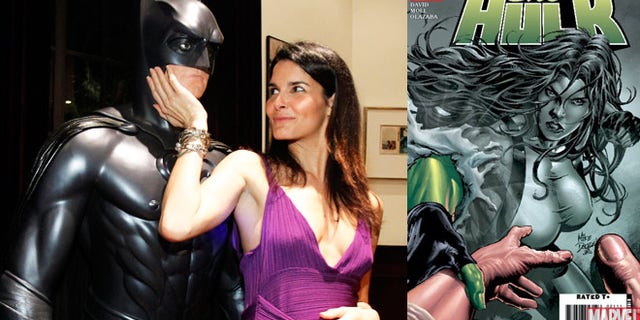 Angie Harmon could barely contain herself, clapping and gasping like a teenager at a Justin Bieber concert when Conan O'Brien merely mentioned the name "She-Hulk" during Monday night's airing of "Conan."
The 39-year-old star of 'Rizzoli & Isles' wiped away tears of excitement when the comedian asked her about her love of She-Hulk, and flashed a picture of the character on the screen.
"Look at her, look at her!" Harmon exploded. "She is so slammin.' Oh my God… She's incredible. She's amazing."
Who knew Angie Harmon was such a comic book fan?
"It just started very innocently as like a thing on Twitter and then [her obsession] just sort of went viral," she explained.
Then, at a recent Turner event (Harmon and Conan are both on the network), the She-Hulk cat was really let out of the bag, thanks in part to a few drinks, Harmon said.
"We were just talking about it, and I got really excited and fired up about it," she screeched. "I probably shouldn't have had that second glass of champagne before I started talking about her… It got to be just a whole thing about 36C's and how awesome she is, and her giant libido."
Say what?!
"If you were to be a superhero that was a woman, this one just happens to have slept with everyone," she explained. "Like Captain America, Iron Man and Superman."
Conan, ever the opportunist, was eager to give Harmon her big break.
"'She-Hulk' is coming out in one year," he declared. "I am the executive producer, I'm also the director and I play every male character."
Stay tuned...