'America's Got Talent' recap: Simon Cowell cheers as audience squirms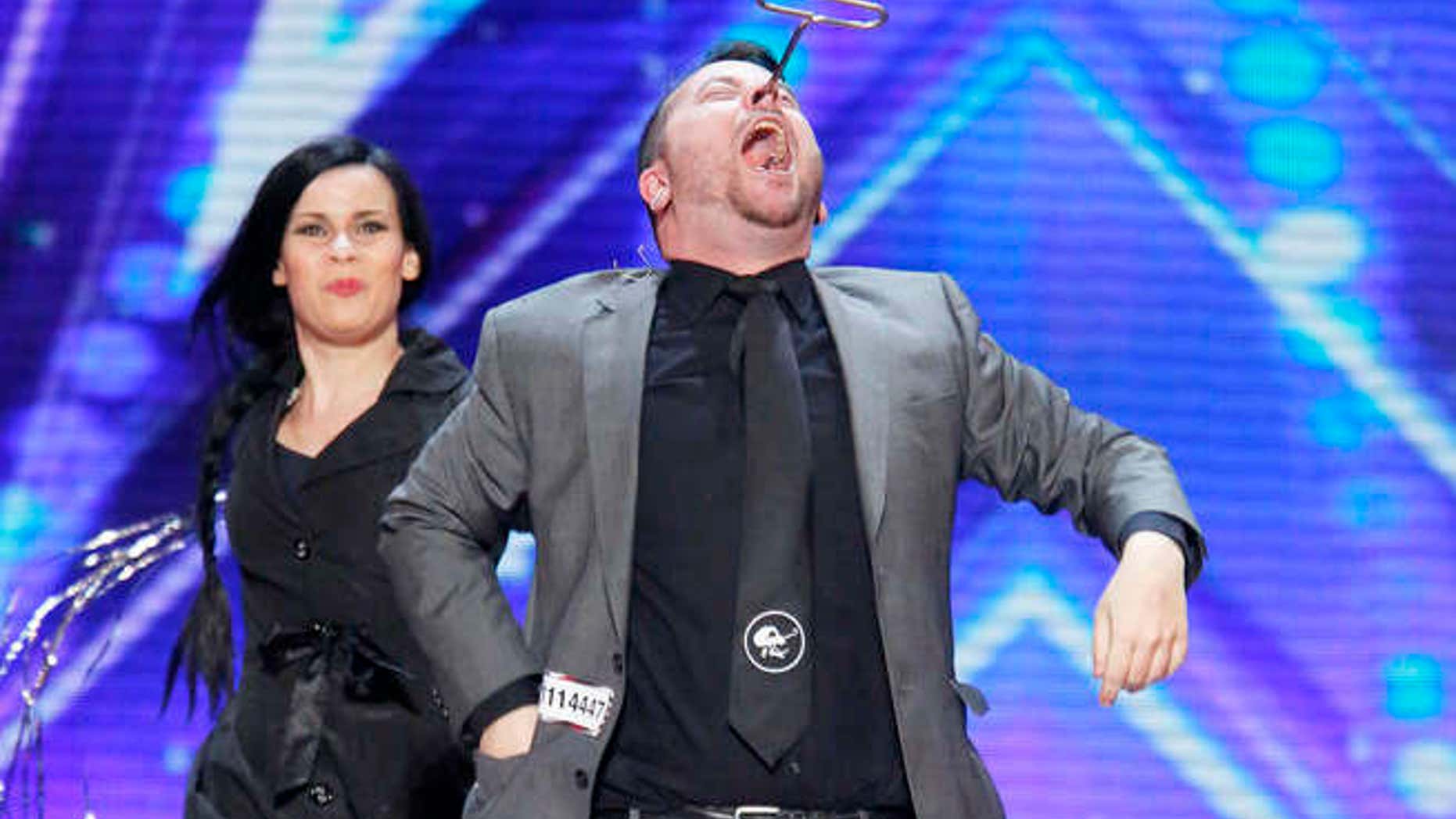 After 10 seasons of "America's Got Talent," you might think you've seen it all.
Then Ryan Stock appears on stage.
He's a well-dressed Canadian stunt man, who just happens to make his living in Las Vegas — sticking 15 inch meat hooks up his nose!
Judges Mel B. and Heidi Klum are horrified. Howie Mandel loves the act but can barely watch.
He attaches a bowling ball to the end of the hook and swings it back and forth.
Most of the live audience gasps and looks away.
Then Stock connects the apparatus to a large dangling piece of rope and suspends himself in the air.
"In all my years of doing this, it was probably the most disgusting thing I have ever seen," Simon Cowell said.
And just like that, Ryan and Amber move on to the next round.
Stock and his fiancé/assistant Amber Lynn Walker are the type of act that separates AGT from every other competition show on television.
While six of its previous champions have been singers, the show hangs its hat on being the ultimate variety hour — a kind of over-the-top Vaudeville showcase, custom made for the viral YouTube generation.
Tuesday night's season 11 premiere checked all the boxes:  an illusionist who turned himself into a bird, a "daredevil" who dives into a swimming pool filled with whipped cream, and a Golden Retriever who dances on her hind legs wearing a dress.
AGT celebrates the absurd in its early audition rounds, but favors more polished, big production acts as the competition matures.
Among those likely to contend for the $1 million prize:
Nathan Bockstahler (Comedian, 6) 
It's hard not to love a cute kid who tells silly jokes.
"An important thing to know about girls is that they say one thing but always mean another," he laughs.  "My mom, for instance always tells me to call her 'Mom' and I come to find out that's not even her real name!"
Nathan writes his all of own material and has requested that he be paid the grand prize in Legos!
The Clairvoyants (Mentalists, 28 & 29)
Tommy and Ameli have one of the most challenging acts to figure out. She is blindfolded and somehow can tell specific details of whatever object an audience member places in Tommy's hand.
Somehow she even knew the wireless carrier associated with a stranger's cell phone.
When Ameli correctly identifies the expiration date on Howie Mandel's eye drops, he declares them, "the most amazing thing I have ever seen!"
Laura Bretan (Opera Singer, 13)
The Chicago area eighth grader appeared to be nervous when she walked out on stage, but brought the room to its feet with her powerhouse performance of "Nessun Dorma".
"I have never heard anything like that in all the years I have been doing this show," Cowell praised.
The young singer earned this season's first "golden buzzer" and is headed straight for the live voting shows in July.
"America's Got Talent" airs Tuesdays at 8:00 PM on NBC.