'America's Got Talent' recap: Once-blind teen Christian Guardino gets his wish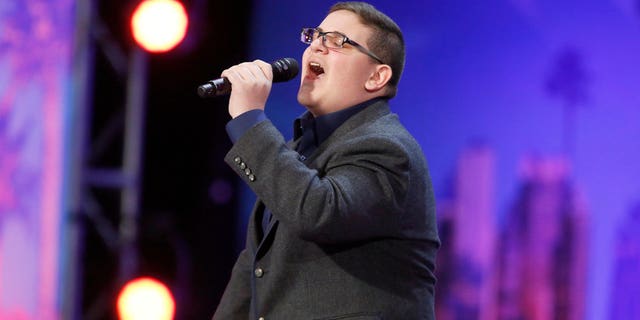 After two solid rounds of auditions, "America's Got Talent" had to reach into some pretty outrageous places to find its new and original performers. Luckily for the viewers, judges Simon Cowell, Mel B, Heidi Klum and Howie Mandel managed to find some fantastic -- and some perplexing -- people to move on to the next round.
But the biggest moment on Tuesday came with the last audition of the night: A 16-year-old with an incredible story. When Christian Guardino was young, he learned that he would lose his sight. Fortunately, thanks to some gene therapy, he later regained the gift of sight. In the interim, he turned to music and stuck with it. Nervous to the point of shaking when he took the stage, Guardino became a completely different person once the music started. In the end, Mandel asked him what he wished for most in the world. Reluctantly, he requested a golden buzzer, which the judge granted.
Earlier on in the night, the show took some time to highlight a very special young lady with an awe-inspiring voice. Kechi Okwuchi from Nigeria took the stage, and the crowd was initially struck by her look. The young singer was covered in several scars from a horrific plane crash she experienced in 2005. She was one of two survivors on a flight carrying 109 people and she's been living with the injuries and getting surgeries ever since. Undeterred and unwilling to let her scars be who she is, she pursued music as a passion.
"What happened to me was horrible, but I don't let it define me. I draw strength from it."
When she opened her mouth, a fantastic voice came out that brought the audience to its feet and didn't leave a dry eye in the house. The judges swiftly sent her through to the next round with four votes.
The night continued in the musical realm with a group of U.S. Air Force cadets singing a Capella as well as a slew of elderly women that seemed inconsolably attracted to Simon Cowell. However none of them moved on to the next round.
One surprising advancement came with the strangely-named The Dancing Pumpkin Man. Picture a man in a black leotard with a jack-o-lantern mask on and you've got the look. The music began and he did what he would later describe as a "spontaneous expression of jubilation." Cowell was out immediately, pressing his X. However, as the performance went on, The Dancing Pumpkin Man ended up winning over both the crowd and two of the judges. Klum wasn't sold and gave him a no. However, Mel B was so won over that she took to the stage and refused to leave The Dancing Pumpkin Man's side until someone changed their mind. Vexed and seeing no way out, Simon reluctantly changed his mind, sending the act through to the next round.
"I do have a 3-year-old that would probably get it better than I do," Cowell reasoned.