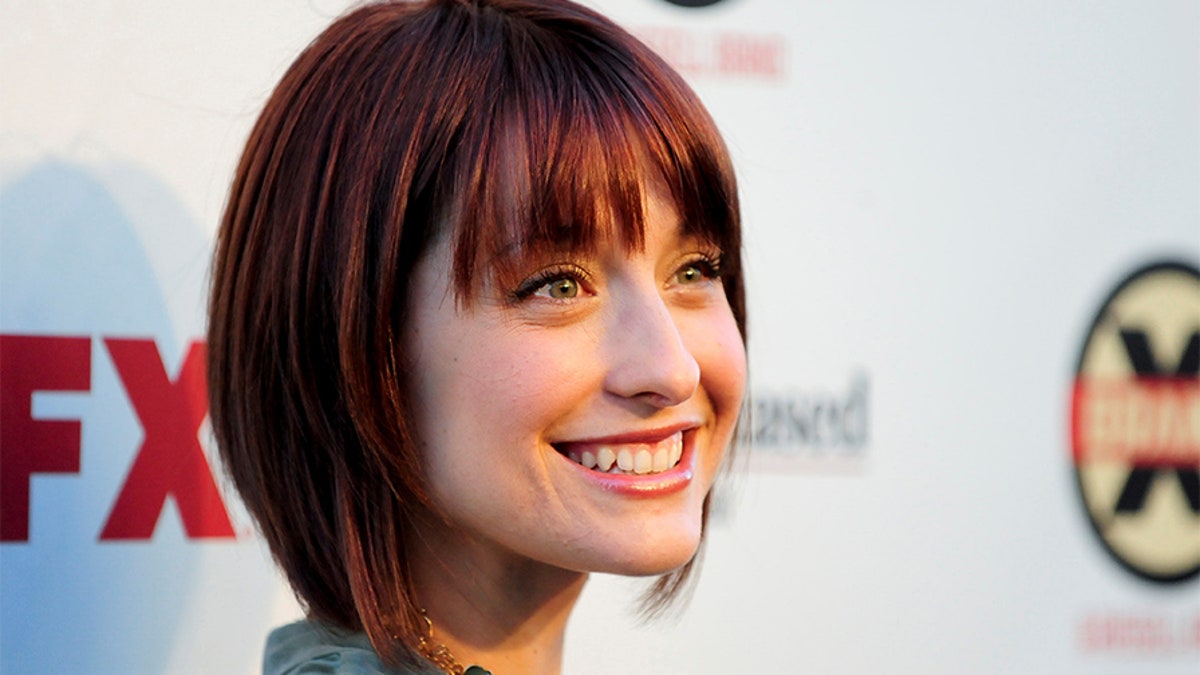 A series of since-deleted posts on Allison Mack's personal website seem to show the inner workings of the actress-turned-alleged-cult-recruiter, including her apparent fear she would be caught and held accountable for her actions.

The former "Smallville" star pleaded not guilty to sex trafficking Friday. Federal prosecutors said the 35-year-old worked as a slave "master" and "pimp" recruiting unsuspecting women to join NXIVM, a group led by a man who sold himself as a self-improvement guru to the stars.
In a post on AllisonMack.com, which the star linked to from her verified Twitter account, Mack shared a poem titled "She Feels Cramped In A Closet…"
On June 13, 2017 the former CW star wrote: "The anxiety of being caught makes my heart thrum like a hummingbird. Someday I will be discovered. I will be found out!"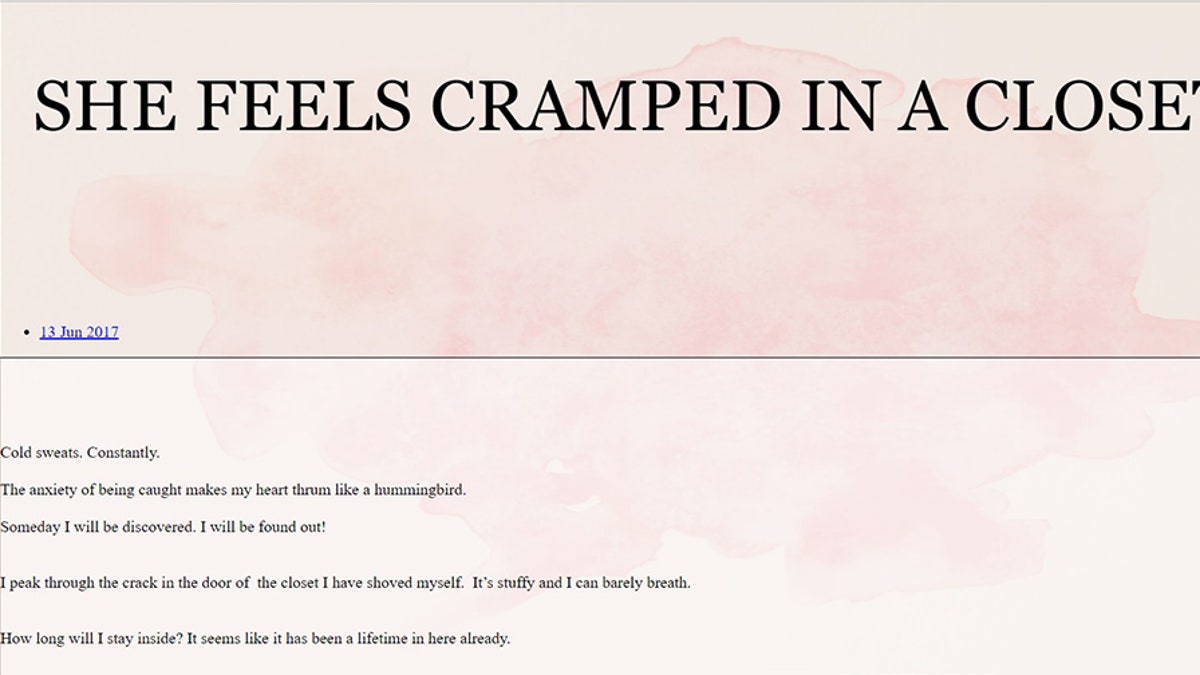 Mack continued, "How long will I stay inside? It seems like it has been a lifetime in here already. And in truth, it has… Why am I so nervous? Because I am a fugitive on the run from intimacy and the fear of showing those pit stains and blood. I anticipate rejection and so I reject sentencing myself to a life squished in a closet filled with all the things I feel most ashamed of."
Mack is said to have been living in upstate New York with alleged cult leader Keith Raniere until he reportedly fled to Mexico in November. She was seen running after him when he was apprehended in Mexico in March.
"My leg is cramping and I feel myself outgrowing this hiding spot," she wrote in the June poem. "I am tired of being a voyeur. I want to live my life. I feel the rush of adrenaline. Am I willing to be brave and jump out from behind the door and test the hypothesized destruction? … Maybe tomorrow."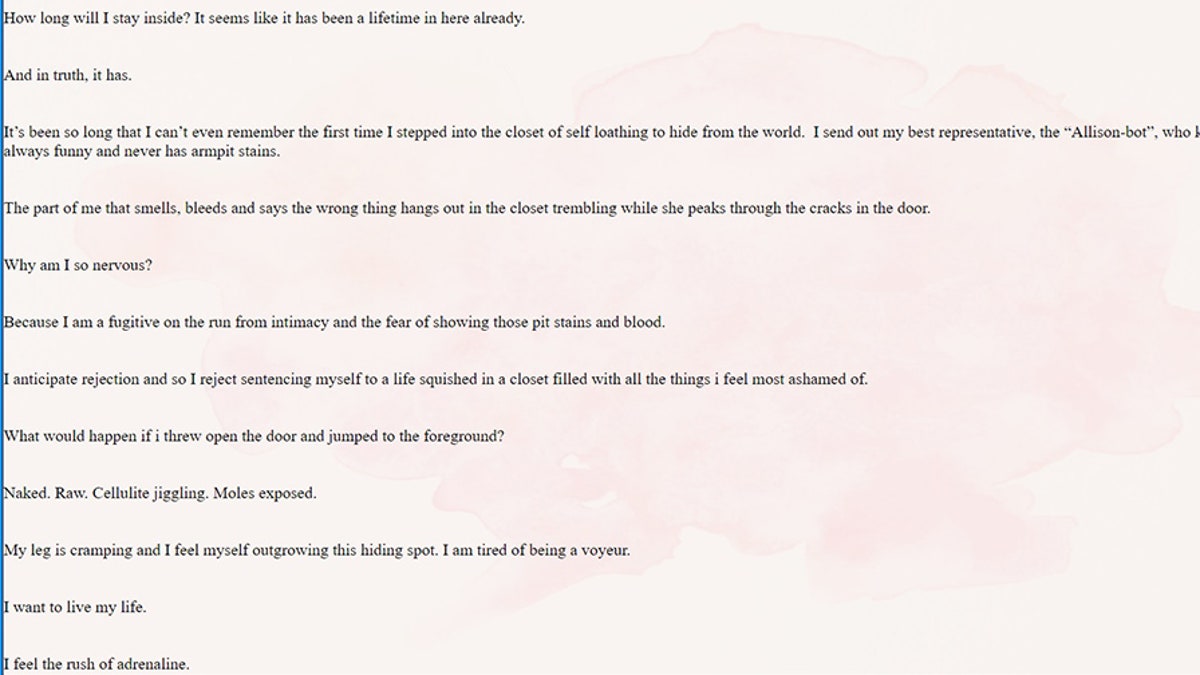 In a separate undated post titled "Jness," Mack described how she has always been "attracted" to women's issues, which compelled her to join "a women's movement."
She is accused of recruiting women to be sex slaves by claiming NXIVM was a women's empowerment group. Jness is a subsect of NXIVM.
"I felt threatened by women," she wrote in the undated post. "The internal confusion and frustration I felt manifested itself in the way I related with all women. I saw them as I felt inside myself: complicated, quixotic, and unpredictable. I felt I couldn't trust women. This was a secret I kept – and tried my best to resolve this by joining every women's campaign I could as an attempt to prove I didn't feel this way.
"Yes, I felt like an imposter. And the more I involved myself in the movements that existed the more confused I felt. I wanted deep relationships. I wanted to be able to sink into the women I surrounded myself with without feeling any sense of rejection or self-protection. But for some reason I just couldn't."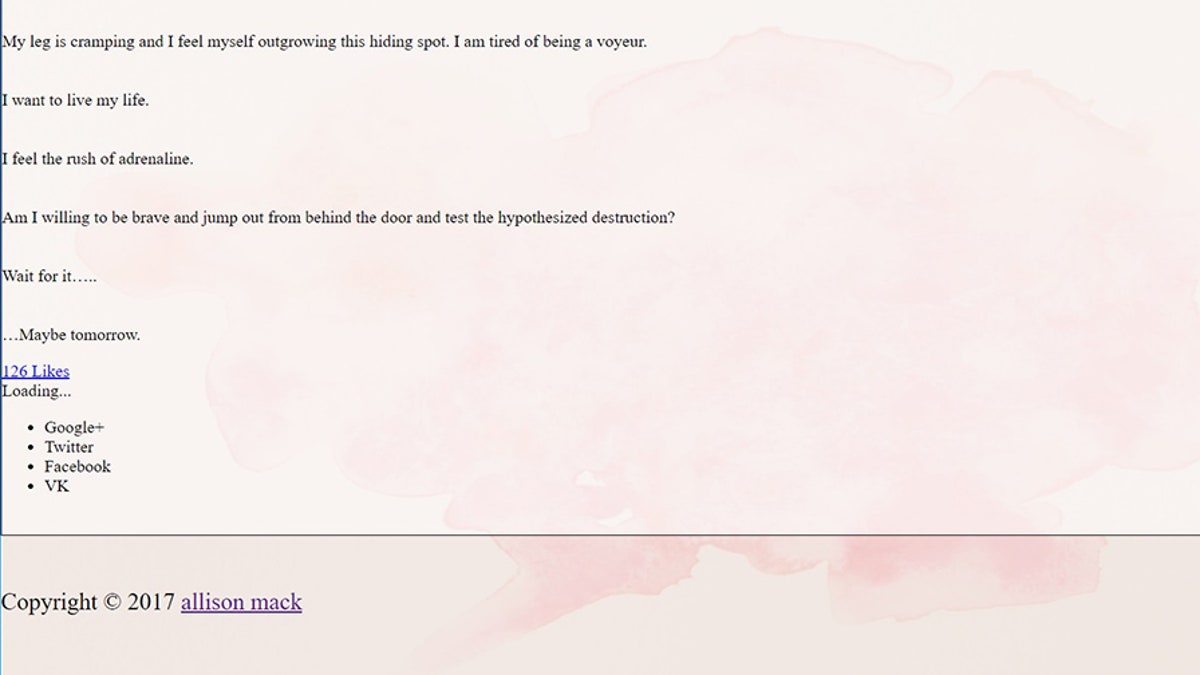 Mack wrote the group helped her face her conflicting feelings toward women.
"A collective inspiring a community of strong, authentically empowered women to own themselves in a way that has never been seen or understood before?" she wrote. "It sounded like the perfect blend of what I was looking for! So I took the leap and enrolled in a weekend workshop and within the first few hours I knew I had found my people."
"Many years later, the curriculum continues to guide me through the maze of my inner world shining light on the dark corners of my psychodynamic revealing confusions and insecurities that have hindered the expression of the authentic, empowered woman I have always sought to embody. I embrace so much more of myself now and am beginning to understand what it takes to grow into the vision of the woman of our times."
In an undated bio on her since-deleted website, Mack's first encounters with Raniere were detailed.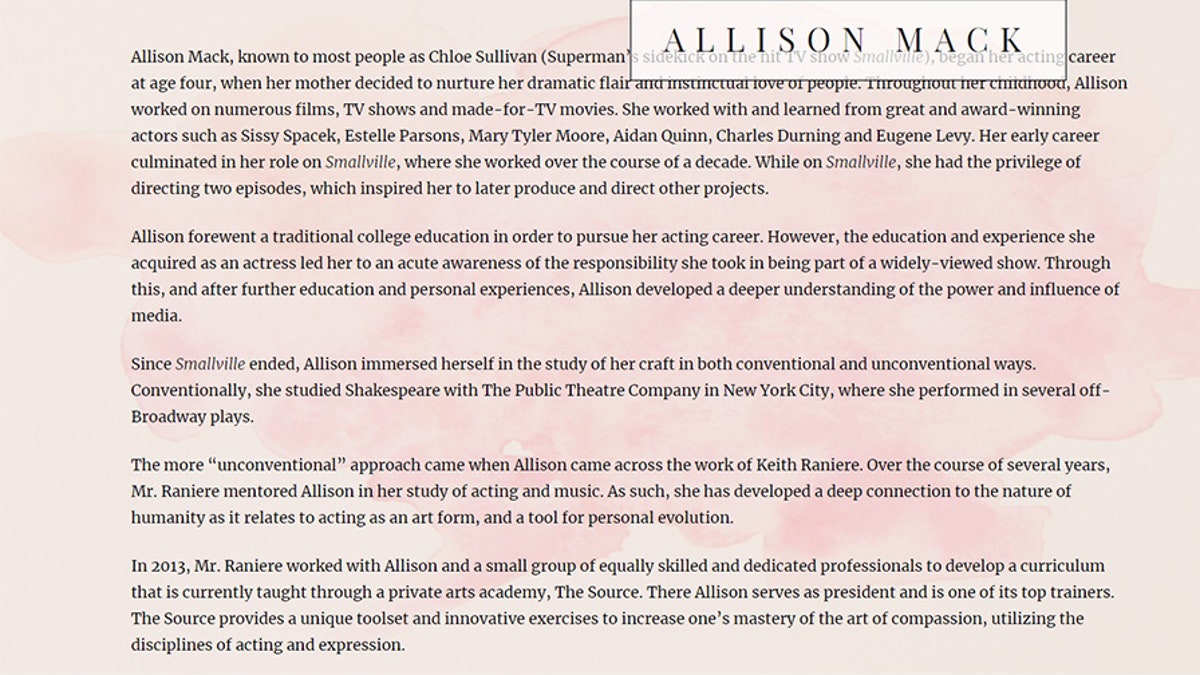 "In 2013, Mr. Raniere worked with Allison and a small group of equally skilled and dedicated professionals to develop a curriculum that is currently taught her through a private arts academy, The Source," it noted. "There Allison serves as president as is one of its top trainers. The Source provides a unique toolset and innovative exercises to increase one's mastery of the art of compassion, utilizing the disciplines of acting and expression."
Raniere, the co-founder of NXIVM, stands accused of keeping numerous women as slaves and branding his initials into their skin.
"As alleged in the indictment, Allison Mack recruited women to join what was purported to be a female mentorship group that was, in fact, created and led by Keith Raniere," U.S. Attorney Richard P. Donoghue said in a statement. "The victims were then exploited, both sexually and for their labor, to the defendants' benefit."
Prosecutors said Mack required women she recruited to engage in sexual activity with Raniere, who paid Mack in return.
Assistant U.S. Attorney Moira Kim Penza said in court that "under the guise of female empowerment" Mack "starved women until they fit her co-defendant's sexual ideal."
Founded in 1998, NXIVM promoted Raniere's teachings as a kind of mystical, executive coaching designed to help people get the most out of life. Enrollees in its Executive Success Programs paid handsomely for his advice. The organization also drew criticism from people who likened it to a cult.
Last year, the accusations took a new twist, with women who were part of a NXIVM subgroup coming forward to say that they had been physically branded with a surgical tool against their will.
A bail hearing for Mack will be held Tuesday.
The Associated Press contributed to this report.