Alicia Silverstone Reveals Green Beauty Secrets For Glowing, Ageless Skin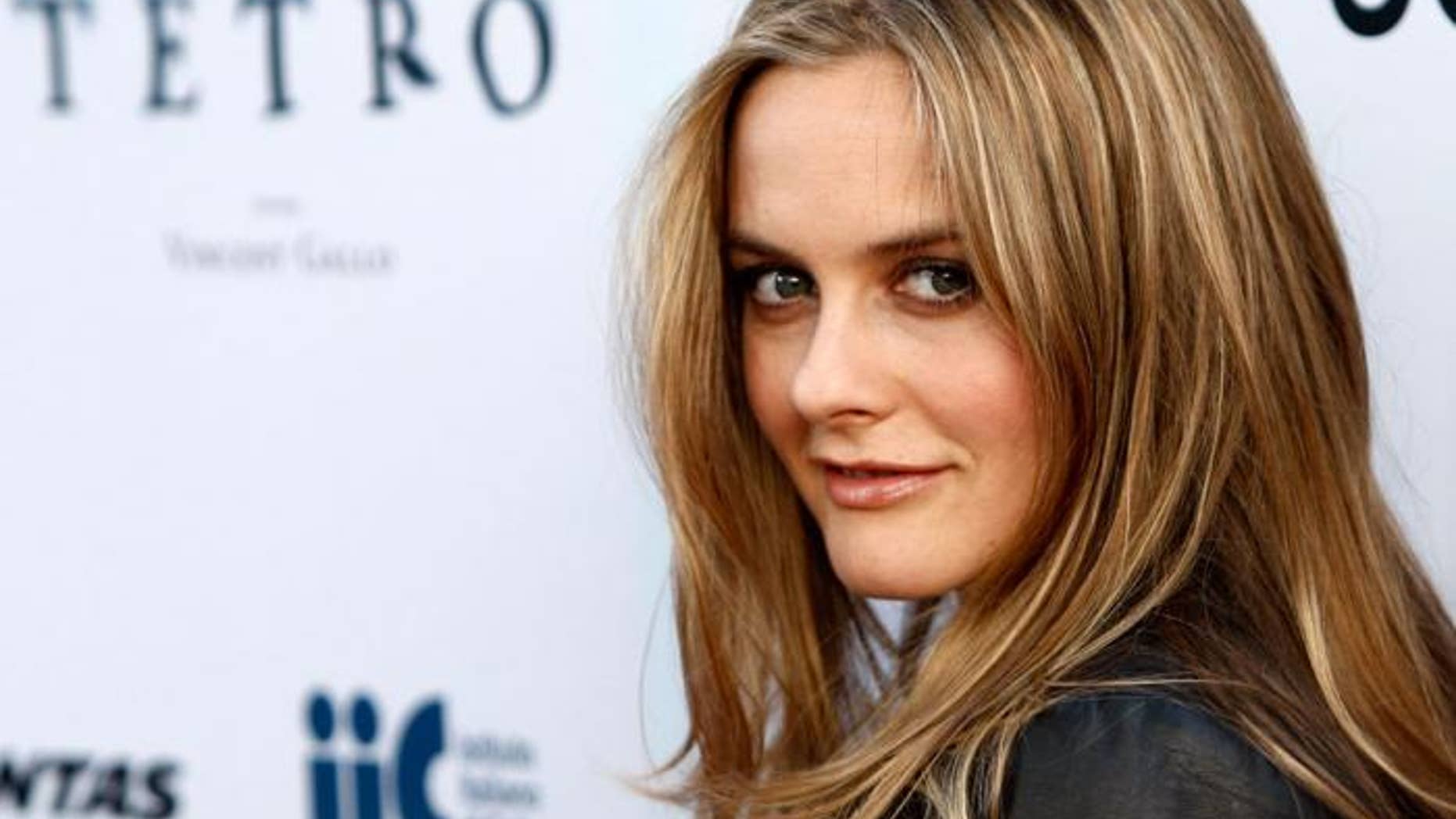 When it comes to natural beauty, Alicia Silverstone is anything but clueless.
The 39-year-old actress and New York Times best-selling author, who won hearts everywhere as the quintessential '90s blonde, has since become a passionate advocate of veganism, which she insists is the secret to her seemingly ageless glow. So just in time for the spring, Silverstone has teamed up with LOVE GOODLY, a subscription box service offering luxurious cruelty-free and vegan products. In fact, Silverstone is curating their April/May box, and a portion of the proceeds will benefit the nonprofit Farm Sanctuary's work to protect farm animals and promote compassionate vegan living.
And despite what Kermit the Frog says, Silverstone believes it's actually pretty easy being green — especially when it comes to rocking gorgeous eco-friendly beauty staples.
FOX News Magazine chatted exclusively with Silverstone about her partnership with LOVE GOODLY, her go-to cosmetics, and the totally nourishing ingredients you need in your life (and diet) to get glowing.
FNM: Tell us about your curated collection for LOVE GOODLY.
AS: LOVE GOODLY provides a platform to discover all things eco- and cruelty-free, which is something I stand for. Its mission to advocate, curate and share products of this caliber, and give back through donations to non-profits such as Farm Sanctuary, is what energized me to work with them. As guest curator of the April/May Earth box, you will find some of my favorites. The products I selected are amazing, and of course, they all uphold my standards of being vegan, eco-friendly, and of high quality and effectiveness. I test all kinds of items, from chocolates to beauty products, and have a very hot list of what I think is the best of the best.
FNM: LOVE GOODLY definitely appeals to vegans, but why should all makeup fans check out this collection?
AS: Honestly, fans of anything great will love this box. All the products are top tier; the mascara is awesome, the hair ties are great, the chocolate is so yum, the face serum is so nice, and the B12 spray is so delicious! These are products everyone needs to know about. The extra bonus [is that] they do not contribute to the harm and destruction of our bodies and Earth.
FNM: Do you have any tips or tricks for finding all-natural beauty products?
AS: I actually don't find it hard. There are so many great companies out there doing great things. I think what can make it hard is not knowing if you will like the smell or texture, and that's where I come in. My blog, TheKindLife.com, shares information on natural products I love, and information on scary ingredients to stay away from. But overall, read labels! If there are ingredients listed on a label that you can't pronounce, research or skip it. If you are really intrigued by a product, do a quick easy search on the Internet. There are so many bloggers and organizations that do all this homework for us.
FNM: Why should women, in particular, look into natural beauty and skincare products?
AS: After I became vegan I saw the incredible full-body benefits of eating clean, nourishing food, and it didn't take me long to realize the same goes for your skin. It's your largest organ! It takes in about 60 percent of what you put into it. So when you use chemicals, you may as well be eating them.
FNM: What inspired you to create the mykind B12 Vitamin Spray?
AS: When I was pregnant, my midwife confirmed that I was pumping all kinds of healthy awesomeness to my baby, but she recommended taking a prenatal as an insurance policy. After all, sometimes I'd be traveling or working crazy hours, and even though I'd be eating kind, a little safety net felt like a good idea. So I set out to find the perfect vitamin — one that was vegan, whole-food-based — as in derived entirely and naturally from foods — GMO-free and certified organic. Turns out that was no simple task! It didn't exist. For this reason, I set out to create mykind Organics. My son is actually obsessed with it, he thinks its candy! And since it's a spray, it's not only super easy to use but it also activates the salivary glands more effectively, allowing the vitamin to enter the bloodstream rapidly and efficiently.
FNM: How can going kind with our beauty and skincare routines be the secret to looking and feeling so youthful?
AS: While there are some really great natural products out there, the best beauty secret in the world is a healthful diet. I've been plant-based for 17 years, and I've seen first-hand that glowing skin starts from the inside.
FNM: But, what are themakeup and skincare products that you absolutely can't live without?
AS: I don't need makeup to feel fresh thanks to the best beauty trick of all: eating plants! Eating whole, plant-based foods is a sure-fire way to get radiant skin, bright eyes and glossy hair. But on top of that foundation, there are some products I do enjoy using. I love a good face serum, particularly the Deep Hydrating Serum by Josh Rosebrook and the Balancing Serum by Qet Botanicals. These serums are super-hydrating, filled with vitamins, and protect your complexion from the elements. For my hair, KOOSHOO's organic hair ties are my go-to. They are comfy and even give your hair a fun texture post-use. I also love that they are made with responsible materials, which are free of pesticides. And if I'm in need of mascara, I'll go with Zao Volumizing Mascara, which is made with organic ingredients. It even comes in bamboo packaging.
FNM: A lot of us would like to eat cleaner, but organic food comes with a hefty pricetag. Any advice?
AS: Consider the price of what you receive from healthy nourishing foods: a beautiful body, vibrant health, a clear mind and a longer life. Can you really put a price tag on those things? Feeling good is priceless. You will save money on doctor visits, medicine, sick days, and beauty products, as you won't need them! Besides, when you cook for yourself, you'll find your overall food bills will go down or stay about the same. Organic produce does not have to break the bank. If you shop locally — straight from the growers — it can be crazy cheap. At a recent trip to the farmers market, I bought two sweet potatoes, two onions, one head of cabbage, one bunch of daikon, one bunch of scallions, one head of celery, one head of bok choy, one head of Chinese cabbage, and a big handful of green beans. Grand total? Thirteen bucks! If you don't have access to a farmers market, find out if there's a local co-op in your area. At co-ops or most health-related stores, you can find good deals on produce and items in bulk.
FNM: What were some of the other positive benefits you noticed from your plant-based diet?
AS: I adopted this diet for the animals, but the biggest surprise was how amazing I felt! I ditched my asthma inhaler, stopped my weekly allergy shots, lost weight, and had a new glow from my skin and hair. I felt incredible from having more energy and balanced moods. This way of eating transformed me. Since then, I have not needed caffeine, aspirin or antibiotics. My body healed itself by being plant-based.
FNM: What are some nourishing ingredients we should utilize for a youthful glow?
AS: Eat your greens! Greens such as kale, bok choy, collards, watercress and seaweed — not technically a green but it's so important for the skin — are packed with a host of great things like vitamin B9, vitamin K, folate, calcium and iron. Nurture your body with all kinds of veggies made in a healthy variety of cooking styles. Fill up on whole grains, like brown rice, quinoa, along with beans like adzuki and black beans, as well as bean products, including tofu and tempeh. With these ingredients, you can come up with some seriously delicious, healing, and glow-y recipes. I love watercress with creamy tahini dressing and toasted sesame seeds, which I included in my recipe books.
FNM: To this day, people still talk about "Clueless" and the impact it's had on viewers. In your opinion, why do people continue to feel nostalgic over this film?
AS: No one knew what a cultural phenomenon it would be when it was made, but I'm thrilled that it continues to resonate with so many people. And a whole new generation is watching it. Last night, a 15-year-old girl told me all of her friends had seen it!