Abigail Breslin: Weird things happened on 'Haunter' set … really weird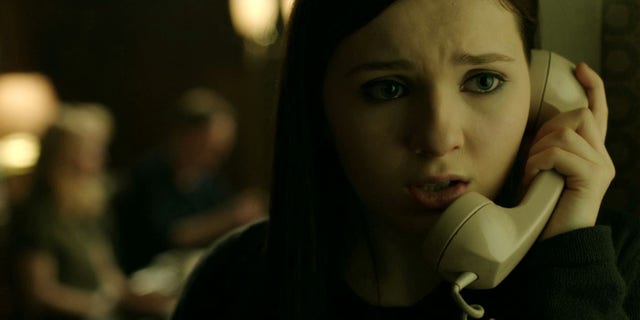 LOS ANGELES – Abigail Breslin shot to super stardom as a ten-year-old in the hit "Little Miss Sunshine," for which she became one of the youngest actresses ever nominated for an Academy Award.
But now Breslin is all grown up (if 17 counts as being all grown up) and starring in "Haunter," a horror thriller which tells the tale of a ghost of a teenager who died years ago and reaches out to the land of the living in an effort to save someone from suffering her same fate.
And some strange things happened in the production process.
"We did have two weird things happen when we were doing the scene with the Ouija board, it didn't move on its own, but when we shot this scene in the attic, I got this weird asthma attack, which was so random. I don't have asthma, so it was so random," Breslin told FOX411. "Another time, I wrapped for the day and went back to the place I was staying and went to run on the treadmill at the gym and the door was wide open and had a stopper on it, yet it randomly slammed shut and then my workout for the day was done. I was terrified."
It turns out elements of the supernatural have long intrigued the young star, even before stepping into the thriller genre.
"(I'm fascinated) with ghosts and other worldly, paranormal things. I have always wanted to see a ghost or go on one of those Syfy channel shows talking about it," she said. "I want to meet the Long Island Medium to see if she can see if anyone follows me. I want to know if anyone is trying to contact me. I would be sad if I went to her and she told me no one was contacting me."
Breslin is one of the hardest working youngsters in the business, but you'll only see her photo on movie posters, and not in a tabloid stumbling out of some Hollywood club in the early hours of the morning.
"I just hang out with my family and friends, everyone in my life keeps me grounded," Breslin said. "When I am not filming I just go home and hang out with my friends, walk my dog and do normal stuff. I don't really think too much about it."
Yet being referred to as a "good role model" isn't a tag Breslin typically attaches to herself.
"I don't consider myself to be one," she pondered. "But I guess it's someone who is a good person and helps people, and that's an important thing."
"Haunter" opens for limited release Friday, October 18 and goes wide October 25.
Danielle Jones-Wesley contributed to this report.