ABC star George Stephanopoulos faces increased pressure with Matt Lauer, Charlie Rose off morning show map
Clinton crony George Stephanopoulos is facing increased pressure at ABC now that morning-show competitors Matt Lauer and Charlie Rose have been kicked to the curb over sexual misconduct allegations, and his eight-figure salary is sticking out like a sore thumb as NBC rolls out a fun-loving and far less expensive team during the first two hours of arch-rival "Today."
The former top aide to the Clintons and close friend of Obama Chief of Staff Rahm Emanuel is believed to earn roughly $15 million dollars a year at ABC, according to Business Insider, even though his role on "Good Morning America" is limited largely to political and hard-news stories and the show favors lighter stories more suited for ebullient co-hosts Robin Roberts, Michael Strahan and Lara Spencer.
At the same time, the icy anchor's cachet has diminished significantly with Hillary Clinton's failure to win the White House and his cadre of Democratic friends on the outs in Washington with the end of the Obama administration.
"He doesn't bring much to the table anymore," said an ABC insider, who noted that "'GMA' covers barely any news. It's not clear why he's sitting there."
NBC announced on Tuesday that it would stay in-house to replace disgraced former "Today" co-host Matt Lauer, naming Hoda Kotb as permanent co-host. She is perhaps best known for swilling wine and trading jokes with Kathie Lee Gifford in the show's 10 a.m. ET hour -- something she will continue to do, in addition to the new gig. "Today" has been beating "GMA" for the first time in years since Kotb stepped in after Lauer's dramatic firing in November, perhaps issuing in a sea change in the highly competitive morning TV wars.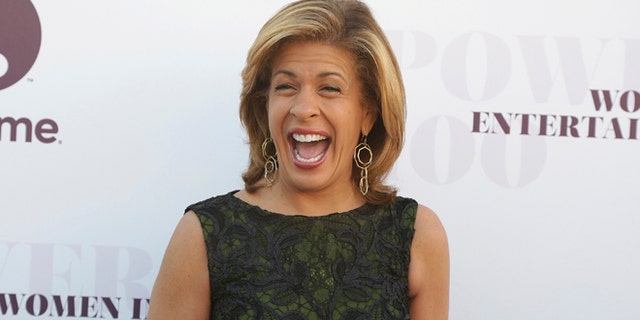 There has been speculation that Lauer was actually turning viewers away from "Today." "GMA" in turn, will have to eventually shake up its hosts if it continues to flounder in the era of post-Lauer morning shows, which are hugely important to the broadcast networks' bottom lines.
Kotb will make roughly $18 million per year less than her disgraced male predecessor -- reportedly earning $7 million per year while Lauer pulled in $25 million, according to the New York Post.
In fact, Kotb's co-anchor Savannah Guthrie also is believed to earn around $7 million per year, considerably less than Stephanopoulos and his "GMA" co-host, Roberts, who like Stephanopoulos is also believed to make about $15 million to $18 million a year. With "GMA" now trailing "Today" in viewership, ABC will be under increased pressure to justify its hosts' exorbitant salaries to ABC's notoriously parsimonious owner, Disney.
Now that he's failing in the ratings, maybe it's time for the network to choose a less divisive host and a more professional path
ABC is already coming under fire for agreeing to pay Clinton activist Katy Perry $25 million to be a judge on just one season of a revamped "American Idol." The network is also shelling out eight figures to pay Ryan Seacrest to host "Live" and "American Idol," and is believed to be paying Seacrest's "Live" co-host Kelly Ripa more than $20 million a year. NBC recently opened its wallet to bring Megyn Kelly aboard, but her show at 9 a.m. isn't in direct competition with "GMA" and she is head-to-head with the high-paid Ripa.
Stephanopoulos was initially valuable to ABC because he brought unprecedented access to the Clintons and to the Obama White House. During the beginning of the Obama administration, sources say he regularly would speak to Emanuel -- a fast friend -- from the "GMA" studio right before the show would go on air.
Media Research Center Vice President Dan Gainor told Fox News that news outlets "are notorious for hiring political operatives or children of politicians and pretending they're suddenly journalists," but he was never fooled by Stephanopoulos.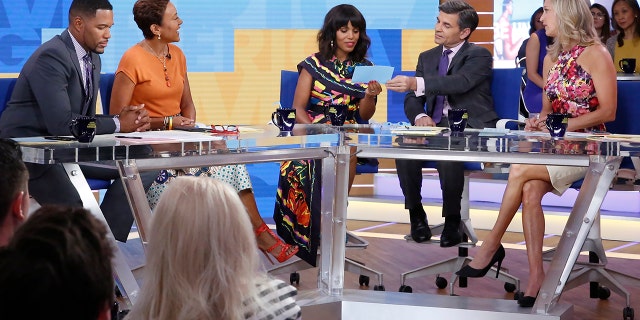 "Stephanopoulos was, is and will be both a Clinton operative and a prominent Democrat. He funded the Clinton Foundation with $75,000 and was also part of Democrat strategy calls," Gainor said. "There's never been any doubt what he is and he sure as heck isn't a journalist. And ABC didn't care about the ethical conflicts because it's also a liberal operation. Now that he's failing in the ratings, maybe it's time for the network to choose a less divisive host and a more professional path."
Indeed, Stephanopoulos became a source of embarrassment to ABC during the presidential campaign when he was caught secretly giving money to the Clinton Foundation and had to recuse himself from hosting any presidential debates. President Trump has denounced Stephanopoulos for liberal bias, deriding him as "little George."
Speaking of which, "GMA" also had to spend a few extra bucks to alter its set so the 5-foot-7 Stephanopoulos wouldn't appear so tiny next to the 6-foot-5 Strahan, according to the New York Post. A known reader of New York City tabloids, perhaps the desk modification is what inspired Trump to assign the disparaging nickname.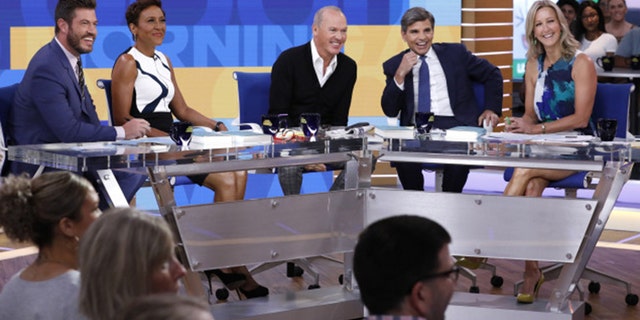 The liberal newsman is also ABC's "chief anchor," and hosts coverage of major news events and elections -- but ABC's "World News Tonight" anchor David Muir has proven capable of filling that role.
Lauer was believed to be the highest paid personality in TV news, reportedly earning $25 million per year. Roberts and Stephanopoulos aren't far behind. However, Lauer's absence has demonstrated that morning shows don't need to shell out big bucks to attract viewers.
George's supposed D.C. insider persona just isn't that essential for a show that wants to focus on fads, entertainment and emotion
"GMA" managed to hold off "Today" among total viewers (NBC won the key demo) to finish atop the fourth quarter of 2017 by a slim margin, but dropped 7 percent compared to Q4 2016, according to TVNewser. "GMA" has now lost every week since Kotb replaced Lauer and Stephanopoulos simply can't afford to keep losing ground.
Media analyst Jeff McCall told Fox News that NBC's success in recent week proves that the high-paid Lauer wasn't necessarily the reason people tuned in to the "Today" show. In Kotb, NBC may have a more popular host while saving the network roughly $18 million per year.
"I think a similar case could be made now for George Stephanopoulos at 'GMA.' The show can be successful whether George is on the set or not," McCall said. "'GMA' is really not a serious news program anyway, and George's supposed D.C. insider persona just isn't that essential for a show that wants to focus on fads, entertainment and emotion."
One network insider called Stephanopoulos "merely a fig leaf for the ugly truth that ABC no longer covers news." The insider pointed not only to "GMA's" soft focus, but also to "World News Tonight" frequently leading with weather stories, "20/20" rarely covering news and "Nightline" – increasingly the last bastion for news coverage at ABC – now occupying the graveyard shift at 12:35 a.m. "when nobody watches."
As for "GMA," McCall said that it suffers from the fact that it really has "no journalistic thrust" at all.
"George was supposed to be that journalist on set, but he is actually more of a political operative. Roberts, Strahan and Spencer are friendly personalities, but nobody will ever confuse them with the 'Murrow Boys' in terms of journalistic credentials," he said. "ABC, and all the morning shows for that matter, should stop throwing huge money at personalities and simply find relatable anchors who have some journalistic instincts and a sense of the nation's mood."