2014's best movie of the year is ... "Whiplash"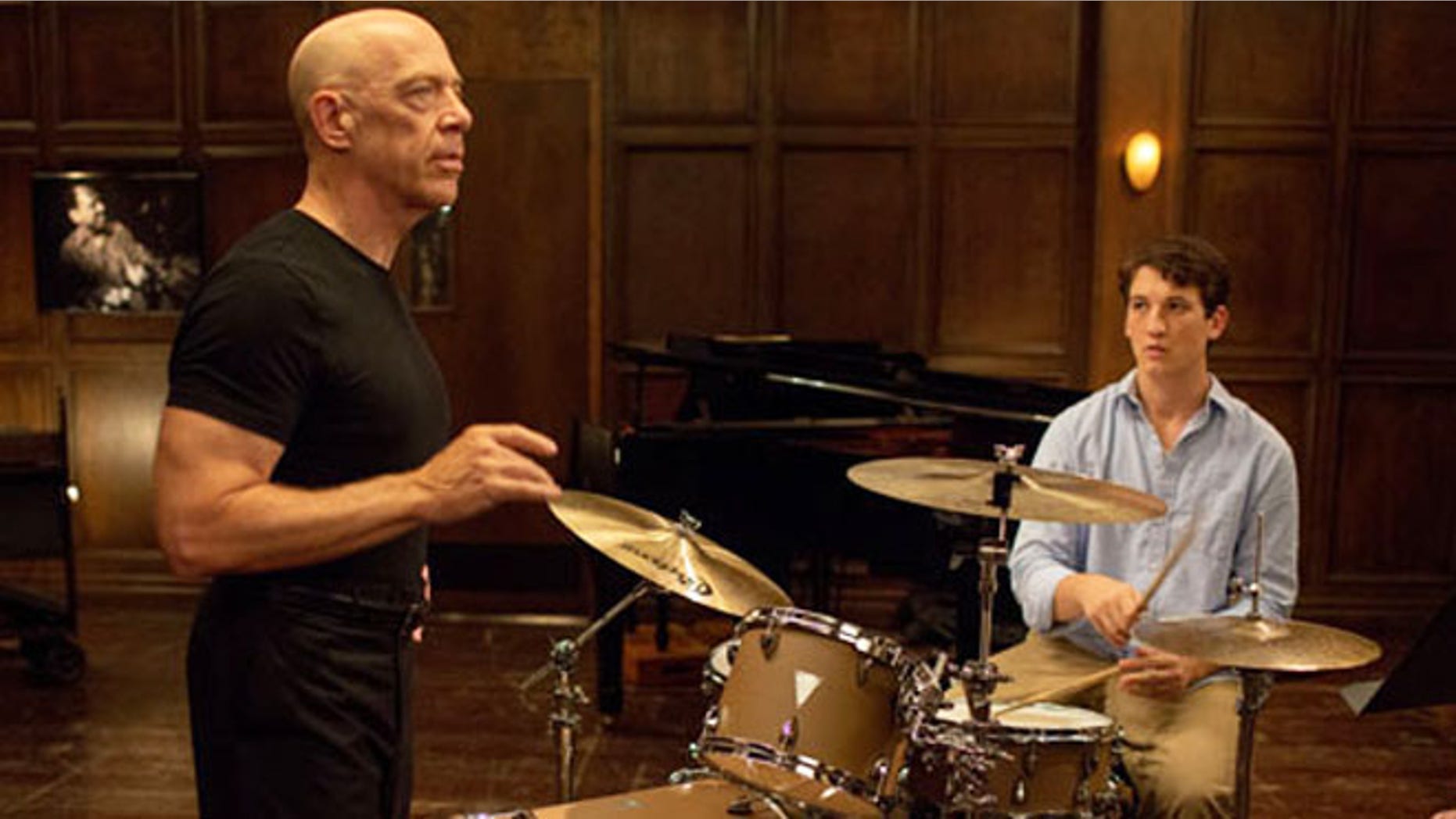 NEW YORK – "Whiplash," an epic battle between a music student and his domineering teacher, is the best film of 2014. Written and directed by Damien Chazelle, "Whiplash" is a riveting psychological "war" film where music school is boot camp (Chazelle was inspired by Stanley Kubrick's "Full Metal Jacket") and drum sticks, a conductor's baton, and brutal criticism are the weapons.
Miles Teller is Andrew, a determined student drummer who strives to become one of the jazz greats. He enters a prestigious Manhattan music school where he is discovered by Terence Fletcher (J.K. Simmons), the leader of the academy's top jazz ensemble. Fletcher turns mentor to Andrew but his harsh, psychologically abusive technique comes close to destroying his mentee. What begins as tame respect between student and teacher turns into a torrent of obsession, torn pride, humiliation and fierce bitterness. What does it take to become the best at anything and to what lengths will anyone go to achieve that goal? And how far is too far for a teacher to push a student?
Over the past two years, Miles Teller has proven to be one of the best performers to emerge from this new generation of millennial actors. It's been a privilege to watch Teller as Andrew lay bare the raw emotion of an obsessed musician trying to earn even a modicum of respect.
J.K. Simmons gives a tour-de-force performance as Fletcher. Simmons always elevates any film he is in. He's one of the most solid, dependable and singular actors working today, but never has he been given a role of this magnitude. Simmons – hands-down – deserves an Oscar for his electrifying performance. He is absolutely at the top of his game; his Terence Fletcher is downright frightening with all the lines he crosses, yet in a perverse way, also inspiring.
Teller and Simmons, like two opposing forces, combine to ignite a fireball of energy, a furious maelstrom that levels all in its path. The two are unstoppable and it's nearly impossible to look away.
"Whiplash" has it all – riveting performances, fantastic music, an easily relatable story that forgoes all the typical stereotypes in the genre, and an emotional sweep that will knock you off your feet – making this the best film of the year.
Honorable Mentions
"The Grand Budapest Hotel"
Wes Anderson is at his all-time best with this visual feast as he uses his indelible humor, inimitable style and perfect cast to show the destructive nature of Nazism on the flamboyant, excessive pre-war Eastern European culture. A first-rate performance by Ralph Fiennes cements the joie de vivre in this one-of-a-kind comedy.
"Birdman"
Michael Keaton gives the performance of his career as Riggan Thomson, an actor made-famous in the 90s from playing a superhero who now tries to make a meaningful, artistic comeback by directing and acting in a Broadway adaptation of a Raymond Carver story. Everything is at stake and begins to crumble as Riggan goes up against a hot-head co-star (a knockout performance by Ed Norton), his neglected daughter (Emma Stone) and a threatening theater critic (Lindsay Duncan).
"Dawn of the Planet of the Apes"
By far the smartest big-budget genre film to come out this year, this follow-up to "Rise of the Planet of the Apes" (2011) is the best Apes film since "Escape from the Planet of the Apes" (1971). Here the point of view is not from the humans – as have been in every prior Apes film – but from the Apes. Andy Serkis is remarkable as Caesar who is faced with the impossible task of preventing war between Apes and humans while also leading his Ape followers into a prosperous future. "Dawn" is almost Shakespearean with regards to its conflicts and moral quandaries, has sublime direction from Matt Reeves and an incredible score by Michael Giacchino.
"The Imitation Game"
Benedict Cumberbatch gives one of his most alluring performances as Alan Turing, the British mathematician who broke the Enigma code and turned the tide against the Nazis during World War II. Cumberbatch is hypnotic and the film is the perfect blend of heroism, suspense with a gut-wrenching finale. Graham Moore's electrifying screenplay and Alexandre Desplat's gorgeous music complete this nearly perfect film.
"Chef"
Jon Favreu stepped back from his recent stints with Marvel to write, direct and star in this absolutely charming and eclectic story about a cantankerous, publicly ruined celebrity chef who creates a hit Mexican food truck, packs up his life (including his son) and takes to the road. At its heart, Chef is a delicious father-son bonding flick that is as sweet as it is hilarious and will leave you absolutely salivating. Plus, you can't beat this cast: Robert Downey Jr., Scarlett Johansson, Dustin Hoffman, Sofía Vergara, Bobby Cannavale, John Leguizamo and the great Oliver Platt.