With just 0.2% more votes than opponent, Kuczynski elected new president of Peru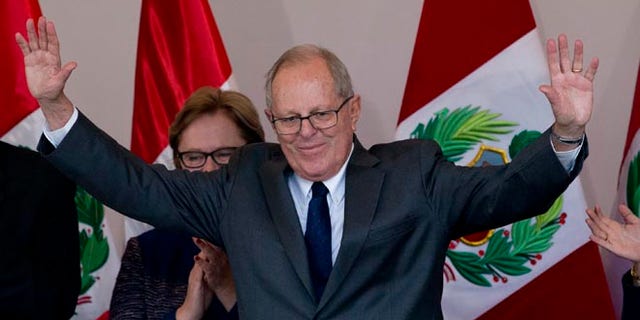 LIMA, Peru (AP) – Former World Bank economist Pedro Pablo Kuczynski won the majority of votes in Peru's closest presidential contest in five decades, election officials announced Thursday, even as his rival Keiko Fujimori has yet to concede defeat.
Four days after voting, electoral officials said that all ballots had been processed and Kuczynski had won 50.1 percent compared to 49.9 percent for the daughter of imprisoned ex-President Alberto Fujimori.
Supporters immediately celebrated outside Kuczynski's campaign headquarters while the apparent president-elect made a plea to his opponent and other rival political forces for dialogue.
"We receive this virtual verdict with great humility because Peru has huge challenges ahead of it," Kuczynski told reporters in his first remarks after the tally was known. "We shouldn't confuse dialogue with weakness. We're going to be decisive but we're going to work on behalf of all Peru because many Peruvians feel the train has left them behind and we want everyone to get on board."
Even as messages of congratulations poured in from presidents around Latin America, Fujimori's campaign seemed in no rush to recognize defeat. After electoral authorities presented their results Thursday, she left her campaign headquarters, where she was holed up in meetings all day, and returned to her home without making any remarks to the throngs of journalists waiting outside.
Aides say she is waiting for the National Electoral Board, the nation's top electoral authority and which sits above the election officials who made Thursday's announcement, to proclaim a winner before conceding.
Fujimori's last hope is some 173 handwritten tallies — representing as many as 50,000 votes — that were sent to the board for review. Among the irregularities detected by Fujimori's campaign were counting more ballots than actual voters at certain polling stations, and allegations that volunteers from Kuczynski's campaign worked at multiple polling stations in violation of electoral law.
Still, experts say it's almost impossible for Fujimori to make up the roughly 40,000 vote difference to overtake Kuczynski.
Fujimori was the favorite to win the runoff but lost ground in the final stretch as fellow conservative Kuczynski warned voters that the corruption and criminality associated with her father's authoritarian rule could return.
Alberto Fujimori is serving a 25-year jail sentence for corruption, organized crime and sanctioning death squads. While he is loathed by many in Peru, he is revered by others for taming Maoist Shining Path guerrillas and hyperinflation, and Sunday's election was seen partly as a referendum on his iron-fisted rule in the 1990s.
Dozens of supporters of Fujimori have held demonstrations outside the electoral board to denounce what they said were fraud. But Fujimori's aides have refused to talk in such stark terms and say that the interests of Peru override whatever political differences exist between the two campaigns.
While the campaign ended bitterly, with Kuczynski abandoning his preferred technocrat's discourse and accusing Fujimori of being the harbinger of a "narco state," most observers expect him to try and work with his former rival.
That's part a reflection of shared ideology — both candidates embrace a pro-business agenda and Kuczynski supported Fujimori in the 2011 presidential runoff — and the political reality facing Kuczynski, whose fledgling movement has 18 of 130 seats in congress compared with a solid majority of 73 seats for Fujimori's Popular Force party.
Kucyznski would be Peru's oldest president, at age 77. The son of a Jewish-Polish immigrant father, Kuczynski's first stint in government in the 1960s was cut short by a military coup. He ended up moving to the U.S. where he worked at the World Bank and then embarked on a successful career in business. He also served as finance minister twice and Peru's prime minister under President Alejandro Toledo.