Winds of change slow to reach Swaziland, where a trial highlights human rights concerns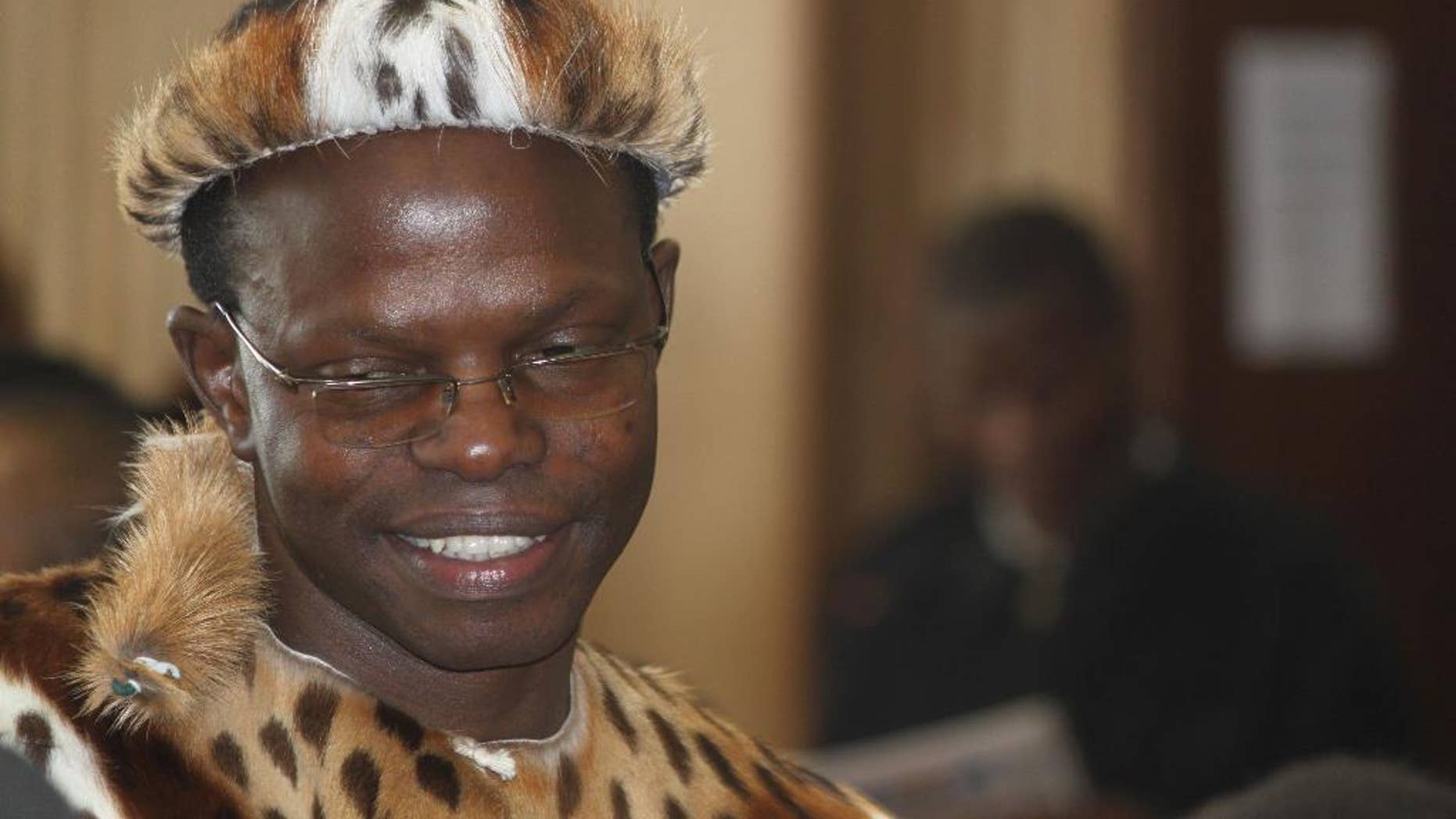 JOHANNESBURG – A jailed opponent of Swaziland's government wore the traditional animal skin garb of a Zulu warrior and invoked Nelson Mandela and Martin Luther King Jr. in a courtroom speech in the landlocked African kingdom, which has largely sidestepped currents of political change elsewhere in the world.
In that early June appearance, lawyer Thulani Maseko delivered a blistering attack on the Swazi judiciary and political system. His trial has focused fresh attention on human rights issues in the country's authoritarian system which gets little scrutiny in international forums because of Swaziland's small size and strategic insignificance.
"The people of Swaziland are treated with contempt and disgusting disregard," said Maseko, using his trial on contempt of court charges as a platform to bemoan the state of the mountain kingdom which is ruled by King Mswati III, Africa's last absolute monarch. Swaziland held parliamentary elections last year, but many international observers said the process was a sham designed to prolong the king's grip on power.
Mswati, who inherited the throne in 1986, chooses the prime minister and his Cabinet and has been accused of a lavish lifestyle, symbolized by more than a dozen wives and a network of palaces and expensive vehicles. Critics say the king's luxury is at odds with hardships endured by many of his more than 1 million subjects in a country with high unemployment and AIDS rates. There is little regional pressure to change because of a policy of non-intervention among neighbors, including South Africa.
Maseko, a lawyer who studied at American University's Washington College of Law, and Bheki Makhubu, editor of Swaziland's The Nation magazine, were jailed in March and charged with contempt of court for publishing articles in which they lamented alleged threats to judicial independence. They criticized the prosecution of a government vehicle inspector who was arrested after impounding a vehicle used by a top judge.
In court documents, a judge defined contempt of court as the violation of the dignity of a judicial body or interfering with the administration of justice, and noted that "the right to freedom of expression is not absolute."
A conviction carries a sentence of several months. The next hearing in the case is next week.
In his courtroom speech, Maseko said curbs on free expression and multi-party politics keep Swaziland "out of step with developments in Africa, and the rest of the just and democratic world."
He peppered his 26-page speech with comments by world figures, including Mandela, the anti-apartheid leader who became South Africa's first black president, Mohandas Gandhi, the Indian independence figure, American civil rights leader Martin Luther King Jr. and U.S. President Barack Obama, whose government has expressed concern about the detentions of the two Swazis.
His wife, Tenele Maseko, said the atmosphere in the packed courtroom was tense and that the judge interrupted her husband, questioning whether his remarks were relevant. Tenele Maseko said many of those listening were shocked by her husband's brazen behavior in a country with a largely intact taboo on direct criticism of the top leadership.
"In Swaziland, there are things that you can say and you cannot say," she said in a telephone interview with The Associated Press.
The U.S. Embassy in Swaziland posted Maseko's speech on its website, which also carries a photograph of Mswati posing with exchange students before their departure for the United States. The European Union and international human rights and media groups have also criticized the case against Maseko and Makhubu.
King Mswati has been accused of using an anti-terrorism law to harass and jail pro-democracy activists. Swaziland introduced a new constitution in 2005, but analysts say it did not go far enough in addressing calls for change.
In a speech this year, the king said Swaziland belongs to all of its citizens.
"It is disheartening, though, that there are people who are dividing the nation through false information and negative statements about our kingdom," he said. "Such information creates a bad image for the country. We can only pray that one day, they get to know the truth about us."