V. Stiviano Steps Out In L.A. Mall, 'Sin Comentarios' About Sterling's Fall From Grace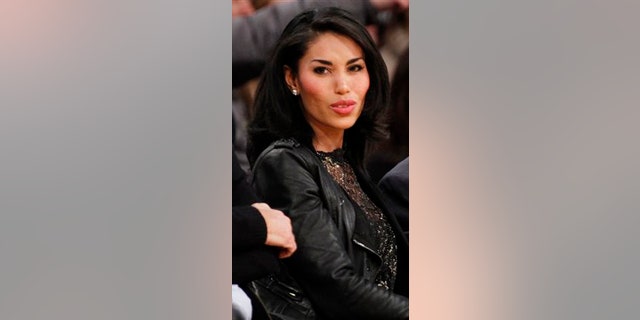 V. Stiviano is letting the recordings of her now disgraced ex Donald Sterling's racist comments do all the talking for her.
While visiting the densely-populated shopping center The Grove in Los Angeles Monday night, a paparazzo bumped into Stiviano and asked her a few questions in Spanish. In the video, posted on TMZ, Stiviano looks like a long lost member of Daft Punk, with an oversized visor covering her face.
"What's your opinion about all these rumors that are going around about the comments you have recorded and what do you plan to do with them?" the cameraman asked.
Surprisingly, Stiviano did respond – in Spanish – this time, just to say "no tengo comentario" ("no comment") and directed them to speak to her attorneys.
"I have no comments right now," she said.
The 31-year-old woman jumped into the spotlight on Friday when a taped conversation that included Sterling, 80, asked the woman not to "broadcast" her socializing with African-American men.
According to the Los Angeles Times, V. Stiviano is her legal name, but that she changed it from Maria Vanessa Perez in 2010 because she felt she hadn't been "fully accepted" because of her race.
On Tuesday, NBA Commissioner Adam Silver issued Sterling a lifetime ban in response to the racist comments. Sterling was also fined $2.5 million and the NBA will try to force him to sell his franchise.
"We stand together in condemning Mr. Sterling's views," Silver said. "They simply have no place in the NBA."
Follow us on twitter.com/foxnewslatino
Like us at facebook.com/foxnewslatino