USS Fitzgerald crash: Navy holds memorial to seven sailors killed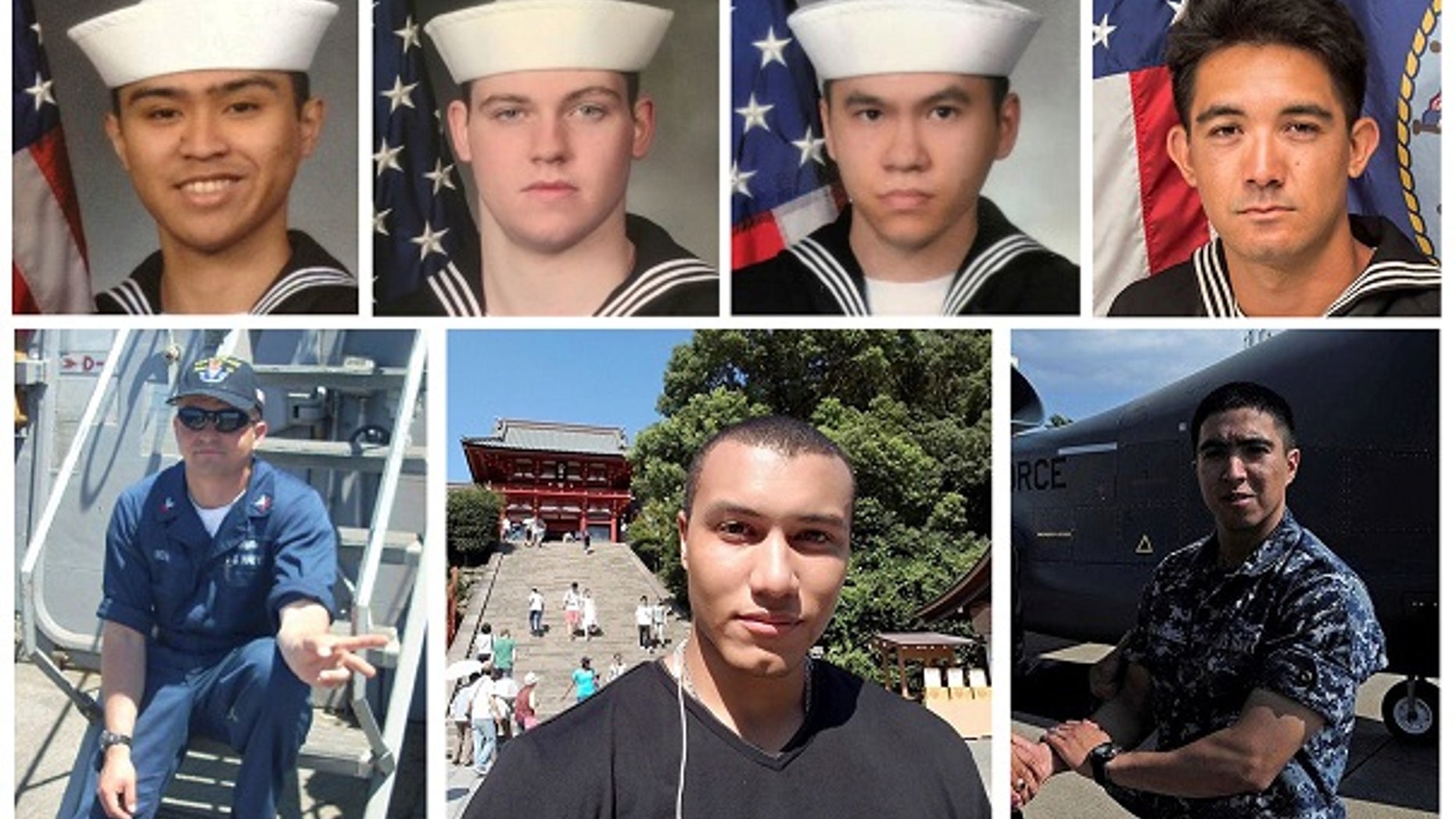 The U.S. Navy honored seven sailors on Tuesday who were killed earlier this month when their destroyer collided with a merchant ship off Japan.
The Japan-based 7th fleet said more than 2,000 sailors and their families attended the ceremony in Yokosuka, south of Tokyo. They lined the streets waving flags in memory of the victims.
The USS Fitzgerald, a destroyer that was carrying nearly 300 crewmembers, and Philippine flagged container ship ACX Crystal collided in waters off Yokosuka on June 17. The crash created a large gash on the side of the destroyer, which flooded the berths of 116 sailors. When the ship was returned to a U.S. base in Yokosuka, divers recovered the bodies of seven sailors.
The seven people who were killed were identified as: Gunner's Mate Seaman Dakota Kyle Rigsby, 19, Yeoman 3rd Class Shingo Alexander Douglass, 25, Sonar Technician 3rd Class Ngoc T. Truong Huynh, 25, Gunner's Mate 2nd Class Noe Hernandez, 26, Fire Controlman 2nd Class Carlos Victor Ganzon Sibayan, 23, Personnel Specialist 1st Class Xavier Alec Martin, 24 and Fire Controlman 1st Class Gary Leo Rehm Jr., 37.
USS FITZGERALD COLLISION: SHIP FAILED TO REACT TO WARNING SIGNALS, CAPTAIN SAYS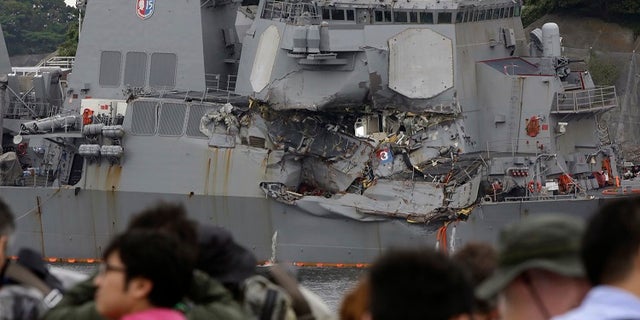 The destroyer has left the Yokosuka base, where it was being investigated by Japanese authorities, for repairs of its damaged bow at an unspecified shipyard in Japan, its owner, Dainichi-Invest Corp., said. The company also said the ship's captain and several other crewmembers stayed behind for further questioning by the Japanese coast guard.
Adm. Scott Swift, commander of the U.S. Pacific Fleet, surveyed the ship's damage and praised its crew for saving it from sinking, the 7th Fleet said.
"It's stunning, absolutely stunning, while we mourn the loss of the seven sailors, that more were not lost," Swift said in a statement. "There was no understanding of what had happened at the moment of impact but there was complete understanding of what needed to be done."
14-YEAR-OLD EXCITES COUNTRY WITH RECORD JAPANESE CHESS DEBUT
The cause of the crash is still under investigation. Japanese coast guard officials said they are investigating if the crash was due to possible professional negligence, but their interviews of the container ship's captain and crewmember – all Filipinos – have been on a voluntary basis.
The U.S. Navy is also investigating what happened aboard the warship. On Monday, the Philippine-flagged ship's captain said the destroyer failed to react to warning signals in the moments leading up to the crash. The U.S. Navy did not immediately respond to Fox News for a comment.
The Associated Press contributed to this report.