US, South Korea agree to work more on deterring North Korea nuclear threats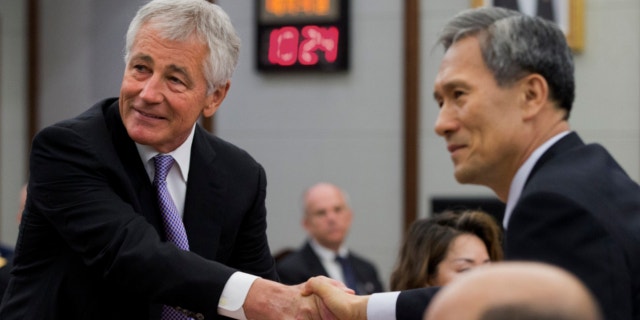 SEOUL, South Korea – The U.S. and South Korea agreed Wednesday to work together to strengthen the South's ability to deter threats from North Korea, and have endorsed a new military strategy to better coordinate the response to a nuclear, chemical or other attack from Pyongyang.
In a formal, signed statement, U.S. Defense Secretary Chuck Hagel and South Korean Defense Minister Kim Kwan-jin also said they are also setting up a panel to review the possibility of delaying the transfer of wartime control of South Korean troops from Washington to Seoul. That handover is currently slated for 2015.
Speaking at the close of the 45th annual security meeting between the two nations, Hagel said the U.S. is committed "to using all our military capabilities" -- including nuclear capabilities, as well as missile defense and conventional strikes -- to deter North Korea from taking any aggressive action against the South.
"Of particular concern are North Korea's nuclear and ballistic missile programs, its proliferation activities and its chemical weapons," Hagel said during a press conference. "There should be no doubt that any North Korean use of chemical weapons would be completely unacceptable."
The two countries urged North Korea to abandon its nuclear ambitions in a "complete, verifiable and irreversible manner," including all activities at the Yongbyon nuclear facility. Earlier this month a U.S. research institute said recent satellite images appeared to show that North Korea was restarting its plutonium reactor there.
Hagel and Kim also acknowledged the ongoing discussions about delaying the transfer of wartime control of South Korean forces, which would defend the country in the event of an attack by North Korea, to Seoul, and said they will continue to review the timing. The initial target date was in 2012 before it was pushed back to 2015.
"We have taken the issues that our Republic of Korea allies have raised very seriously," Hagel said, adding that the transfer timing will be based on military conditions. He said the U.S. will work with South Korea and won't make any decision that is not in the interests of both nations.
Against the backdrop of the ongoing budget stalemate in Washington, Hagel confirmed the U.S. commitment to maintain its current force level in South Korea, which numbers about 28,500. He noted that a squadron of 30 armed reconnaissance helicopters arrived at Camp Humphreys in South Korea this week.
U.S. control of the forces is a holdover from the Korean War, and America has been trying for years to build South Korea's capabilities. But it has proved difficult to wean the South off its dependence on the U.S. military, particularly as the threat from North Korea has expanded.
Earlier this year, Pyongyang conducted an underground nuclear test in defiance of U.N. Security Council resolutions. The detonation was seen as a key step toward the North's goal of building a bomb small enough to fit on a long-range missile capable of striking the U.S.
Hagel has spent four days in South Korea, attending meetings with top leaders and ceremonies commemorating the 60th anniversary of the signing of the mutual defense treaty between the U.S. and South Korea. He also traveled up to the Demilitarized Zone between North and South Korea.
He wrapped up the visit by presiding over the transfer of command of U.S. forces in South Korea from Gen. James Thurman to Gen. Curtis Scaparrotti.