US missile system en route to Korean peninsula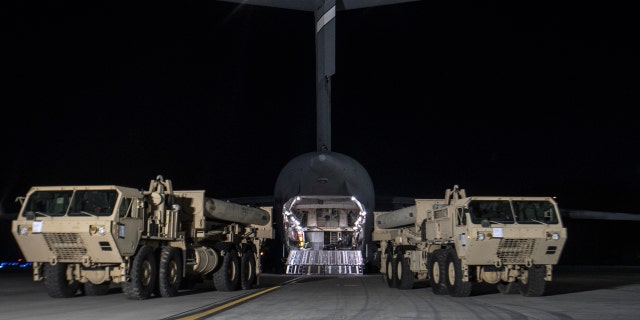 NEWYou can now listen to Fox News articles!
As the White House works to "maximize pressure" on North Korea, one of the ways it is hoping to turn up the heat is by deploying a high-powered anti-missile defense system to the region.

During his trip to South Korea Monday, Vice President Mike Pence confirmed that the U.S. will continue with its plans to deploy the Terminal High Altitude Area Defense (THAAD) system to South Korea, despite persisting objections from China.
The U.S. announced the first stage of the deployment in early March, with officials estimating it could take several months before the system is fully operational.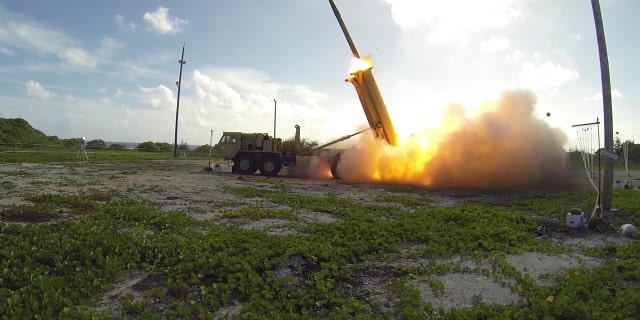 According to the Lockheed Martin website, THAAD is "one of the most advanced missile defense systems in the world," and is capable of defending against short and medium-range ballistic missiles. The system is designed to shoot down ballistic missiles at distances of more than 120 miles, and at altitudes of nearly 90 miles.

According to the U.S. Military's Missile Defense Agency (MDA), THAAD also boasts a flawless record since the test program's inception in 2006, with the only "failed" tests having occurred when the target missile failed to launch. Critics suggest this record ignores the six failed launches of THAAD prototypes years earlier, before the systems were ordered into production.

According to MDA, THAAD uses what is known as "hit-to-kill technology," utilizing kinetic energy to destroy any incoming missiles mid-flight. The "high-altitude" aspect of the system ensures that the effects of weapons of mass destruction never reach the ground.

The U.S. and South Korea announced plans for a joint deployment back in 2016, but Seoul hasn't always been receptive to the idea. In 2013, South Korea's defense minister balked at the idea of joining the U.S. missile defense system, citing costs and logistics.
The deployment and operation of a single THAAD system is estimated at more than $1 billion. Washington is expected to share the costs of the latest deployment with Seoul.

The U.S. and South Korea maintain that the THAAD system is only being deployed to defend against potential provocations from Pyongyang. China, however, has been outspoken in its opposition to the plan, and is said to be specifically concerned about THAAD's powerful radar system (one of the largest mobile systems in the world). A retired Chinese general was apparently so opposed that he even suggested a "surgical hard-kill operation" could be undertaken to destroy the system once it's in place.