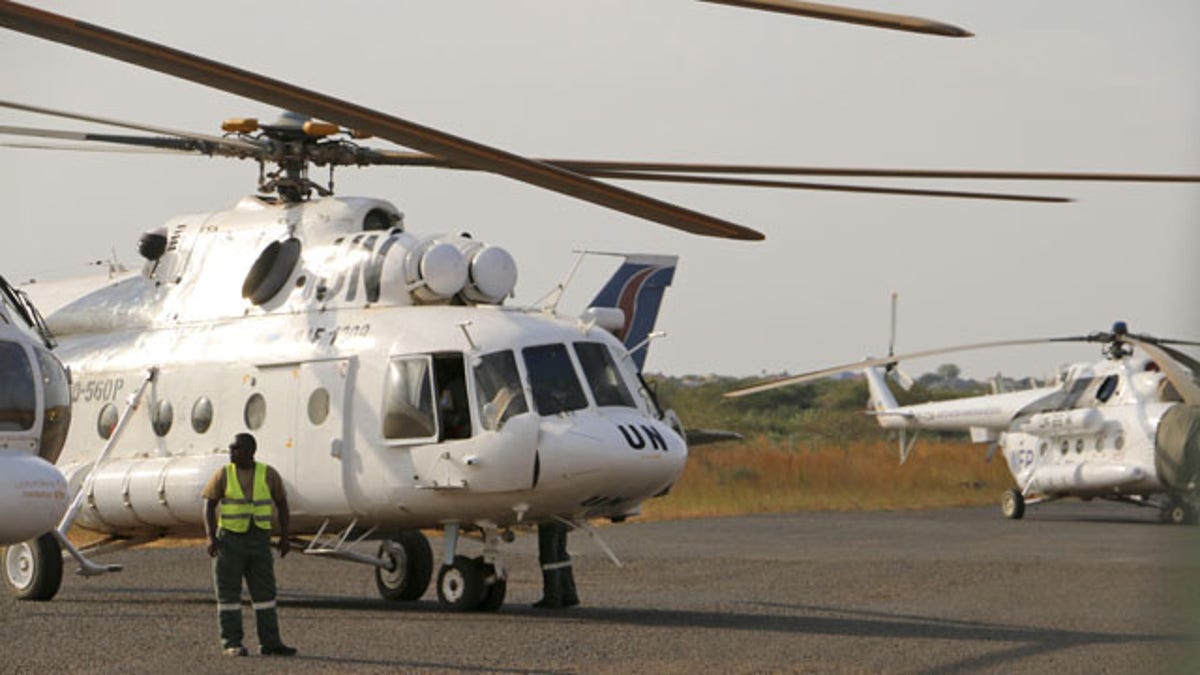 NAIROBI, Kenya – British, Canadian and Kenyan citizens are among 3,000 foreigners trapped in a South Sudan city experiencing bouts of heavy machine gun fire, one of the most violent areas of a weeklong conflict that has likely killed more than 1,000 people, a top U.N. official said Monday.
Australians, Ugandans and Ethiopians are also among 17,000 people seeking protection at a U.N. base in Bor, a city that could see increased violence in coming days, said Toby Lanzer, the U.N.'s humanitarian coordinator.
The death toll from a week of violence in South Sudan has likely surpassed 1,000 people, though there are no firm numbers available, he said. The number of internal refugees is probably more than 100,000, said Lanzer, who is seeking urgent financial assistance from the U.S., Britain and other European countries.
"I know there are many thousands of people seeking protection in churches," Lanzer said. "I know that we have our own staff that have literally walked into the bush and are communicating from there. That's where they say they are safest."
Bor is the city where rebel forces fired on three U.S. military aircraft on Saturday, forcing the Ospreys -- advanced helicopter-airplane hybrids -- to abort their evacuation mission. On Sunday the U.S. evacuated Americans by civilian U.S. and U.N. helicopters.
The U.S. over the last week has evacuated 380 Americans and 300 others from South Sudan, which has seen vicious, ethnically targeted violence pulse through the nation.
Lanzer, who spent the weekend in Bor, said the city is experiencing tense, sporadic clashes and "fairly consistent gunfire and heavy machine gunfire."
South Sudan forces are advancing toward Bor, the capital of Jonglei state, but have not yet confronted forces that defected and pledged allegiance to the former vice president, said South Sudan military spokesman Col. Philip Aguer.
The violence began late on Dec. 15. South Sudan President Salva Kiir, an ethnic Dinka, has said an attempted military coup triggered the violence, and the blame was placed on former Vice President Riek Machar, an ethnic Nuer. Other officials have since said a fight between Dinka and Nuer presidential guards triggered the fighting.
New fighting was reported Sunday night in Upper Nile, one of South Sudan's two oil-rich states. Warrior Security, a private company, reported on Monday the deaths of 20 people in Nasir County in a dispute involving Machar supporters. Doctors Without Borders said it received 24 gunshot victims at its medical facility.
Col. Philip Aguer, South Sudan's military spokesman, said elsewhere in the state that civilians who had been told their relatives were killed in Juba tried to mete out mob justice. Warrior Security said ethnic Dinkas were attacked and killed. Aguer said he did not have a death toll.
Analysts have suggested that a tribal militia known as the White Army -- from the Lou Nuer ethnic group -- is moving toward Bor, which is populated by Dinkas. Lanzer said he couldn't say anything with precision about those reports. Aguer said he has no confirmation on militia movements but that community leaders are trying to persuade the Lou Nuer not to become involved.
"Everybody knows that Bor is a strategic location," Lanzer said. "It would be difficult for me to imagine a scenario in which Bor is completely calm and safe over the coming days," he said, adding that he thinks violence could become "very heavy," the reason the U.N. is fortifying its position there.
The U.S. over the weekend deployed about 46 troops to help evacuate American citizens. That was in addition to 45 troops sent to the capital, Juba, last week to protect the U.S. Embassy. Four U.S. troops were wounded in the evacuation attempt Saturday.
Obama over the weekend sent a letter to congressional leaders letting them know he may take further military action in South Sudan to protect U.S. citizens, personnel and property.
The central government acknowledged on Sunday it has lost control of Bentiu, the capital of Unity, and the surrounding oil fields. Oil fields in the country's Upper Nile state are still controlled by the central government, Aguer said.
East African leaders are pushing diplomatic efforts to avoid a full-blown civil war. Obama's U.S. envoy is also headed toward the region. South Sudan experienced decades of war with Sudan, which it peacefully broke away from in 2011.