Turkish shelling near hospital in northern Syria kills 1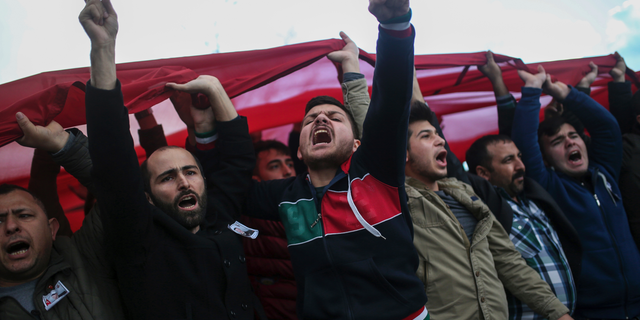 NEWYou can now listen to Fox News articles!
BEIRUT – A monitoring group and a hospital manager say shells have landed near the only hospital in the northern Syrian enclave of Afrin, killing one person and wounding five.
Turkey is conducting a cross-border operation in the enclave to rout a U.S.-backed Syrian Kurdish militia that Ankara considers to be a "terrorist" group.
Jiwan Mohamed, the Afrin hospital manager, says the shell landed about 50 meters (yards) from the hospital on Tuesday, killing a taxi driver bringing in wounded.
It's the first shelling to hit the center of Afrin town since the offensive began on Jan.20.
Mohamed says the attack disrupted baby deliveries, cut electricity to one hospital section and sent panicked patients to the streets.
The Syrian Observatory for Human Rights says the shell landed near the hospital entrance.