Truck driver pleads guilty to immigration charge in case of UK smuggling deaths
A Northern Ireland truck driver pleaded guilty Monday to a conspiracy charge in the smuggling-related deaths of 39 individuals from Vietnam last month.
Prosecutors wrung the guilty plea from Maurice Robinson, 25, who still faces charges of manslaughter in connection with the migrant deaths. The 39 bodies were found in a refrigerated container in Essex.
Robinson copped to two charges, conspiracy to assist unlawful immigration and acquiring criminal property, Essex police said.
UK POLICE CONFIRM 39 PEOPLE FOUND DEAD IN TRUCK WERE FROM VIETNAM, 3 MORE SUSPECTS ARRESTED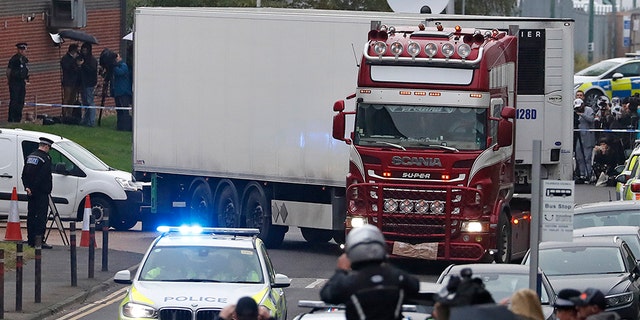 "The offenses outstanding against him remain the 39 counts of manslaughter as well as transferring criminal property and conspiracy to commit a human trafficking offense," police said in a statement.
Robinson told the court he conspired with others from May 1, 2018, to Oct. 24, 2019 to assist unlawful immigration and acquired cash that he knew or suspected came from criminal conduct, Reuters reported.
Prosecutor William Emlyn Jones said during the hearing that it was likely to be a large and complex case, according to Reuters.
BRITISH POLICE MAKE ANOTHER ARREST AFTER MIGRANTS FOUND DEAD INSIDE REFRIGERATED TRUCK
On Sunday, the Essex police said Christopher Kennedy, 23, also of Northern Ireland, had been arrested in connection with the investigation. He was charged with conspiracy to arrange people trafficking and conspiracy to break U.K. immigration law.
A third suspect was being held in Ireland.
Two other suspects from Northern Ireland, brothers Ronan and Christopher Hughes, were being sought, The New York Times reported.
CLICK HERE TO GET THE FOX NEWS APP
Police in Vietnam have arrested 10 people in connection with the deaths.