Tragedy Leads to Controversial Legislation & Fear Among MA Immigrants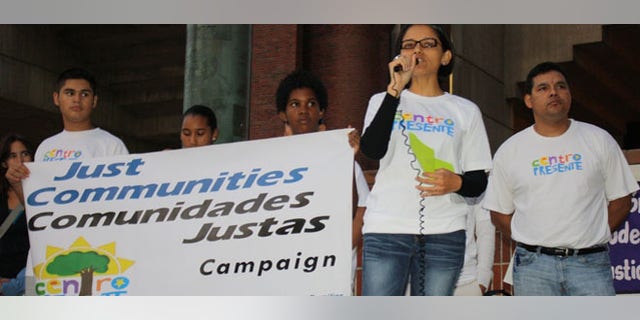 A controversial bill making its way through the Massachusetts Legislature has become a rallying cry for some to beef up public safety – while others see it as a ruse to crack down on undocumented immigrants.
The bipartisan bill, introduced in September following the death of Matthew Denice – who was killed in a hit-and-run accident involving Nicolas Guaman, an undocumented immigrant from Ecuador – would force local police to run immigration status checks of all those arrested.
The bill would also require proof of citizenship to apply for all services and jobs in the Commonwealth, penalize companies that employ undocumented immigrants, and increase penalties for driving without a license on a first offense from $100 to $500. (Subsequent offenses would impose jail time.)
"Anyone who drives without a license or drives after drinking is inherently dangerous to the public," said Sen. Robert Moore, who co-sponsored the bill. "The vast majority of illegal immigrants are obeying the law but there are sadly some who are not obeying the law and we need to address that."
Immigrant activists say that the bill, "An Act to Enhance Community Safety," is a political reaction to an isolated incident.
Police said Denice had been riding on his motorcycle when he was struck and killed by Guaman, an unlicensed driver who was driving drunk. According to police, Guaman did not stop after striking Denice and dragged his body for about a quarter mile.
"It was a very unfortunate tragedy but it has turned into an anti-immigrant thing," said Eva Millona, executive director of the Massachusetts Immigrant and Refugee Advocacy Coalition, or MIRA. "It's a political response to what happened. It's not a well-thought out bill and puts the burden on the taxpayer."
The incident brought the Ecuadorian community of Milford – a town of more than 27,000 residents – into the spotlight. At a Boston rally sponsored by MIRA earlier this month, religious leaders and immigrant-rights activists denounced alleged abuses targeting the Ecuadorian community in Milford.
Two undocumented residents, who asked to remain anonymous and be identified by pseudonyms, said Milford had been a welcoming environment to the city's 1,200 or so Ecuadorians prior to Denice's death.
The mood has changed, however.
It was a very unfortunate tragedy but it has turned into an anti-immigrant thing.
"Since we found out about this tragic accident, the American community went from being a calm and welcoming community to an aggressive one," said one of the residents, who asked to be identified as José García.
"There was some tension before," he said in Spanish, "but Matthew's death was the straw that broke the camel's back."
García claimed knowledge of a number of incidents involving Ecuadorians after Denice's death, including vandalism, racist epithets, and one incident in which an Ecuadorian man had water and eggs thrown at him as he walked through the town with his four-year-old son.
García further claimed that the incidents were not reported to police because of fears of being turned over to immigration officials.
Local officials deny knowledge of any such incidents.
"There has been no evidence that I'm aware of any police harassment or harassment by anybody," Sen. Moore said.
A second resident, who asked to have his name withheld, said the incident led to some folks in the town lumping all Ecuadorians together.
"They started to look at us as if were we animals," the second witness said in Spanish. "They think we all behave the same way."
Rumors that ICE agents were looking for people have hit Milford, too, he said.
A provision in the bill calls for Massachusetts to participate in Secure Communities, a controversial federal program that allows the fingerprints of local arrested detainees to be shared with federal authorities.
In June, Gov. Deval Patrick said the state would withdraw participation in the program. The Obama administration, however, has said that it plans to implement Secure Communities nationwide by 2013.
Bristol County Sheriff Thomas Hodgson, who supports passage of the bill and the state's participation in Secure Communities, said that information sharing among local and federal agencies has become the norm since 9/11.
"It's more a role than it's ever been to make sure we're enforcing every single law and protect the homeland," he said. "And one way to do that is to know those who are here who don't belong here."
The states have been left to enforce immigration law because of the inaction on the part of the federal government, said Senate Minority Leader Bruce Tarr, the bill's other co-sponsor.
"Our goal is to protect everyone within our borders in the absence of more substantive federal action," he said.
Some immigrant rights activists, meanwhile, worry that the bill could pass.
"There's a lot of anti-immigrant sentiment and a lot of uncertainty," said Patricia Montes, executive director of Centro Presente, a state-wide advocacy organization. "We're in the process of elections and and unfortunately a lot of politicians are going to use this issue to get votes."
The bill – both the Senate and House versions – will be retaken up in January after the legislative holiday recess.
Meanwhile, Denice's stepfather, Michael Maloney, said that the family supports the bill if it means imposing stiffer penalties for unlicensed drivers. But they don't want Matthew's name to be tied to anything that might be construed as racist.
"I think people are blowing this out of proportion," he said. "I'd be downtown and I'd see folks – all the Ecuadorians walk in – I've met a few and they're nice people… we're not trying to make this a witch-hunt."
Tanya Pérez-Brennan is a freelance journalist based in Boston. She can be reached at tpb775@yahoo.com.
Follow us on twitter.com/foxnewslatino
Like us at facebook.com/foxnewslatino