Massachusetts Bill Could Regulate Temp Agencies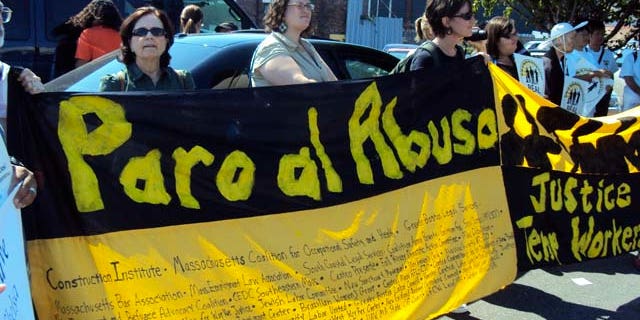 A battle is brewing in Massachusetts over a bill that would overhaul the state's current employment law – and could help regulate the increasing number of temp agencies that contribute to an underground economy.
The supporters of House Bill 1393, which has 88 co-sponsors, claim the state's current law is outdated and doesn't require agencies to provide written work orders for blue collar workers. If passed, the bill would also streamline the process that regulates and licenses staffing agencies.
At least 100 workers and their supporters hit the streets of East Boston – a hotspot for day laborers – to rail against alleged abuses by temporary staffing agencies, most of whose workers are Latino. The demonstration on Thursday was organized by the Reform Employment Agency Law, or the REAL Coalition, which is comprised of temporary workers, community activists and faith groups that are pushing for passage of the bill.
"There are a significant number of Latino workers that are being employed in these low-wage, temp jobs," said Marcy Goldstein-Gelb, executive director of MassCOSH, the Massachusetts Coalition for Occupational Safety and Health, a non-profit that helped organize the event. "So they are particularly at risk because they're the ones being sent off in many cases."
A study released in June by the University of Massachusetts Amherst points to a growing trend of temp agencies that hire low-wage workers and commit abuses against them. In Massachusetts alone, 25,000 people work jobs each day in areas such as construction, landscaping, and fish and food processing.
And over the past two decades, the Northeast experienced a 68 percent increase in temporary help service employment, according to the study.
According to MassCOSH, a number of states such as Illinois, New York, and Utah already require temporary agencies to register and provide workers with a written job order.
Still, opponents of the bill said that its scope is too broad, doesn't address the concerns of low-wage workers and could penalize staffing agencies that are legitimate.
"Their talking points don't agree with the language in the bill," said Mark Carlson, president of the Massachusetts Association of Personnel Services, a trade organization that represents some of the state's staffing agencies. "They're asking for protections that already exist."
Carlson, who did not attend the rally, said he thinks that most staffing agencies would support a bill that focuses on addressing abuses against workers without penalizing legitimate agencies that help put people to work.
"We are the catalyst that moves people off unemployment into better situations," he said. "The passage of this bill could result in over 100,000 people being laid off because they can't handle the costs of complying with [new] rules and regulations."
At the rally, Yessenia Alfaro, director of organizing and interim associate director of the Chelsea Collaborative, a local non-profit, said there are at least 10 temp agencies in the state that employ anywhere from 3,000 to 4,000 workers, the majority of whom are Latino. Most hail from Central America and are documented, she said, and though some of them report worker abuse, most cases never go anywhere.
Evelin Sánchez, 32, knows first-hand what happens at some of these temp agencies. The native of El Salvador said she wasn't paid on a few occasions or got paid late for everything from delivering newspapers to working in local bakeries.
"There's always abuse at the agencies," she said in Spanish. "For example, they never train us before we do a job. We don't know what company we're going to. They just tell us to wait at 3 a.m. or at any time and they'll just take us someplace to work."
Tanya Pérez-Brennan is a freelance journalist based in Boston. She can be reached at tpb775@yahoo.com.
Follow us on twitter.com/foxnewslatino
Like us at facebook.com/foxnewslatino