Thousands Protest in Syria Despite Security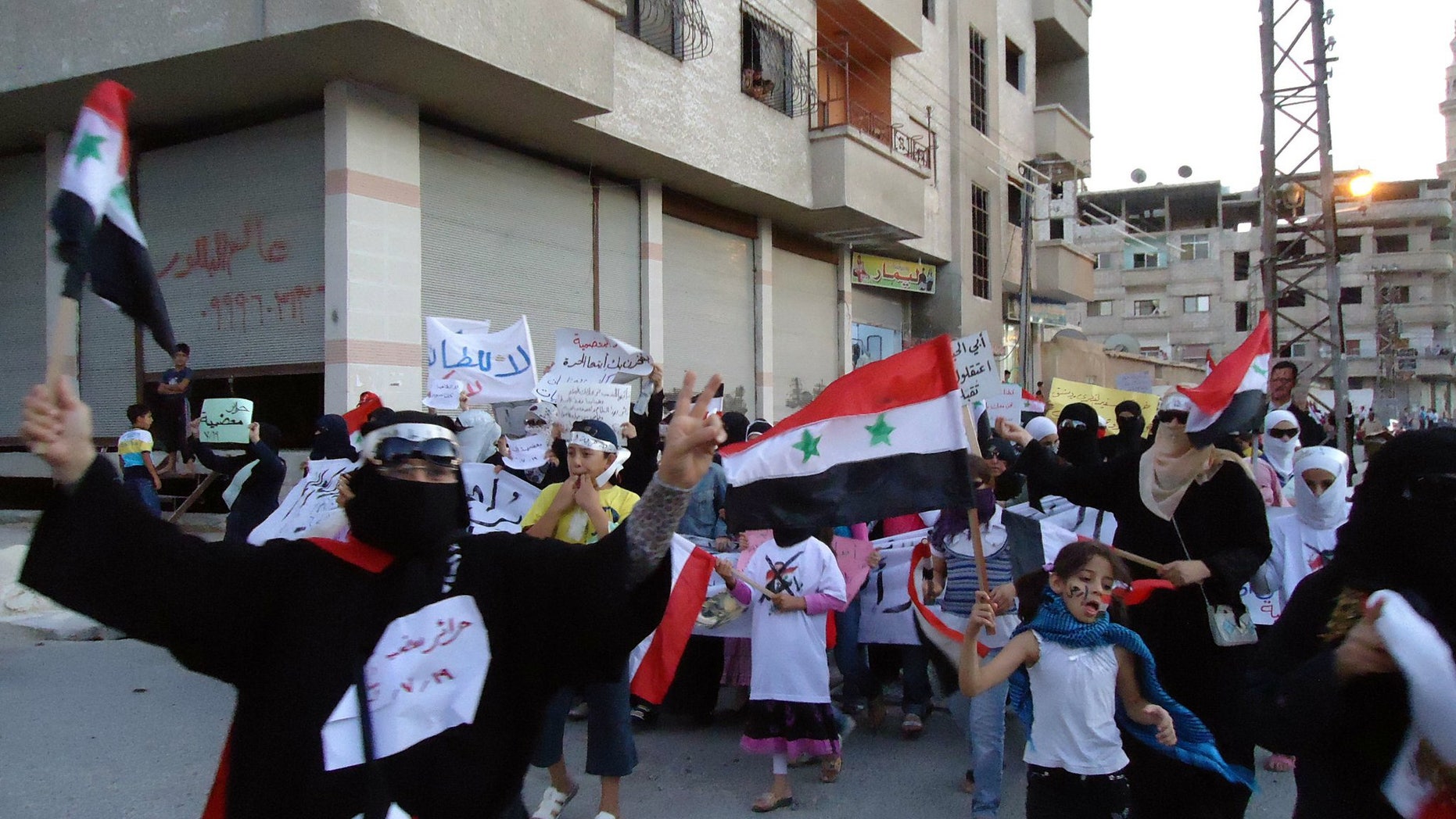 KNAYSEH, Lebanon -- Tens of thousands of Syrians defied a massive security crackdown and flooded the streets of Damascus and other cities Friday, insisting their protest movement was united and demanding the downfall of President Bashar Assad's regime.
There were reports that security forces opened fire, but no immediate word on casualties.
The call for unity comes after a week that saw a wave of sectarian bloodshed in the central city of Homs -- a fearsome development in the country's religiously mixed society. The opposition has been careful to paint their movement as free of any sectarian overtones.
The uprising has grown steadily over more than four months, posing the most serious threat to the Assad family's four-decade rule. Last Friday saw the largest crowds yet, with hundreds of thousands taking to the streets across the country.
Syrian security forces killed 32 people last Friday, half of them in the capital, activists said. In an apparent effort to avoid a repeat of that, security forces deployed heavily in Damascus as early as dawn Friday, pulling people from their homes and setting up checkpoints.
Still, activists said, thousands of people protested in the Midan and Hajar al-Aswad districts of the capital. Soldiers and security forces fanned out in the Qaboun and Rukneddine neighborhoods.
"They are surrounding Qaboun from all sides and they've cut off mobile and land lines," an activist there told The Associated Press, asking for anonymity out of fear for his own safety.
Elsewhere, tens of thousands were in the streets in the northern Idlib province, in eastern Syria's Deir ez-Zour region and in southern Syria.
Over the past week, the military also has launched a massive crackdown in Homs, the city in central Syria at the heart of the uprising. Homs, which is about 100 miles from Damascus, has seen some of the most intense violence as the regime tries to stamp out the revolt.
Details about the weeklong siege in Homs were sketchy, as most witnesses told The Associated Press they were too scared even to look out their windows.
On Friday, thousands of people took to the streets in Homs but security forces held their fire, a witness said. The crowds were smaller than last week, he said, and residents set up stone barricades and closed off roads with garbage containers to keep more security forces out.
Omar Idilbi, a spokesman for the Local Coordination Committees, which help organize and document the protests, said he received the names of four people killed Thursday night.
Another activist confirmed the deaths, but said there were three victims, including a teenager.Human rights groups say more than 1,600 people have been killed in Assad's crackdown, but authorities blame the unrest on gunmen and religious extremists.
The regime has banned nearly all foreign media and restricted coverage, making it nearly impossible to independently verify events on the ground or casualty figures from either side.
A Syrian military spokesman said "armed terrorist groups" attacked an army bus Friday along the Homs-Aleppo highway, killing two chief sergeants.
Activists say up to 50 people have been killed in Homs since Saturday, a wave of violence that has signaled a potentially dangerous turn in the uprising. According to witnesses and activists, much of the bloodshed has taken on sectarian overtones.
Opposition figures have accused Assad's minority Alawite regime of trying to stir up trouble with the Sunni majority to blunt the growing enthusiasm for the uprising.
In Knayseh, a Lebanese village near the Syrian border, residents said they were seeing streams of people fleeing Syria in recent months.
Ahmad Walid Ali, 12, said he crossed into Lebanon from Boweit, in Homs province, one month ago with his mother, father and 11 brothers and sisters.
"We were terrified because of the attacks on our village and we moved to Lebanon," the boy said. "I used to go to school but haven't gone for the past four months."