Things to know about North Korea's first congress in decades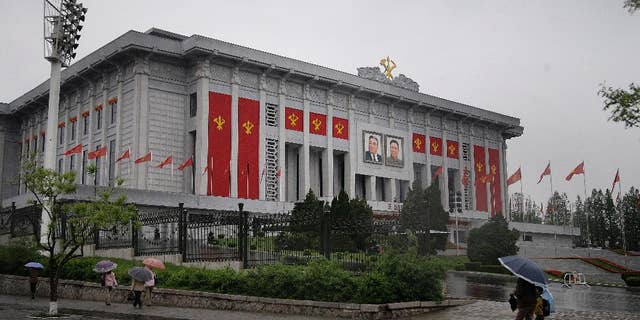 NEWYou can now listen to Fox News articles!
SEOUL, South Korea – North Korea's elite are gathered in Pyongyang for their biggest political conference in decades.
The Congress of the Workers' Party of Korea, the seventh of its kind and the first in 36 years, comes after months of animosity and threats following Pyongyang's fourth nuclear test explosion, in January, and a long-range rocket launch, in February.
Foreign experts say leader Kim Jong Un will likely use the meeting, which started Friday, to push his expansion of a nuclear arsenal over the strong objections of the U.S., the U.N. and North Korea's neighbors, including ally China.
Another key focus: developing North Korea's weak economy, hit by several rounds of U.N. sanctions over its nuclear program. Kim is also expected to tighten the loyalty of a government he inherited after his dictator father's death in late 2011, probably by putting his favorites into key positions.
As usual, the authoritarian country is keeping details secret, but here are several things to know about the conference, which is expected to last several days:
___
WHAT IS IT?
The party's highest-level decision-making body will determine key state policies, review past projects, reshuffle top officials and revise party regulations.
All six previous congresses came under the rule of Kim Il Sung, the late grandfather of Kim Jong Un and North Korea's founder, who died in 1994.
The most recent congress was held in 1980, for five days, with delegations from 118 countries, including China, the Soviet Union, Zimbabwe, Guinea and Romania. The fifth congress, in 1970, lasted 12 days.
South Korea's spy agency said last week that North Korea hadn't invited any major foreign government delegations to this year's congress. There will be scores of Western journalists, though, to cover the heavily stage-managed event.
___
WHY THE 36-YEAR GAP?
The Workers' Party is supposed to hold a congress every five years.
But after the 1980 meeting, Kim Il Sung reportedly ordered that the next congress take place only after the government improved public livelihood and its ability to provide its people with rice and beef soup for every meal.
Instead, a devastating famine in the 1990s is estimated to have killed hundreds of thousands. Since then, North Korea has continued to struggle with widespread poverty, malnutrition and a mismanaged economy.
Kim's Il Sung's successor, Kim Jong Il, father of Kim Jong Un, ruled for 17 years but never held a congress. Some analysts say the real reason for the gap was that Kim Jong Il's cherished "military-first" policy withered the party's authority.
___
WHY NOW?
Kim Jong Un, believed to be in his early 30s, appears to be modeling his rule on his grandfather. He has adopted his hairstyle, gestures, his penchant for regular public speeches and his party-oriented governing style.
North Koreans may also relish a return to Kim Il Sung's style because North Korea was better off economically during his rule than during Kim Jong Il's.
In recent years, North Korea has mostly dodged massive natural disasters and the widespread starvation of past years. The country's economic situation is also believed to have improved a bit, in part because of the rise of unauthorized street markets where small-scale capitalism is largely tolerated. South Korea's central bank estimates that North Korea's economy grew around 1 percent annually between 2011 and 2014.
This all may have pushed Kim Jong Un to restart the party congresses, partly as a way to show the world that he rules a more stable country.
___
WHAT CAN WE EXPECT TO SEE?
Both Kim Jong Il and Kim Jong Un made their international debuts by taking up various top jobs during big party events — the elder Kim in the 1980 congress and the younger Kim in a 2010 lower-level conference. Those confirmed that they were destined to inherit control of the nation.
Nothing that big is expected from this congress.
Kim Jong Un already has many top posts, including first secretary of the Workers' Party and supreme commander of the North's 1.2 million-strong army, the backbone of his family's dynasty.
Some analysts say Kim may not have yet established the same absolute power enjoyed by his father, but there's little doubt that a series of high-profile executions and purges, including the 2013 killing of his powerful uncle Jang Song Thaek, has left few who would dare challenge him.
South Korean media predict Kim might be promoted to general secretary of the party, a post left to his father "eternally" following his 2011 death. But some analysts say more titles for Kim won't mean much.
Instead, Kim will likely replace some of the party's old guard with younger elites loyal to him, many of them little known to outsiders. There probably won't be that much top-level personnel reshuffling, however, because Kim has already been doing this.
___
ALL ABOUT KIM
Get ready for wall-to-wall praise of Kim and his efforts to strengthen North Korea's nuclear weapons program, which it says is necessary to cope with U.S. military threats.
Kim has made it his stated goal to bolster the nuclear capability while also improving people's livelihoods; he may formally include this policy in party regulations. This would signal something most analysts already believe: that he has no intention of giving up nuclear weapons.
South Korean officials say the North has finished up preparation for a fifth nuclear test that could come any day.
The congress is also expected to announce major policies aimed at reviving the economy. Critics question how realistic those plans could be, given that the country now faces the toughest U.N. sanctions in 20 years, imposed after this year's nuclear test and rocket launch.
___
KEY PLAYERS
Kim Yong Nam, an 88-year-old member of the party's powerful Politburo Presidium, may be dismissed from that job because of his age. If so, he could also lose his position as president of the Presidium of North Korea's rubber-stamp parliament, which makes him the country's nominal head of state.
Choe Ryong Hae, who once held membership in the Politburo's Presidium, may regain that lost post. South Korea's spy agency said last year that Choe was briefly banished to a rural collective farm for re-education. Choe was once considered North Korea's No. 2 following Jang's execution.
Kim Yo Jong, Kim Jong Un's younger sister and currently a vice department director at the party's Central Committee, might be given higher-level jobs, part of a reported push to elevate her to the country's No. 2 power. Believed to be in her late 20s, she frequently appears at her brother's public events, standing out amid elderly male officials.
Kim Won Hong, North Korea's state security minister, is among a handful of top officials who have survived repeated bloody shifts that purged former Kim intimates. He may get a higher profile after the congress.
Kim Ki Nam, 86, North Korea's propaganda chief, may lose his posts — director of the party's bureau on propaganda affairs and a secretary of the party's central committee — because of his age.
___
Follow Hyung-jin Kim on Twitter at twitter.com/hyungjin1972